Can you get pulled over? Many times people drive along with the fear of getting pulled over by hidden police officers who are waiting for the best moment to catch bad drivers.
Use eTags© to Quickly Complete Your DMV Service. Renewals, Title Transfers and More, All Online!
The fact is that many people relate to that feeling of confusion every time they see the flashing lights of a police car through the rear window.
You don't know whether the policing is chasing you or going after the car in front of you. After all, you don't recall making any infractions and that adds more fuel to the uncertainty.
Perhaps you did something wrong while driving your vehicle, but you were just not aware of it. Don't worry! Here are 20 common traffic stop questions that could save you a ticket.
#1 Can you get a ticket without being pulled over?
The answer is yes. You can get tickets without actually being pulled over by a police officer. But it all depends on the state where you are driving.
For example, many states have red light cameras that automatically take images of vehicles running a red light. That picture serves as sufficient evidence for the authorities to determine that a driver has made an infraction.
Another example are speed cameras that are placed strategically to snap a picture of any vehicle that exceeds the speeding limits.
Pay also attention to toll cameras that can easily take picture of vehicles that do not pay their toll fare.
SEE ALSO: Here's What to Do If You Get Pulled Over
#2 Can you get pulled over for not wearing seatbelt?
For safety reasons, drivers should buckle up each and every time they are behind the wheel. At least know that it could save your life or reduce the injury in a car accident.
There are multiple awareness campaigns and laws about wearing seatbelt across the country, but the law differs from state to state.
For example, not wearing a seatbelt in Florida is against the law and you could be pulled over if caught by the police.
In Pennsylvania, on the other hand, not wearing a seatbelt is treated like a secondary offence. That means you could only get a ticket if the police pulls you over for another infraction and finds that you were not wearing a seatbelt.
#3 Can you get pulled over for tinted windows?
Yes, you can get pulled over depending on your location. Each state has its own vehicle window tinting regulations and there's no excuse for you to have it if your local state determines that some type of tinted windows are against the law.
In California, for example, police officers pulls over vehicles with tinted windshield (except for the strip at the very top), and the front side windows.
Generally, it's all about the level of luminance and light transmissions that apply to your tinted windows. Check with your local state to see what's the minimum amount of light that can come through your tinted window under the law.
#4 Can I get a speeding ticket without being pulled over?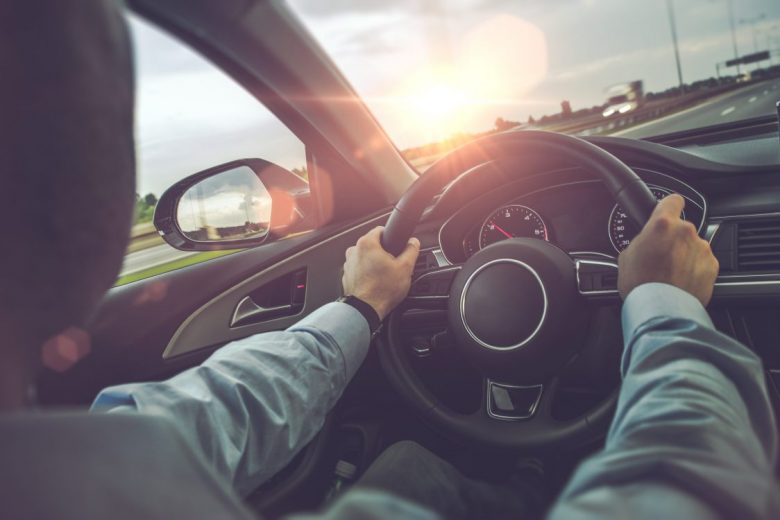 No. You can't get a ticket without being pulled over for speeding. However it happens that your local authority could use speeding cameras to determine whether you sped illegally.
It's rather controversial because most states have different ways of implementing the use of speeding cameras to track exceeding speed limits.
For example, Florida has no way of issuing you a speeding ticket without the intervention of a police officer. Arizona, on the other hand, can use speeding cameras to enforce the law without police intervention.
Check with your local authority.
#5 Can you get pulled over for a broken or cracked windshield?
Driving with a broken or cracked windshield puts the driver in complete danger. So expect to get a ticket if pulled over by a police officer for broken or cracked windshield.
Again, cracked or obstructed laws varies from state to state. In Florida, for example, vehicles are required to have a windshield that is in an upright and fixed position.
In California, your vehicle must have a windshield, however antique or classic vehicles that were sold without a windshield do not require to have a windshield.
SEE ALSO: New Traffic Laws Californians Must Follow In 2018
#6 Can you get DUI without getting pulled over?
No. You cannot be pulled over if there's no authority to verify your alcohol levels. To be stopped for DUI and even arrested, a police officer needs to pull you over under a reasonable suspicion.
At the same time the police officer needs to perform a field sobriety, preliminary alcohol screening, and other tests that require face-to-face interaction.
#7 Can you get pulled over for driving without a shirt?
Driving topless, believe it or not, is a road violation that gives enough reason to a police officer to pull you over and issue a ticket for bad driving.
These type of charges are named "Indecent Exposure." It may go against equality but women are facing more risk to get a ticket for driving topless.
In Utah, for example, it is against the law for women to show "the female breast below the areola" in a public area. It doesn't matter if you consider your vehicle to be a private place, you could be explaining your case in court.
#8 Can you get pulled over for tinted tail lights?
Know that tinted or smoked tail lights are illegal. Expect to be pulled over by the police and be charged a fine for not adjusting to the state law.
The question is if there is any lawful purpose in darkening or dimming your tail lights? The thing is that there is no reason why you should do that.
At the same time, liabilities for getting caught driving with tinted tail lights vary from state to state.
#9 Can cops get pulled over?
Can a police officer pull over another policer officer? Of course it could happen and it is matter of professional courtesy. This also gives signals that the rules are out there for everyone to comply.
Police officers are supposed to be 100% enforcers and should operate by giving examples of good civic behavior.
In practical terms, it may be very unlikely to see that on a daily basis, even more when they have to speed up for major emergencies.
#10 Can I get pulled over for no reason?
Don't worry. Police can't pulled you over without a valid reason. Police officers are not allowed to randomly pull you over and look for drugs in your vehicle.
Know that police officers need to have a reason, or a "probable cause" like cracked windshield or speeding to stop you. The duty of the police is to provide notes and reasons for pulling you over.
If given a valid reason, follow the rules and be informed about your rights as a driver.
SEE ALSO: Auto Fans: Here Is The Top 10 World's Ugliest Vehicles
#11 Can you get booked without being pulled over?
No, you can't. You need to be pulled over by the police before getting booked.
To get booked, say for DUI arrest, a police officer typically collects personal information, tracks records about the incident, makes background check, takes fingerprints, confiscates personal property, and places custody.
#12 Can you get pulled over by an unmarked police car?
Yes, you can get pulled over by an unmarked police car. There's no legal prohibition against a police officer from conducting a pullover in these circumstances.
There is no restriction as it is part of their duty. Even an off-duty out-of-uniform officer still has the right to arrest someone suspected on incurring any traffic violations.
The law is the law, and police officers are required to be in duty 24/7.
#13 Can you get pulled over for missing a side window?
In this case, the answer depends on what state you are driving in. Traffic laws vary from state to state and that also applies to safety equipment law.
So if your state requires that a car have one or two-sided view mirrors, and of them is broken, you can easily be pulled over and receive a ticket.
At the same time, many states issues "Fix-It" tickets which could be reduced or waived if the problem is fixed within a set time period.
#14 Can you get pulled over for smoking a cigarette?
No, technically, you can't get pulled over. It is not against the law to smoke while driving, nor can the police pull you over for smoking cigarettes, having a bite, changing the radio station.
However, keep in mind that you could commit a distracted driving offence and that could potentially have a negative impact on your driving record.
Traffic laws are getting tougher across the country and don't be surprised to see new changes in distracted driving.
#15 Can cops see your driving records when getting pulled over?
Yes. Once you give them any form of identification, including driver's license, they can access your driving status to check any information in regards to your driving history.
If you are pulled over, they could have access not only to your driving record, but also to any probation or parole status, caution indicators, and warrant status. Fast and easy.
SEE ALSO: Easy Auto Insurance Tips For Bad Driving Records
#16 Can I get arrested for not pulling over for an ambulance or emergency vehicle?
No, you can't. But most states have already implemented "Mover Over" laws, forcing drivers to let siren vehicles pass.
Motorists, who do not slow down or move to another lane to let emergency vehicles pass, could be pulled over by a police officer and pay a fine.
In California, for example, drivers must make way for emergency vehicles with flashing lights. Failure to do so, expect a fine of at least $146, with one point on your record.
#17 Can I get out of my car when I get pulled over?
No. For security reasons you better stay in the car. Remember that police officers are humans, and getting out of your vehicle right after being pulled over could give them a very bad impression.
Stay calm and sit still. Put your hands on your steering wheel and do not give reasons to let them think you are a threat. Police officers do not want you to leave your vehicle right after pulling over, so do not rush the procedure.
Consenting a search on your vehicle is completely up to you. Unless there's a probable cause that allows them to search your vehicle, you don't have to consent it.
#18 Can I get pulled over for a wrecked front end?
No, you can't. You won't get a ticket for driving a damaged vehicle as long as your vehicle meets the minimum legal standards for being on the road.
Damaged vehicles are a result of a car accident. Once you are involved in a car accident, the police determines whether your vehicle is legally functional to be on the road or not.
That's how they track vehicles for safety reasons.
#19 Can I buy car insurance as I get pulled over?
No, you can't buy an insurance as you get pulled over. Once the driver commits an infraction, it is too late for the driver to start shopping for a new insurance.
Police officers can easily get information about auto insurance from a statewide database on their cars. If it shows that you are/were uninsured, expect to get penalized for driving without auto insurance.
SEE ALSO: What to Do In a Car Accident: Steps to Take After a Crash
#20 Can I get pulled over if someone stole my car tag?
Yes, you can get pulled over for that. It's completely against the law to drive a vehicle with expired tags and expect to get a fix-it ticket for not getting a replacement.
If your tags were stolen, you'll have to report it to you local DMV and request and order replacement. However, getting a replacement may come with a fee, so contact your local DMV to know what those fees are.