Many people rely on their vehicles to get them from place to place, safely. Maintaining critical engine and operating parts is not usually at the top of our list until something goes wrong. While changing your oil or their fluids are some things that you can put off for a little while, brake maintenance is not one of those things. Being able to stop your vehicle when necessary is kind of important. It can seem like a daunting (or nagging task) but responsible vehicle owners will always make time of this important component.
Prioritizing safety related components of you vehicle can definitely help in reducing the possibility of a crash. As often as possible, drivers should make it a regular habit to check their car right before driving regardless of the distance of the destination. Always remember that safety should be a priority every day whether you are headed for a long drive or just around the block.
Automotive brakes are among the most important mechanisms of a car. These car brakes safety and maintenance tips ensure the safety and functionality of the brakes. Aside from that, they also help in ensuring a much longer life span of the braking system.
Check the brake fluid. There is always a need to make sure that the brake fluid is good and most of all, it should be in its appropriate level. If the brake fluid has a milky color, it means that condensation or the water has infiltrated the fluid and you will need to change it. Leaving the contaminated brake fluid can damage or destroy the cylinder in the break system and it also deteriorates the wheel cylinders.
Bleed the brake lines. This is mainly done to get the air out of them. Usually, it requires two individuals to do the work. One would pump the brake pedals while the other one would watch over the bleeder valve taking caution to close the valve when fluid starts to flow through.
To ensure that the rotors and brake pads are still good, you must inspect it regularly. You can do this by removing your car's tire. If you notice that the brake pads are showing wherein you cannot see much of the pad, then it is a sign that you need to replace them.
How Do you Know if the Car Brakes are in Bad Shape?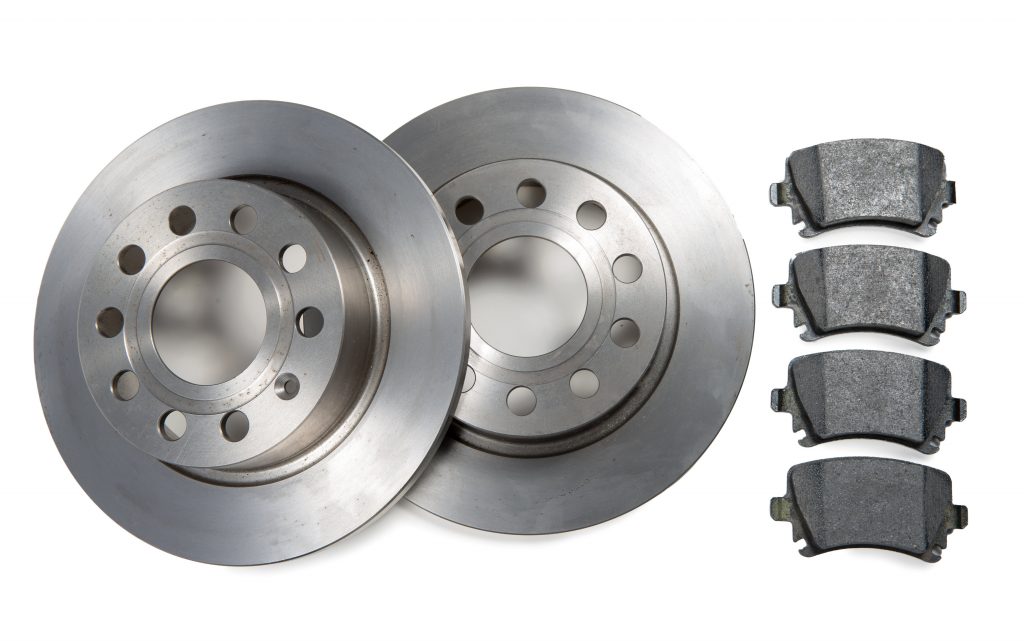 Save Money on Your Auto Insurance Bill, Compare Quotes Fast
Here are some of the most common signs of brake wear to be on the lookout for:
When the car brakes are applied, they sink softly and slowly
This happens if there is a huge amount of air trapped or because of lack of enough brake oil. Bleeding the break lines and checking the brake fluid are a must in this situation.
Your car pulls to one side once when the brakes are applied
This usually means that the car brakes are not in their right position. This type of work usually requires the skilled hand of a mechanic so get check-ups and estimates on this type of work.
It is hard to press down on the brake pedals
When you push the car brake, they do not sink much if at all. If you have power brakes, then it is a sign that there might be a leakage in the assist unit and in the vacuum. On the other hand, in normal brakes, it is a sign that there might be a crack in the brake line.
When the car brakes are applied, there is a squeaky sound
If you are hearing this sound frequently, it means that the brake pad has worn out. The two metals are rubbing against each other, which produce the sound. This is not only annoying but can be dangerous.
There is a vibration when pressing the car brakes
It means that your car's brake rotors, as well as the pads, have worn out. Replacing them is imperative.
These are some of the signs to lookout for to identify problems with your brakes. Fixing any known issues as quickly as possible is of utmost importance. Some work like replacing the brake liquid is something you can or friend or family member can do. On the other hand, if the work required us more complicated such as a hydraulic leakage or even the damages of the airline, it is always a great idea to get it fixed by a professional.
Luckily, there are many new kinds of internet based diagnostics tools as well as devices you can buy. Unlike before, maintaining the overall condition of cars these days is much easier thanks to the advanced tools, equipment, and products. With all these things in mind, you have both the reason and the resources to take care of problems before they contribute to a crash.