Have you ever wondered what the best cross country road trip map looks like? When it comes to travel distances, rare sights, destination amenities and unique highlights, we feel the Michigan State University study nails the best road trip. The University's own Randy Olson crafted a road trip map spanning across 50 stops.  (Also, when Randy goes on an epic road trip, he brings plenty of trip essentials.)
Use eTags© to Quickly Complete Your DMV Service. Renewals, Title Transfers and More, All Online!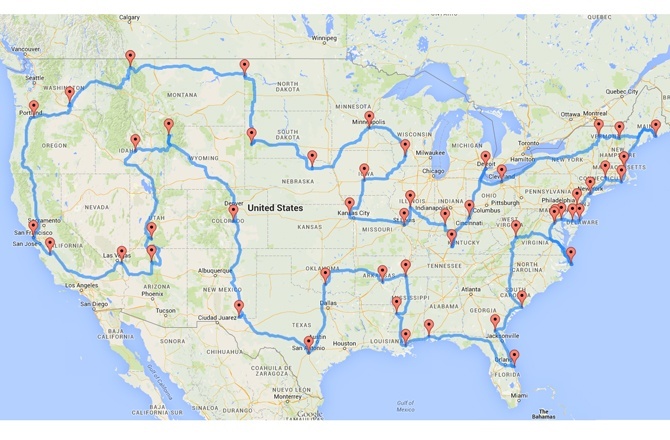 View the interactive version
here
.
How the Map Was Made
Randy optimized the route with a slew of data inputs. To get around typical travel challenges, he used Google Maps API. Then, he calculated the distances between 50 predetermined landmarks. The result was a power-packed 2,500 individual routes.
So, how was this possible? Bloggers and other map-makers think it'd take a computer decades to account for the map's every twist and turn throughout the continental drive. Dubbed the "Where's Waldo" solution, Randy's algorithmic answer solves a few problems.
Rather than exhaustively looking at a number of solutions, his solution begins with a mere handful of solutions. These solutions are applied to other problems, constantly using slightly different approaches to normal issues. Eventually, the solutions get better and better.
All About the Fitness Function
Randy's road map algorithm used something called a "fitness function" which calculates the shortest distances between different waypoints. The result is a pretty slim-fit road trip map.
So, how long is the journey through the supposed best cross country road trip map? Well, it's long. It takes about two to three months to complete. All in all, you'll be driving for about 9.33 days—you just won't drive it straight.
Why Not Another Map?
We won't lie: There are other maps out there. This map sticks out, mostly, because of its astounding ease-of-use. You can enter the route anywhere, as long as you're following the map. Once you've entered the circuit, you need only follow the path. You'll always be driving the best route, as long as you're sticking to the destination-centric parts of the road.
A lot of the map's destinations are situated alongside other great tourist sites. So, you can pack multiple trips into a single vacation's stretch. If you don't want to complete the national circuit, simply, use the route for a stretch of time. The map was made to include national natural landmarks, national parks, national historic sites and national monuments. It needs to be taken by car, and it can't, under any circumstance, leave the United States perimeters.
Can You Take Up the Epic Itinerary?
The map is a huge mix of inner-city hotspots, exploration destinations, beautiful natural landscapes and must-see historical sites. If you have it in you, take up the trop. Minimize any time spent driving and maximize your time enjoying the landmarks.
If you ever get the chance, check out the map's awesome rundown. A lot of other maps exist, but they fail in computing the best-possible road trip distances.
There might eventually be a better road trip itinerary. That said, this map hits most of America's must-see attractions. You might not see many city streets, skylines, or popular shopping destinations, but who likes traffic? America is a beautiful country and its' natural formations don't get enough credit.
If you're planning the best road trip ever, you should focus on the scenery (and of course the safety). Don't forget to stock up on plenty of road trip essentials, we found the best selection here.