The latest statistics we have for the number of registered vehicles in Maryland are four years old. In 2016, we had a little over 4.2 million registered vehicles, with almost an even split between make and female drivers. Car registration is essential in every state, if you want to drive your car on public roads. Each state has its own rules and regulations as well as processes. For example, registering your vehicle in California typically involves a smog inspection. In Florida, you don't need one.
Use eTags© to Quickly Complete Your DMV Service. Renewals, Title Transfers and More, All Online!
In Maryland, new residents must register their vehicle within 60 days of moving. If you delay, you'll not be eligible for a tax credit for any titling tax paid in another state, and you may even be subject to a citation for an out of state registration. There are many ways to register from DMV in-person visits to online services that help you do it all from home.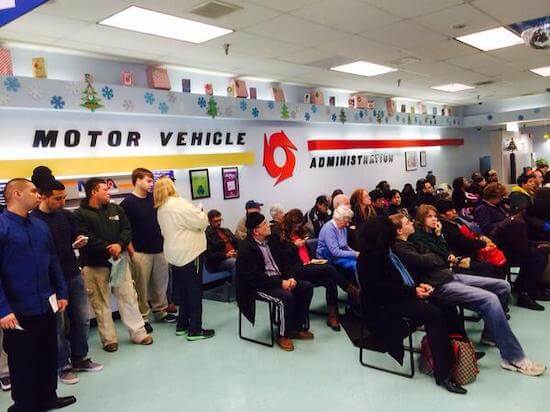 MVA In-Person During Covid-19
With the coronavirus pandemic, and social distancing guidelines, DMV's have been closed for a while. Now, they're slowly getting back to business statewide. For Maryland drivers, that means that there's only access to select branches and they'll have to make an appointment.
Some of these branches include Allegany County, Charles County, Montgomery County, and Washington County. There will be a limited number of appointments available per day and you can schedule it online at mvascheduling.mva.maryland.gov.
MVA customer service agents and all customers are required to wear face coverings for their appointments. Customers will also be asked a series of screening questions in order to enter a branch. You can expect plexiglass dividers at each station for added protection too.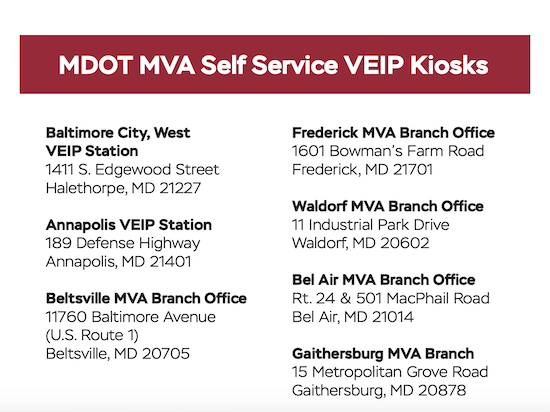 MVA Online and Kiosks During Pandemic
You can renew your registration through the MVA's eStore and self-serving kiosks. You may even be able to get a duplicate registration, temporary registration that allows you 15 days of operation, driver's license renewals and title replacement this way. For your registration renewal, you'll need your notice, title number, license plate number, and payment. If you have outstanding parking tickets or insurance violations, you won't be able to use the online services you'll have to walk in to the MVA in person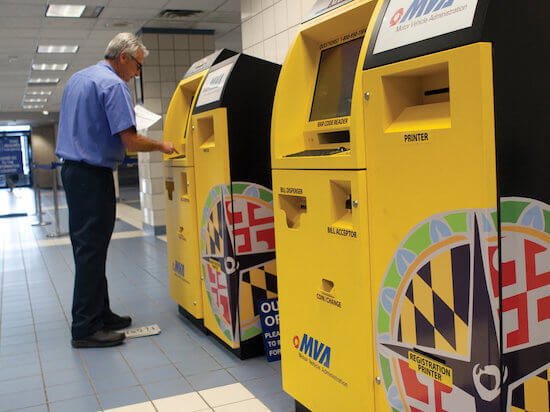 eTags Online Registration
When you renew your car registration with eTags, there's no driving around, standing in line, making appointments or any of those hassles. You can do it all by just submitting your info online. You can instantly check your fees online by using your title number or license plate number. You can renew for one or two years, and have the option to pay via Pay Pal Credit so you can pay over time.
Etags also gives you a FREE digital copy of your registration that you can print and use while you wait for your sticker and card in the mail. Remember to resolve your registration flag if you have any before renewing with eTags.
MVA By Mail
You may get a renewal notice by mail prior to expiration date. Just follow instruction outlined in the notice, submitting documents if you need to, along with check payment or money order. The check must include preprinted name and address. Write driver's license number and home or work phone number on the check. Don't use cash in the mail to send payment. Use the given envelop to reply. If you renew by mail, your renewal notice must be received no later than 15 days before the expiration date.

MVA By Phone
Yes, you can call the MVA to renew your registration. All you have to is call 1.410.768.7000 and follow the instructions. Once your transaction is completed, you''' receive your card and sticker in the mail.