The National Insurance Crime Bureau (NICB) released its 2016 Hot Wheels report, which identifies the top Florida cities for vehicle theft.
Use eTags© to Quickly Complete Your DMV Service. Renewals, Title Transfers and More, All Online!
This report examined the cities where your car is most likely to be stolen based on law enforcement data. Take it as a preventive tool and avoid being a victim.
The safety of your vehicle is a no brainer and everyone needs a vehicle to get around in Florida.
For that reason, eTags has put forward an infographic which includes: top car theft cities, state/country ranks, total number of reported car thefts, and vehicle theft rates per city.
Get your vehicle theft facts
Note that the purpose of this infographic does not contemplate any assumption or any other generalization. That said, there are other factors that also increases and/or decreases the chances of car theft.
For example, many times vehicles with lower security features are easy target for criminals. Others do not follow anti-theft precautions, giving strong signals to car thieves about their lack of safety awareness.
It's all about being aware of the Florida cities that are highly risky for car owners based on car theft data in 2016.
Whether you are a local or moving to Florida, stay current with this infographic and protect your car from theft. Here are the Top Florida Cities for Vehicle Theft [Infographic].
SEE ALSO: Do You Own One of the Most Stolen Cars in the Country?
What's on the infographic?
At a first glance, Tallahassee ranks first for car theft in Florida with 1,346 vehicle thefts in 2016. According to the NICB report, the Tallahassee vehicle theft rate accounts for 406.0 per 100,000 residents, which is something that local authorities need to pay more attention to.
Looking at the infographic, we also notice that Miami takes the 2nd position with a vehicle theft rate that accounts for 373.29, whereas Orlando ranks number 3 with a vehicle theft rate of 332.73.
Although Miami ranks 2nd on the list, this city has 20,207 reported car thefts, which almost doubles the total number of car thefts in Tallahassee, Orlando, and Jacksonville together.
Who can relate?
Some people may argue that this type of news do not come as a surprise. In fact, many others relate to these findings because of previous car theft experiences.
Waking up to the idea that your car was stolen is 100% unfortunate. Nobody wants to deal with this awful experience but, what do you do to avoid being an easy target?
Do you follow any car safety procedure? If you live or planning on living in any of the cities below, take these figures as a guide for the future.
The only thing worth stealing is few minutes of your time to think about what you do for the safety of your vehicle. Think about it!
SEE ALSO: Driving in Florida: Common Vehicle Registration Questions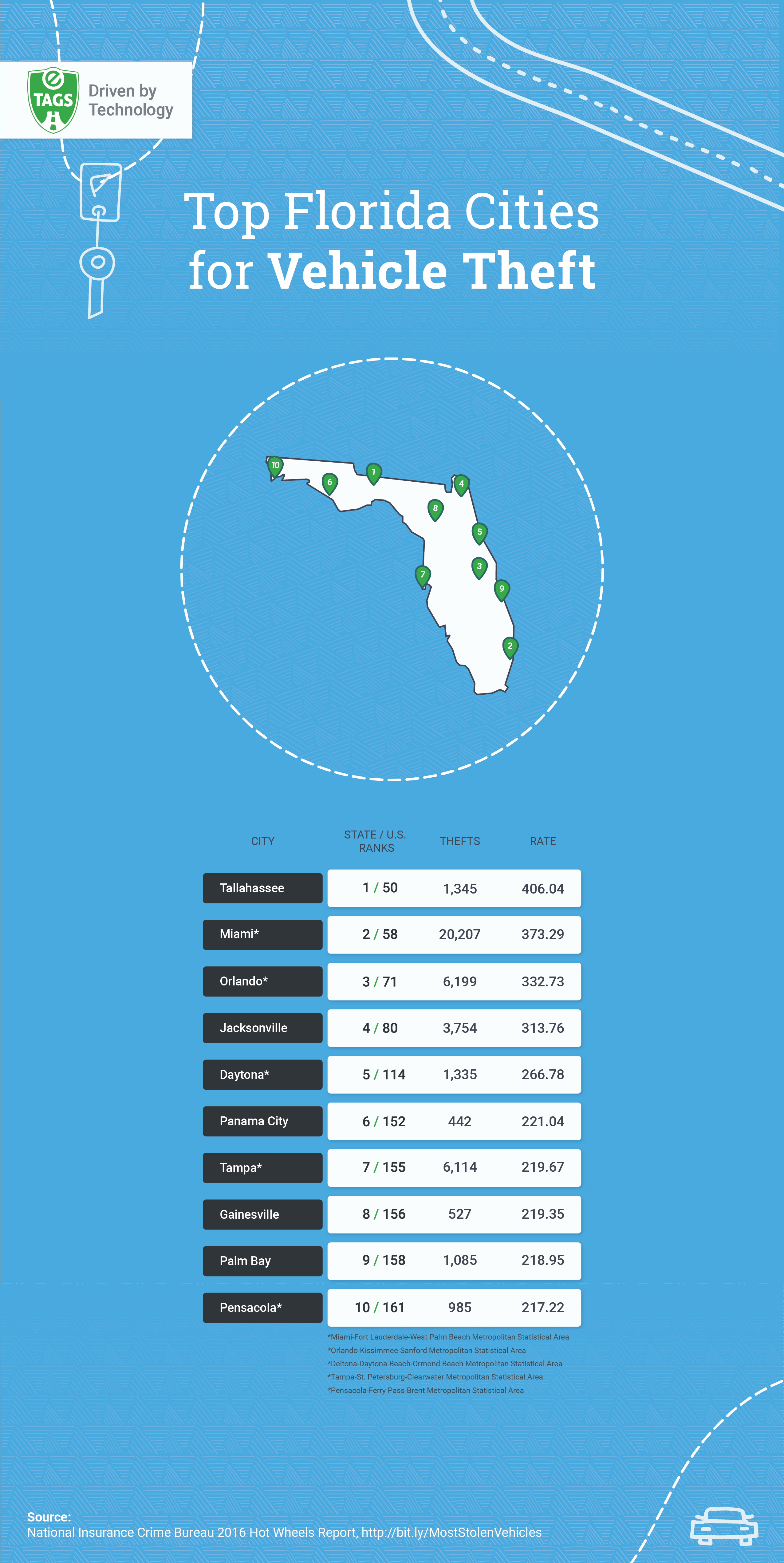 Share This Infographic – Copy & Paste Embed Code Below: