Less cases, full recovery, and a new perspective on life itself .
Updated March 27, 2020
As of now COVID-19 is the main headline on every news channel, social media feed, and day-to-day conversation. We've heard about the travel bans, school, restaurant and bar closures, supermarket hysteria, social distancing, and the confusing situation about toilet paper.
What you may have not heard about is the light at the end of the tunnel. That's right, as we enter our third month of coronavirus mayhem worldwide, we're starting to see a more positive side of things. Unfortunately, positivity is not spreading as fast as the doom-and-gloom of this reality.
At eTags, we've taken measures to support the community-wide efforts nationwide to "flatten the curve." We're mostly working from home, with our customer support agents working in shifts for social distancing's sake. Our four offices are disinfected and sanitized multiple times a week, and we're holding meetings virtually. To continue our support of handling this COVID-19 situation, we're sharing with you some of the latest good news about the coronavirus.
Save Money on Your Auto Insurance Bill, Compare Quotes Fast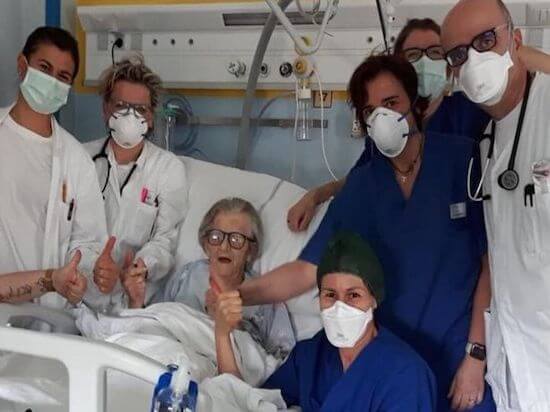 (Latest news up front)
• Hockey gear manufacturer, Bauer, just got government authorization to switch production to medical shields for doctors, nurses, and first responders. They're aiming at producing 500,000 full-face, single use visors.
• Businesses everywhere are stepping up. Restaurants, sports, and businesses are all stepping up to combat the community effects of the novel coronavirus. The sports world is raising money for stadium employees, Uber Eats is divvying out free delivery to help independent restaurants, soccer players are entertaining people stuck at home with a FIFA tournament, and Bill Gates if funneling millions.
• Apple stores and Starbucks in China have re-opened.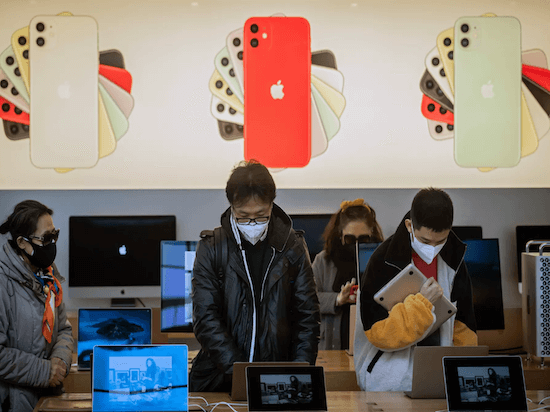 • As of March 27, there are 128,706 patients that have recovered from COVID-19 around the world.
• General Motors, Tesla, and Ford are looking into help produce medical equipment and are devoting resources to help solve the nation's shortage of ventilators.
• Distilleries across the U.S. are using high-proof alcohol to make hand sanitizer, and divvying it out for free, or by donation 
• China has closed down its last coronavirus hospital. Not enough new cases to support them.
• South Korea recoveries are starting to outnumber new infections
• First cornonavirus patient in Italy's Modena to recover is 95 years old.
• Researchers of the Erasmus Medical Centre claim to have found an antibody against coronavirus.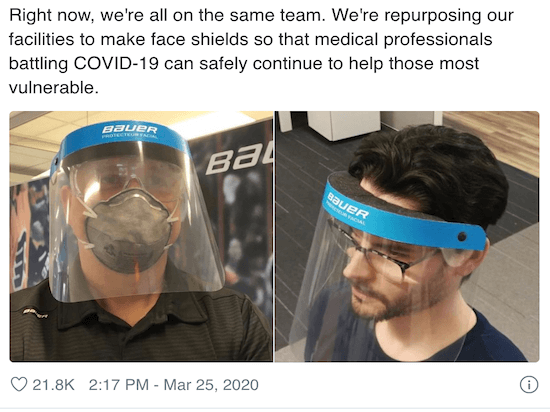 • Three biotech companies, including BioNTech, CureVac, and Moderna are likely to develop and produce vaccine more quickly than traditional vaccines since they specialize in mRNA therapeutics. These mRNA molecules instruct our bodies to produce its own immune response.
• A 103-year-old Chinese grandmother has made a full recovery from COVID-19 after being treated for 6 days in Wuhan, China.
• Celebrities such as Tom Hanks and his wife Rita Wilson are recovering after testing positive for the coronavirus.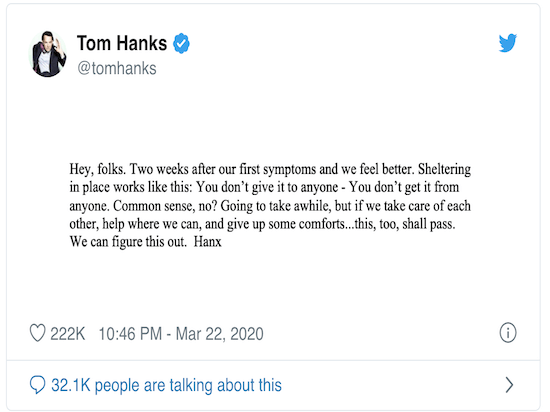 • Apple reopens all 42 China stores.
• The number of new cases is declining in South Korea. 74 cases on March 17, which is a drop from 909 two weeks ago.
• Yes, Italy has been hit hard, but remember, the have the oldest population in Europe.
• Scientists in Israel are on the cusp of coronavirus vaccine because they've been working on a particular technology for the last four years. COVID-19 will be used as a as proof of concept for this technology. It will take 90 days to complete regulatory process to enter marketplace.
• India is already successfully treating patients. Doctors at the Sawai Man Singh Hospital in Jaipar, are using a cocktail of HIV, swine flu and Malaria medication to cure COVID-19 patients.
• The first person in New Delhi to catch the virus has successfully recovered at Safdarjung hospital.
•  The Cleveland Clinic also apparently has technology which can turn around coronavirus tests in eight hours – though it still needs further in-house testing.
Update: MetroHealth Medical Center becomes the first hospital in the state that can now test COVID-19 samples at its laboratory with results available after just two hours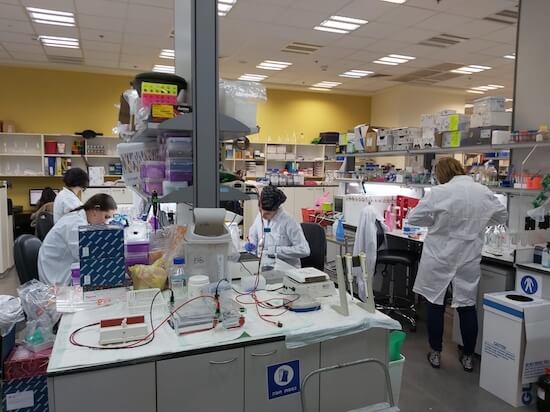 • A network of Canadian scientists are making progress in COVID-19 research by having replicated the virus which could prove invaluable for testing.
As we all hunker down, do our part, for our families and communities, all of us at eTags are convinced that when the coronavirus mania is over, a new perspective will emerge. We hope to never take for granted a handshake with a stranger. To embrace an impromptu 5 PM meeting with colleagues. To have patience in an overcrowded restaurant on a lunch break. To look forward to the Monday morning commute.
When this ends, we hope to never forget what this was like. May we be better for it, may we be better to each other.