Driving in America can get rough. The safest streets, sometimes, are hard to find. Fortunately, some experts have underlined the best driving areas. The Allstate America's Best Drivers Report has covered the safest driving cities in the United States, and Florida cities rank among the top.
Florida as a Safe Driving State
According to the study, Florida has 13 cities ranking within the top-200 list. Among these cities are Port St. Lucie, Tallahassee, St. Petersburg and Jacksonville. While Florida often gets a bad rap for its driving, the state is surprisingly safe to travel in.
Jacksonville's ranking, in particular, is unique. The city is home to one of the most diverse populations in America, spanning across a highway-centric environment. The Florida Department of Highway Safety and Motor Vehicles has consistently been committed to assuring highway safety and security around excellence in service. Highly effective in Jacksonville, the Florida DMV is also well-known for its presence in South Florida.
Florida is also home to a slew of safety driving courses. Centric to mature driver and insurance discount rates, Florida driving courses include the Wise Traffic School, the Florida Educational Driving School and DriverEducators.com.
Save Money on Your Auto Insurance Bill, Compare Quotes Fast
The Safest State to Drive In
While Florida has a high number of top-ranking cities, the safest state to drive in is Massachusetts. Northeastern states, like New York, New Jersey and Rhode Island enforce a speed limit of 55 to 65 mph, which makes rural interstates and urban causeways far safer. Western and southern states, meanwhile, allow speeds up to 70 and 75 mph.
The reports examine individual fatality rates, covering population and distance driven. While a comprehensive evaluation of nation-wide driving standards is difficult to pin down, many experts agree upon the Massachusetts driving safety superiority. Next to Massachusetts, the District of Columbia is a top-ranking location.
Low Fatality Rates
The Allstate study focused on fatality rates per miles driven. According to its report, these areas carried the lowest number of deaths per population size. It's possible recent changes in road safety have made roads safer, in general.
Here, the Florida Department of Highway Safety of Motor Vehicles comes in. Due to Florida's intensive care for roadway safety, fatalities are decreasing. Also to note: Florida is a popular tourist destination. Traveling across Florida is often a calm experience, but the high traffic can certainly contribute to collisions.
Roadway Awareness and Safe Driving
While Florida, Massachusetts and the District of Columbia are all relatively safe places to drive, you should still take care when exploring them. Move over for emergency vehicles, and abide by speed limits. Hit and run awareness, too, should be studied. Take driving courses, and make sure you're following all safety procedures before setting out. Today, Florida experiences over 1.8 million visitors per day. Whether you're visiting or are a resident, you should be wary of bad weather, heavy traffic and rush hour traffic. Enjoy the Sunshine State, and make sure your travels are incredibly safe.
View Allstate's full 2017 best driver's report here and check out the full infographic below: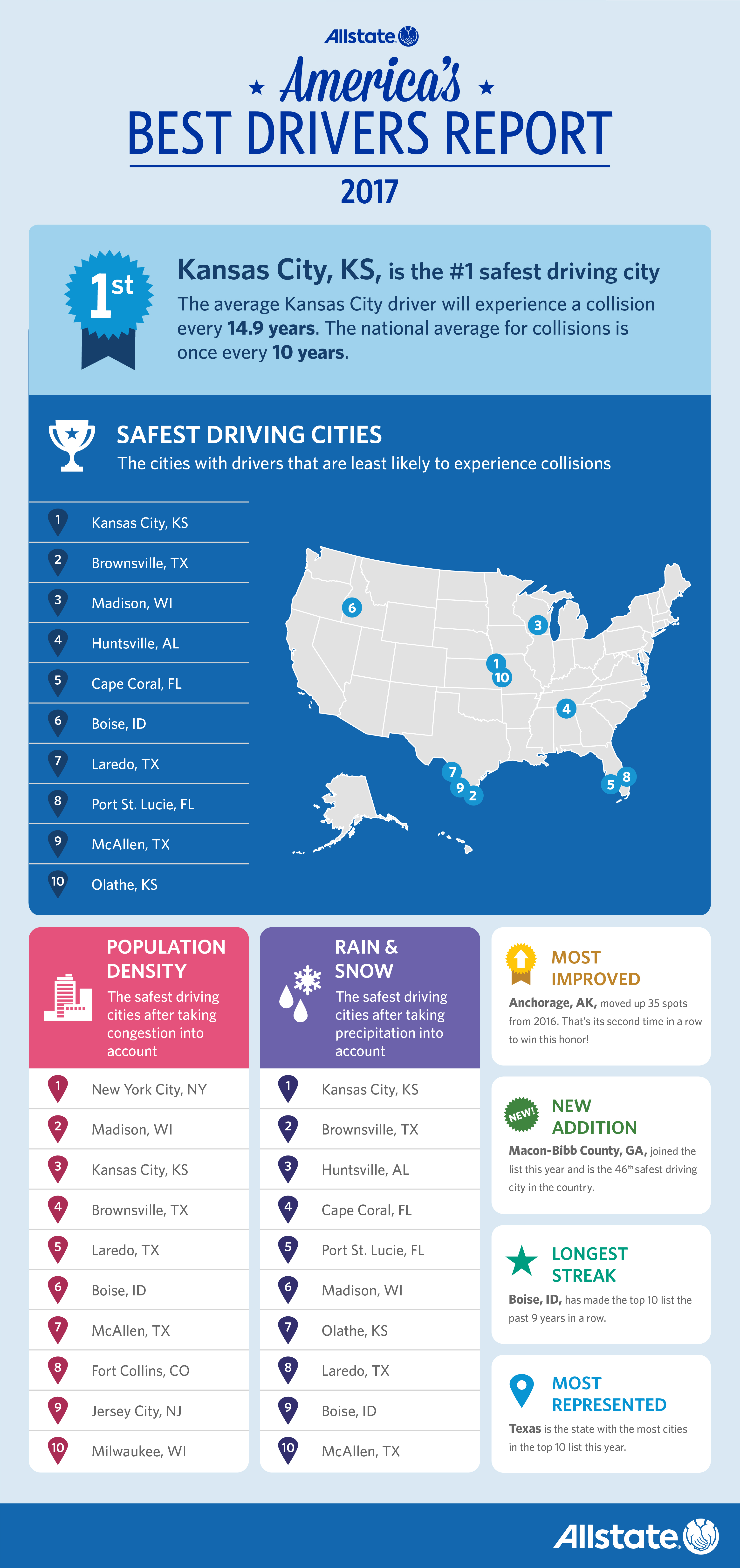 Florida cities represent 13 of the top 200 best driving cities in the US.