Updated May 2023: In honor of Motorcycle Safety Awareness Month, below you'll find the process to transferring a title and getting a license plate for your motorcycle in the Sunshine State (when buying a bike privately). Thanks to year-round sunny weather, FL has plenty of two wheels enthusiasts. Close to 700,000 registered motorcycles in 2021, according to Insurance Institute for Highway Safety.
Use eTags© to Quickly Complete Your DMV Service. Renewals, Title Transfers and More, All Online!
But before we go on, let's refresh your mind with a few best practices for riding safely:
1. It's always a good idea to check the weather before heading out
2. Don't forget your motorcycle helmet, for yourself and other passenger
3. Obey speed limit and always use your signals
4. Stay at a safe distance from other motorists
5. Make sure your bike fits you: your feet should be able to rest flat on the ground when seated – no tiptoes
FL motorcycle license requirements
First, make sure you've got the license requirements for riding a motorcycle in Florida. You can have an FL motorcycle-only license or a motorcycle endorsement on your driver's license. You must be at least 16 years old to ride your two wheels in the Sunshine State.
Motorcycle title transfer and insurance
If you hold the right license requirements, next up is to transfer the title to your name and get insurance coverage since you must have a valid FL insurance policy to register your motorcycle. Although the Sunshine State doesn't require motorcycle insurance, it always makes more sense to be covered. Especially for protecting yourself in other states, when you're on road trips outside of the state. You'll also need proof of financial responsibility in case of accident
According to IIHS, cruisers and touring bikes are the largest classes of registered motorcycles
The seller assigns the original title to you, so that you can later transfer the title by filling out Form HSMV 82040 also known as Application for Certificate of Title With/Without Registration. If you choose to title and register your motorcycle online with eTags, Form HSMV 82040 gets filled out as you answer questions making the process easy and convenient. You don't need motorcycle insurance when transferring title and registering your bike with eTags.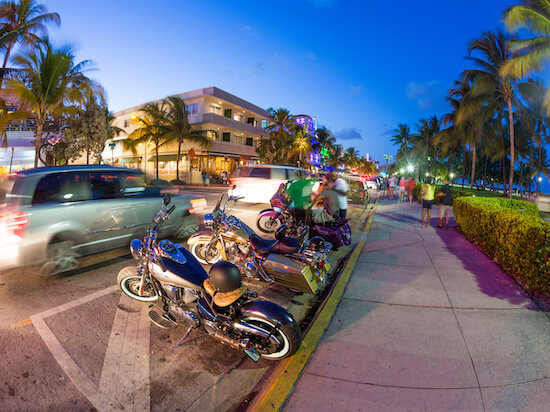 Odometer statement and VIN verification
If the title itself doesn't have room for you to indicate mileage, fill out Form HSMV 82993 which is a Separate Odometer Disclosure Statement and Acknowledgement. This form has both the motorcycle seller's and buyer's signatures confirming the mileage on the bike. A false statement can lead to fines and/or imprisonment.
SEE ALSO: MOTORCYCLE HISTORY-HOW U.S. REGISTRATIONS GREW TO ALSMOT 9 MILLION
If the motorcycle holds an out-of-state title, meaning it hasn't been registered in Florida before, you must get a VIN inspection from a police officer or certified DMV inspector. Once all done, you have a new motorcycle title in your name!
Motorcycles can be registered for periods of one or two years in Florida
Form HSMV 82040 is used for registration too
Next up is registration, which in FL is based on factors like your license plate type and vehicle weight. Form HSMV 82040 is also used for registration. So when your applying for title transfer, you'll be registering your bike at the same time. You have 30 days to register your bike when bought privately. You can expect a Florida license plate and sticker, along with a registration certificate.
The number of registered motorcycles has been growing in the U.S., almost doubling from 4.3 million in 2002 to 8.6 million in 2021 (IIHS). Californians and Floridians own the most motorcycles. Get ready to share the road safely!