Every July 4th, people all over the country celebrate the holiday by spending time with family, hanging out with friends, eating good food, and drinking alcohol. Unfortunately, several unnecessary deaths occur every year on this holiday due to drunk driving. According to the National Highway Traffic Safety Administration (NHTSA), over 160 people were killed in crashes involving drunk drivers over the July 4th holiday in 2014. The fourth is meant to be a time of celebration and it is important that we all do our part in being safe and keeping our roads safe.
To help reduce drunk driving, NHTSA promotes their yearly 4th of July Drunk Driving Prevention Campaign throughout the U.S. This campaign works to help educate people on drunk driving and is based on two main principles:
Enforcement: Drive Sober or Get Pulled Over – More law enforcement with zero tolerance for those who choose to drink and drive. This includes sobriety checkpoints, roving and saturation patrols
Social Norming: Buzzed Driving Is Drunk Driving – Educate teens and young adults about the dangers of "buzzed" driving and breaking the acceptance of such behavior as normal
Helpful Tips for Staying Safe During the 4th of July
The July 4th holiday weekend begins 6 p.m. July 3rd and ends 5:59 p.m. on July 8th.  Follow these simple tips provided by Traffic Safety Marketing (TSM), so you and your loved ones will have a safe and happy holiday.
Save Money on Your Auto Insurance Bill, Compare Quotes Fast
Before you participate in the activities, plan a way home.
Find a friend or family member that will agree to remain sober and be the designated driver for the night.
If you don't have a designated driver, and you are impaired, call a taxi cab, a family member, or a loved one for a ride.
If your community has a sober ride program, take advantage of it.
Contact your local law enforcement if you happen to see anyone operating a motor vehicle while intoxicated.
Make sure that if you see a friend or a loved one about to get in their vehicle intoxicated, you take their keys and call them a taxi cab.
Penalties for drinking and driving

In all 50 states, it is illegal to operate a motor vehicle with a blood alcohol concentration of .08 grams per deciliter or higher. However, the penalties will differ with each state. As an example, in Alaska, for first offense, you'll lose your license for 90 days. In California, you'll lose it for 4 months, and in West Virginia, you'll lose it for 6 months. In addition to losing your license, you'll also be faced with:
Time in jail (time depending on the state)
Expensive fines (DUI's can cost on an average of $10,000)
Increased insurance rates
After your first offense, the penalties only get worse. You may receive more time in jail, be issued larger fines, lose your license longer, and in some states you may have to use an ignition interlock. An ignition interlock is a device that's attached to the inside of your vehicle. Before you can start your vehicle, you must blow into it through a tube. If you're over the legal limit, your vehicle will not start.
Facts About Drunk Driving on Independence Day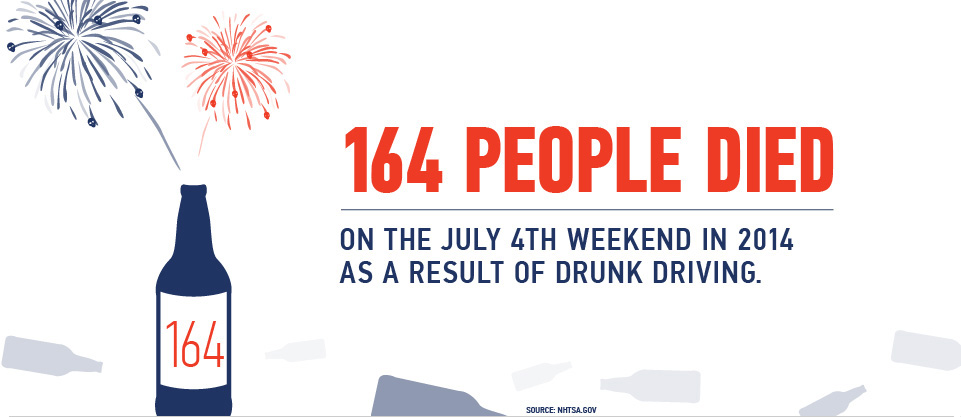 During the 2014 July 4th weekend, 29% of fatal crashes involved drivers with BACs of .15 or higher – almost twice the legal limit in any state!
Fatal crashes involving alcohol impaired drivers were three times higher at night than in the day during July 4th 2014 period.
There have been over 750 killed in drunk-driving crashes during the July 4th holiday periods from 2010 to 2014.
For more information, you can access the "Drive Sober or Get Pulled Over' fact sheet on the Traffic Safety Marketing (TSM) website.
For Those Choosing Not to Consume Alcohol
You don't have to consume alcohol to have a great time on the 4th of July. If you choose not to drink, offer to be a designated driver. Not only will you help save lives, you'll also avoid that unwanted hangover in the morning. Designated drivers should always get the keys from their friends before they start to drink. Stick to your commitment and keep your crew away from the wheel.