Of all the theory that we need to remember prior to hitting the road, road signs appear to confound motorists in a singular fashion.
Motorists are constantly reminded to drive attentively in spite of the continuous vehicle accidents which, in many cases, could've been prevented by understanding the meaning of each sign.
In fact, traffic signs come in many different shapes and colors, and understanding their meaning requires full commitment and effort.
Whether you are planning to take the DMV written/road test or revisit basic concepts, access your local state's driver handbook for further information about signs and safety driving.
Save Money on Your Auto Insurance Bill, Compare Quotes Fast
Continue reading to learn more about the different types of road signs based on shapes and colors.
Black and white signs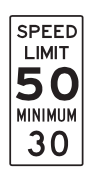 This type of sign, also known as regulatory sign, follows a black-and-white display. Once you spot a regulatory sign, you must adjust your driving accordingly.
They tell you what you must or must not do in order to enhance safety and compliance.
For instance, some regulatory signs show maximum and minimum speed limit for all type of vehicles on certain roads.
Note that regulatory signs may display an average speed limit but some road conditions may require you to slow down for your safety.
Yellow signs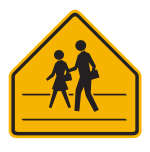 Yellow signs inform drivers about key warning while on the road. Those warning often guide drivers on driving slowly, cautiously, and other relevant warning to keep you safe.
Don't be confused by their different color mixes and design. Many of them are just yellow, or yellow-green with black fonts and symbols.
Use yellow signs as a guide against any possible hazard on or near the roadway.
Green signs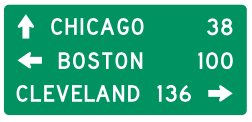 These road signs are strictly used for guidance. You see green signs everywhere and they are quite big and visible.
Green signs typically inform drivers about locations and which road to take to reach the desired destination.
Blue signs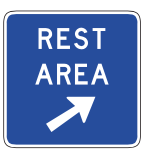 Blue signs are also used for guidance. They complement green signs, mostly needed when you are planning to drive long distances or require any particular service.
These signs inform drivers about certain services along the road which includes: rest areas, picnic areas, hospitals, gas stations, information, telephone, tent camping, and so on.
For example, if you are driving an electric car, there is a chance you'll find an "Alternative Fuel, Electric Vehicles" blue sign somewhere along the roadway.
Orange signs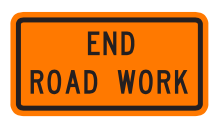 Orange signs are often found in areas where there is planned construction or other maintenance projects that ineluctably force road closures or at least generate disruptions.
If you see an orange sign while on the road, make sure to slow down and drive cautiously.
Not merely will you need to watch out for your safety but also ensure you don't put other road workers in danger.
Brown signs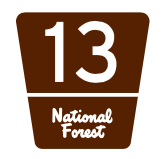 Brown signs typically inform drivers about parks and recreations for motorists who may want to make a stop for special visits.
If you are a tourist or planning a road trip, pay attention to these road signs for an easy navigation.
Regardless of shape and color, all road signs share a common mission: keep everyone safe and informed.
While every color offers different action or reference, understanding each type will make you feel more confident about your driving skills.
Again, you are advised to check your driver handbook to learn more about road signs in depth. The more you refresh your memory about road signs, the better for your safety.
SEE ALSO: 6 Awesome Tricks For Successfully Reducing Commuting Stress