Is your family prepared in the event of an emergency?
Natural disasters can happen at any given time. Tornados, hurricanes, flash floods, earthquakes, tsunamis, and more; all powerful, dangerous, and potentially deadly. Here in Florida and many other states bordering the Atlantic Ocean and Gulf Coast, we are well aware of the damage a natural disaster like a Hurricane can cause and West Coast residents are very familiar with earthquakes and wildfires. That's why over 3,000 organizations from around the country are teaming up for the 11th annual National Preparedness Month.
National Preparedness Month is aimed at providing people all over the country the information they need to help them get prepared for both small and large weather anomalies. Every week during September is dedicated to a different theme:
| | |
| --- | --- |
| September 1-5th | Floods |
| September 6-12th | Wildfires |
| September 13-19th | Hurricanes |
| September 20-26th | Power Outages |
| September 27-30th | Get ready for National PrepareAthon! Day (September 30th ) |
Getting Prepared
Assemble a survival kit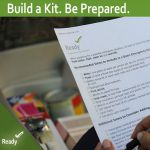 If you ever need to evacuate your city or region, having a disaster supply kit ready can help ease the stress of acting when the time comes. Consisting of an assortment of essential items that your household will use in an emergency, a disaster supply kit should be assembled with enough provisions to support your household members for at least 3 days. Emergency help may take that long to arrive if the damages to the area are severe. These kit should include things like:
Save Money on Your Auto Insurance Bill, Compare Quotes Fast
Food – non-perishable items like canned foods, dry mixes, and other staples that contain high liquid contents and are not overly salinized
Water – one gallon per day for each member of the home remembering that the supply will be used for consumption, sanitation and possibly medical needs
First Aid Kit – multi-sized bandages, compress dressings, cloth tape, antibiotic ointment, antiseptic wipes, gauze, and more.
Electronics – flashlights and batteries, battery-powered or hand-cranked radio, and a cell phone with charger, inverter, or solar charger
Old school items – U.S. paper map, matches or lighters, manual can opener, wrench or pliers, moist towelettes, garbage bags
It's important that your kit gets built well in advance, so you don't have to scramble to gather your supplies last minute. Keeping the survival kit in a cooled area of your home is what is recommended. Putting together a kit for your car is also advised.
Construct a plan
Before disaster hits, make sure you and your family have a plan. Trying to figure out what to do during an emergency may compromise the effectiveness and fluidity of your safety plan. By having a well-practiced plan, you'll be prepared when you need to be.
Designate a safe place where members of your family can meet (local school, church, neighbor's house, etc).
Make sure everyone knows how to get to the designated spot. Draw up a map and photocopy it for everyone.
Take your family through several practice drills, so that everyone becomes familiar with it.
Create a pocket-sized sheet of emergency numbers and addresses that can be stored in each family members wallet or purse
Stay Informed
One of the biggest mistakes that an individual can make is believing that a disaster won't happen or that it "won't be that bad". No matter where you reside, you need to be prepared and stay informed. Some of the ways you can stay informed are:
WEA messages – In the event of a local emergency, government authorized safety agencies will send out a text message alerting residents of the impending threat. Most devices are already programmed to receive these alerts and, while not recommended, you can contact your carrier to opt out or change the type of alerts received.
Disaster alert apps – Yes, there is an app for that. Available for both Android and iOS a disaster alert app will allow you to search for occurring disasters by location, receive global or localized alert disasters and more.
Emergency Management/Services offices – Contacting or visiting your state's emergency management agency will help you in obtaining information on available shelters, evacuation orders, and more.
The News – You can stay update on what's going on in your area and around the world through newspapers, radio, TV, and of course, the World Wide Web. Facebook can do a nice job of passing around natural disaster news as we recently witnessed here in Florida with (ex)Tropical Storm Erika.
Driving in a Disaster
In the event that you and your family must quickly evacuate the city, it's important to stay calm and follow these tips when driving in the following conditions:
Hurricanes
Do not attempt to evacuate once the hurricane has arrived
Do not try and drive on flooded roads or highways
Avoid traveling on coastal and low-lying roads
Flood
Do not try and drive on flooded roads or highways
If you are caught in deep water, get out of the vehicle
If you leave your vehicle, head to higher ground
Wildfire
Evacuate early following local fire department warnings
Avoid closed-in, box canyons as safety areas
Know where and how the fire is spreading by staying informed
Most importantly, always have your evacuation route planned ahead of time. Know where to go and how to get there.