National Bike Month in 2015 has encompassed a number of events like Bike to School Day on May 6th, Bike to Work Week on May 11th to the 15th, and Cyclofemme on Mother's Day. This year's National Bike Month has proved to be a great success for the Bike League, sponsors of NBM, and bicycle aficionados worldwide. The sheer number of locally organized events this year has been quite a surprise.
Use eTags© to Quickly Complete Your DMV Service. Renewals, Title Transfers and More, All Online!
My Bike to Work Story
I accepted the challenge and committed to ride my cruiser to work on Thursday May 14th. While my commute was not pure, that is I cheated by biking 1 mile to the train station, traveling 24 miles, and then biking the remaining 3 miles to work, I give myself an A for effort. Despite arriving to work sweating, I'm glad I did it. I realized I liked it and am now planning on biking to work once or twice a week. I'm not the only one who feels that way. Nationwide, bike commuting has grown exponentially.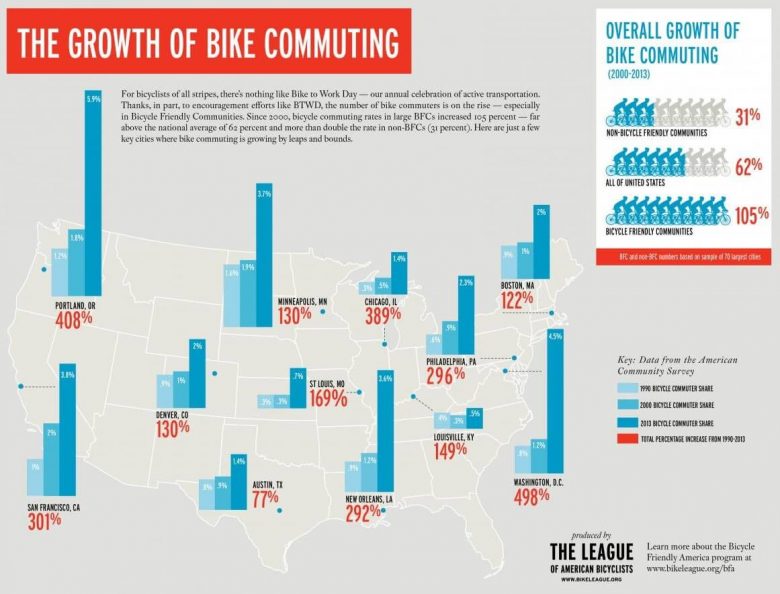 A Few Successful Bike to Work Events
The Bay Area's 21st annual Bike to Work Day was celebrated by tens of thousands of residents of Napa, Contra Costa, Marin, Alameda, Solano, San Francisco ,Sonoma, Santa Clara and San Mate. The Metropolitan Transportation Commission (MTC) even implemented "Energizing Stations" across the bay area flush with commuters fueling up on goodies, coffee, and commemorative bags. Well done, Bay Area residents, well done!
WABA, the Washington Area Bicycle Association, and Commuter Connections hosted an event on the 15th of May for bike to work day. The event featured 79 pit stops around Virginia, Maryland and DC. Participating commuters received free Bike to Work Day T-shirts, enjoyed free snacks, and won some cool prizes.
The "heart of the Central Valley" has logged some impressive numbers for this year's event. As reported by Bike2WorkFresno.org, 55 companies participated in bike to work day, hosted on the Thursday the 14th, which resulted in 304 riders commuting a combined total of 5,053 miles and burning approximately 130,000 calories. Watch out Bay Area, you have some stiff competition!
Even a few car-loving Florida metros participated in this year's events (I say that with complete and utter love for my home state, of course). Orlando Mayor, Buddy Dyer, made time for a Bike to Work Day (on May 1st) and shared the event with residents of the most magical place on earth (we hope Mickey biked to work that day too)!
A Few Successful Bike to School Events
In Philadelphia, 9 Schools held successful Bike to School Day events in partnership with Safe Routes Philly. Planning, promotion and route selection were done quite effectively and safety equipment was even provided to keep students and staff, well, safe.
Thousands of Alameda County Students participated in Bike to School Day this year. The Alameda County Transportation Commission (Alameda CTC) has promoted NBM for years and even provides different types of promotional materials for those interested in organizing events for their schools.
Successful Bike and Walk to School Day events were held in Arlington Public Schools on the 6th. Like in Alameda County, several materials were made available for teachers and other school staff that likely helped to make the events there a success.
Bike day celebrations supported by the Derry Township Police Department and School District encouraged students to ride their bicycles to school on May 6. Participating students received a snack of apple slices and the first 100 students received flashing safety lights.
A Few Successful CycloFemme Events
Empowering women bike commuters and providing a supportive community through San Antonio's very first Cyclofemme event, woman and their families were provided a different experience this mother's day. Stops were made at beautiful places like Mission San Juan Capistrano, Mission San Jose, historical Missions-Mission Concepion and Mission Francisco De La Espada along the 20 mile bike route.
Woman in Savannah, Georgia weren't left behind this year as they participated in the Third Annual Savannah CycloFemme event. In this part of the south, it's celebrated as a 6 mile ride honoring the past and the emancipation of mothers, grandmothers, great-grandmothers and beyond. You Go, Girls!
Not to be buried under the news of larger local events, a wonderful lady by the name of Jules planned a successful event that resulted in 42 riders on the road to Waconia in Surly's Cyclofemme Ride in Minnesota. The event kicked off with heavy rains but none of that deterred any of the brave woman who committed to the 20 mile trek.
Whether you are an experienced bicyclist or a beginner, we strongly encourage you to accept the challenge and embrace the sensibility of ditching your motorized form of transportation for the simplicity of a two-wheeled, human-powered machine! Afterall, cars are so last year.