April is a busy month, with April Fool's Day, Passover and Easter holidays, Tax Day, and more. It's also Distracted Driving Awareness Month when state and local agencies conduct increased patrols to educate and enforce laws about cellphones behind the wheel. There's also a united and national campaign going on: "U Drive. U Text. U Pay." Expect to see plenty of driving safety messages in the press, local and national events, social media, TV and billboards.
Use eTags© to Quickly Complete Your DMV Service. Renewals, Title Transfers and More, All Online!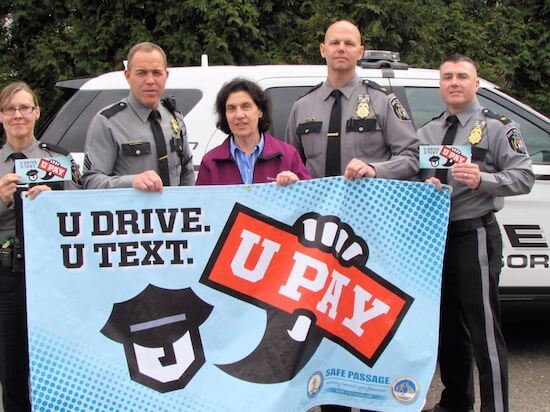 In 2001, New York State was first to ban hand-held cellphone use while driving, with further legislation enacted in 2009
Eight fatalities a day and over 700 injuries from distracted driving
Distracted driving is a serious problem in the U.S., with an average of eight fatalities a day according to the Indiana Dept. of Transportation and more than 700 injured from (these distracted) accidents. This year the Governor's Traffic Safety Committee announced: From April 4th through April 11th, New York State police is stepping up patrols in the hopes for safer roads and to ensure distracted drivers are held accountable.   
In 2021, the "U Drive. U Text. U Pay," campaign New York police officers handed out 220 Move Over Law tickets, which requires drivers to move one full lane away from stopped authorized emergency or hazard vehicle
"U Drive. U Text. U Pay:" 34,654 tickets for New York drivers
Last year, the campaign resulted in 34,654 tickets for New York drivers, including 1,671 distracted driving tickets. Impaired driving, which covers driving drunk, or under the influence of drugs/prescription medication, was the reason for 975 tickets given. A little over 1,000 tickets were cited for not wearing a seatbelt, while 7,120 were for speeding.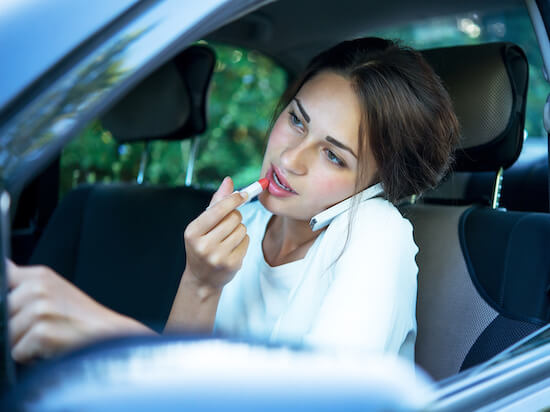 What's considered driving distracted
A driving distraction is ANY activity that takes your attention away when you're behind the wheel— it's not just when you're using your cellphone to text or scroll thru social. Daydreaming, eating, putting on makeup, adjusting your GPS or radio, even fidgeting with temperature can take your eyes off the road. Driving distractions affect multiple senses, from visual and auditory to manual and cognitive, for every registered driver.
 In 2017 "Operation Hang Up" increased patrols and checkpoints; NY law enforcement giving more than16,000 tickets, including more than 2,000 tickets for distracted driving
If you're under 18, you may face extra fines and penalties for a more costly citation. In addition to these fines, if you're found guilty there may be an extra charge of $93 per violation. For cab drivers, distractions behind the wheel may result in $350 fines.
SEE ALSO: STATE FINES + PENALTIES FOR SUSPENDED/REVOKED DRIVER'S LICENSE
Driver Responsibility Assessment fees
If you're pulled over and charged with driving distractedly in the Empire State, you may face DRA fees to avoid a driver's license suspension. You can expect to pay $300 once you accumulate six points on your driving record within 18 months, as well as $75 for each additional point you get. Driving 21 to 30 miles over the speed limit will give you 6 demerit points. Speeding 11 to 20 mph over limit, a problem with your car's brakes or following another driver too closely like tailgating will give you four points on your license. If you're caught not using your turn signals, that's two points.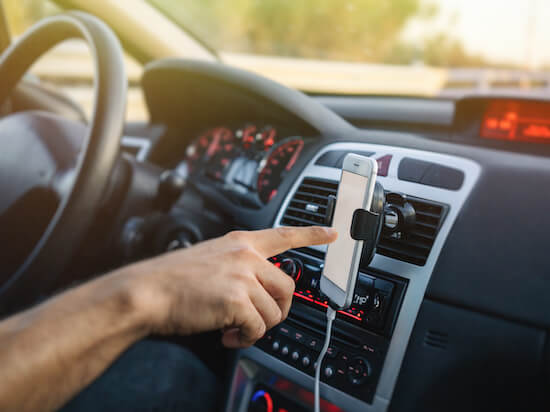 Some of New York State's distracted driving laws
• Drivers must use hands-free devices when talking on cell phones
• You can't text, play games, look at or take pictures, when driving
• If you drive a cab, you're not allowed to use cell phones, even in hands-free mode
• If there are TV screens in the vehicle, they need to be away from the driver's view
• In NY, you're allowed to use electronic devices that are built into your vehicles like dashboard
• You can use GPS, cell phone, and MP3 player, but ONLY in hands-free mode
• You can text while driving, while stopped at a red light
In 2018 New York State police issued 4,542 distracted driving citations; 2,772 were for handheld cell phone use 1,770 were for texting while driving
Keep your eyes on the road, your hands on your steering wheel, and yourself safe!