Vehicles rank among the most recycled products in the world. From the tires to the frame and interior upholstery, virtually every part of a vehicle can be recycled. If you are among people who wonder what happens to your vehicle when you junk it, be rest assured that it is almost always recycled at the junk yard. In fact, many parts of a scrapped vehicle; especially the steel pan, are recycled and used in manufacturing new vehicles. With the capacity to scrap more than 10 million cars per year (approximately 11.7 million vehicles were scrapped in 2011), the salvage industry is ever poised to extract the last dregs of value from your old, rickety jalopy.
Irrespective of whether you bought a brand new vehicle or a used one, it starts to depreciate in value the moment the deal is sealed and you drive off in your new wonder-on-wheels. Whenever you feel that you have extracted optimum value from it, the salvage guys at the junk yard step in to finish up from where you stopped. Whether you sell off the car to the salvage guys, sell it off in bits and parts, trade it in for a newer one, or give it away to relevant charity, the vehicle will eventually end up in the junk yard.
The average vehicle is made up of a combination of different materials like steel, aluminum, fiber, glass, bronze, zinc, silicon, rubber, plastic, oil and other fluids. Most of these materials can be recovered and used to produce something of value, especially in a new car. 
Save Money on Your Auto Insurance Bill, Compare Quotes Fast
What Happens to your Old Vehicle as it Goes through the Salvage Process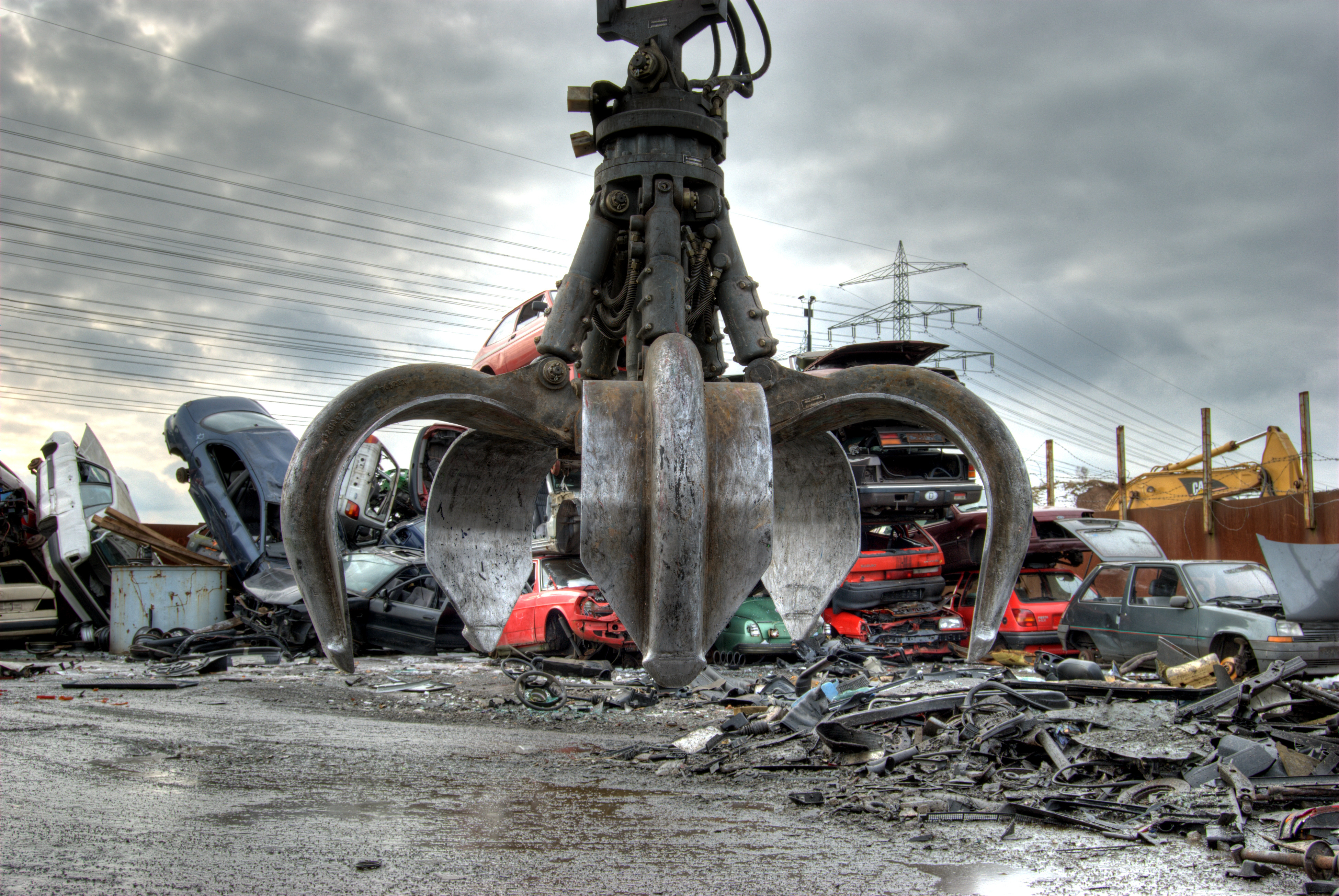 Fluids
The first step in this process involves draining the vehicle of all fluids like gasoline, engine oil, antifreeze, engine coolant, transmission fluids, and hydraulics. Each of these fluids is treated and disposed in accordance to established guidelines and regulations to ensure that they do not end up contaminating the environment.
Reclaimed Parts
No matter how run down a car may appear, there are some parts that may still be in a good enough condition to be removed from the vehicle before it is fed to the crusher. These may include components like the alternator, brain box, carburetor, battery, bumpers, hoods, doors, etc. Some of them can actually be reconditioned and used straightaway as replacement parts for other cars while others will need to be completely recycled and morphed into other products.
Crushing
After those components which are deemed salvageable have been pulled from the vehicle, it is then sent into the crusher to be flattened, after which it is fed to the shredder which shreds it into bits and pieces.
Sorting
The crushed bits of metal and other materials are sorted accordingly. A magnetic crane separates the steel from the aluminum and other materials. These are then piled up with similar materials from other shredded vehicles for onward processing and recycling.
In conclusion, whatever happens to your vehicle when you junk it, more than three quarters of its parts and components end up either as replacement parts for other cars, or as recycled parts used in the manufacture of new cars. Needless to say, this amounts to billions of dollars in savings every year for the automobile manufacturing industry.