Cyclists ride west on Washington State's John Wayne Pioneer Trail Photo Credit
---
Every year, hundreds of miles of bike trails are opening each year across the United States. Often referred to as "multi-purpose trails", these are paths created specifically for non-motorized vehicles and pedestrians. Depending on the location and type of the trail, they are often used by walkers, runners, joggers, cyclists, and even those walking pets. They are used by families for group exercise and by non-profit organizations will utilize them "fun-run" fund raisers.
Even if you don't utilize these trails yourself, there are plenty of good reasons to support their expansion. They are transforming communities from California to Florida and are extremely popular in the Midwest. You may be surprised how they may impact you.
"Rails-to-Trails" Bike Trails
Rails-to-trails paths are, for the most part, former railroad routes that have been acquired through government funding and donations. These railroad tracks are then converted into pedestrian and bike trails. Some are wide and paved with asphalt or concrete, some are gravel or dirt for hiking, horseback riding or as an "off-road" bike path.
Save Money on Your Auto Insurance Bill, Compare Quotes Fast
According to the non-profit Rails-to-Trails Conservancy, there are presently 2,048 rail-trails currently open, accounting for an impressive 22,933 miles of these trails. There are an additional 776 rail-trail projects in progress that will soon add an additional 8,288 miles to that total.
Former railroad tracks are appealing for pedestrian and cyclist use because they are generally flatter, oftentimes running along scenic rivers or connecting communities. There are urban trails and those that wind through the countryside.
Bicycle Safety and Bike Paths
In 2015, over 800 bicyclists were killed in the U.S. with California and Florida often leading the nation. National cycling injuries reach about 50,000 annually, prompting many communities to implement "Share the Road" campaigns in an effort to promote bicycle safety. Many new roads and repaving projects now include bike lanes. In early 2017, Southern California was approved for $56 million for new bike paths and pedestrian walkways with bicycle safety and education prompting the funding. Delray Beach, in Palm Beach County, Florida recently received national recognition for its uniquely marked bike paths.
Each newly designated rail-trail and bicycle path provide an opportunity for more recreational bikers to cycle more safely off the roadways and sidewalks. Some bike paths require helmets for bicycle safety. These paths also promote walker and rider safety by exposing users to rail-to-trail etiquette and bicycle safety guidelines. These designated paths are a far safer way for cyclists to enjoy the activity. They also can lead to safer roadways.
Raising Property Values and The Quality of Life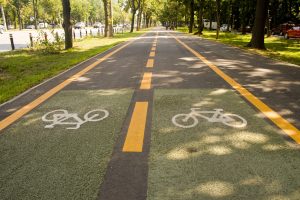 One of the reasons rail-trails and designated paths are growing in popularity is because they are proving to be economically beneficial. Communities are using them to connect parks and landmarks, promoting their use. Homes and businesses that previously bordered abandoned railroad tracks, now have added green space, improving values.
Florida is building a coast-to-coast trail through the center of the Sunshine State to promote not only bicycle safety but eco-tourism. When complete, the trail will go from the Tampa-St. Petersburg area on the state's Gulf Coast to the Space Coast on the Atlantic Ocean.
Ohio continues to forge ahead with its cross-state Ohio to Erie rails-trails program. When complete, which will eventually allow cyclists to ride from the Ohio River in Cincinnati in Southwest Ohio, through Columbus in Central Ohio and onto to Lake Erie in the Cleveland area in Northeast Ohio almost completely on off roadway trails. The beneficial impact of bike paths has been proven in small towns who have embraced them like Loveland near Cincinnati and Mt. Vernon in Central Ohio.
Even economically devastated Detroit, Michigan, known somewhat ironically as "The Motor City", is investing in making its 200 miles of bike lanes safer, to improve quality of life and for cleaner air.
Bike trails are proving to promote bicycle safety and health and fitness. They are helping communities that embrace them economically and with rising home values. They are improving quality of life, adding green space, and connecting us.
Even those who don't actively or use them can benefit from air that's just a bit cleaner and through families that are just a bit closer.