Hitting the road during tough conditions could be an everyday occurrence during the wintertime commuting for Maryland, Pennsylvania, and New York drivers. Snow, icy roads, fog, early nightfall, slicker pavements, unclear traffic signs, and so on. Emotions can affect your ability to react to that bad weather, which is why the number one tip about driving in tough conditions is to stay calm at all times.
Bad weather like hail, downpours, snowstorms, and even dust storms, affect your driving patterns and behaviors. You may have to re-route at the last minute or suddenly get anxious behind the wheel, jeopardizing your safety and increasing the chances of getting involved in a car accident. In fact, about 17% of car accidents happen in snowy conditions. And over 1,800 people die annually due to driving in snowy and icy conditions.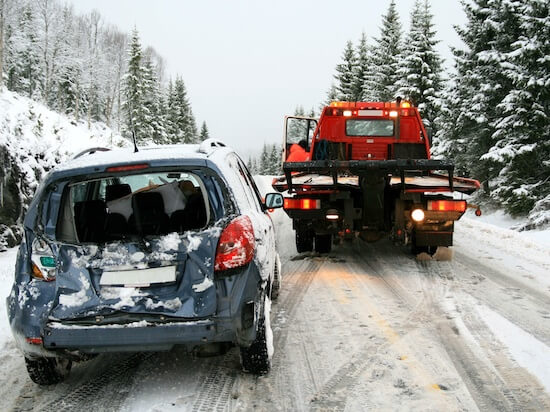 Losing traction on the road means no sharp moves
According to the FHWA, 70% of roads in the United States are in snowy areas, so the threat of an accident is significant. You could get involved in a car crash because your vehicle loses traction, which is a common situation that requires an immediate reaction.
Tire pressure lowers itself in winter and raises itself in summer. Under-inflated tires can cause a car to react more slowly to steering
Save Money on Your Auto Insurance Bill, Compare Quotes Fast
When you drive through wet, muddy, snowy, or icy roads, the reduced tire traction increases the chances of slipping out of control or skidding. You could mitigate the impact by slowing down, and reducing the pressure on the brakes to try to drive more smoothly. Avoid making rapid and sharp maneuvers when driving through slick conditions, otherwise you would be putting yourself at risk even more.
Damp sleet in the winter can turn the roads both icy and slippery
When handling slippery winter roads, make sure you drive at slower speeds, make gentler stops and take your time with turns. Don't forget to increase the following distances between yourself and other vehicles. It's advised to reduce speed to half the posted speed limit or less under snowy road conditions.
SEE ALSO: USED CAR INSPECTION GUIDE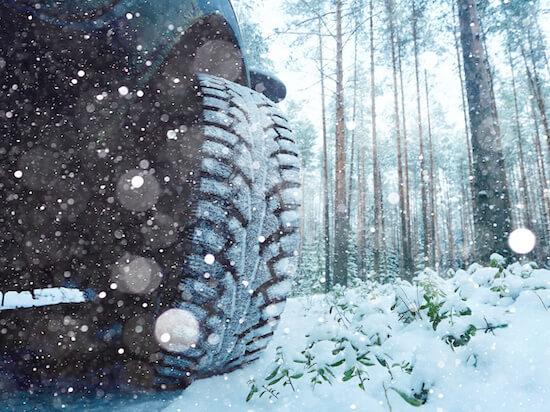 Loss of control means regaining control
There are times where your car can't help sliding regardless of your efforts to make it come to a full stop. In other words, you lose total control of your vehicle. Every person reacts differently to situations like these, but the worst you can do is panicking. Instead, stop pressing the gas and try to smoothly position the car in the direction you want to go.
The key elements to safe winter driving are: stay alert, slow down, and stay in control
Another tip is to give moderate pressure to your brakes if needed. After steering the car in the right direction, add some pressure to the gas as you start gaining control of the car. Pay attention to where you're headed, and focus all of your attention on where to go. That will help you reduce the anxiety and stay calm.
Sudden heavy snow storms could affect road visibility which is another danger of wintertime driving 
What to do when you can't regain control of vehicle
Imagine that you lost control of your car while driving on wet roads. Even though you tried to regain control of your car, you couldn't avoid hitting an object. Sometimes the inevitable happens, but here's what you need to do when that happens:
• Check that everyone in your vehicle and in the immediate area is safe
• Call for medical assistance, if you find anyone is injured
• Place your car in a safe spot, where you're not blocking other drivers
• Call the police and /or tow truck, if you can't move your car
• Contact auto insurance company to report any damages to car, injured parties or property
• Document scene, take pictures of the incident and surrounding area
• Gather contact details of everyone involved in the accident and witnesses
• Exchange auto insurance information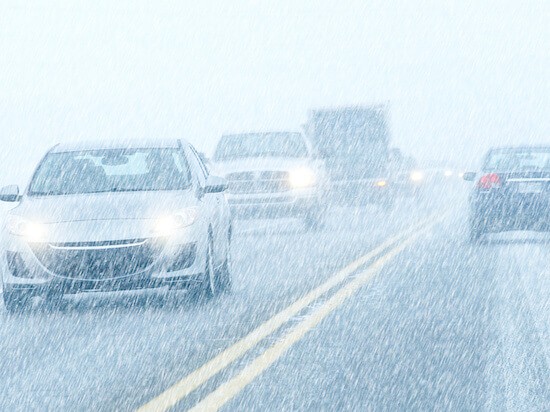 What's black ice?
Driving during the winter is particularly dangerous because of black ice, often a transparent coating of ice on roads or other paved surfaces. It's virtually invisible to the human eye when driving so it's especially hazardous.
We hope these driving in wintertime tips help you stay safe during the colder months!