With city lockdown orders, work-from-home alternative, and less commute & driving, there are definitely more pedestrians walking around communities nationwide. Mobility trends in the social distancing era, open streets movements, and walkability figures are all part of the larger discussion over pedestrian safety.
Use eTags© to Quickly Complete Your DMV Service. Renewals, Title Transfers and More, All Online!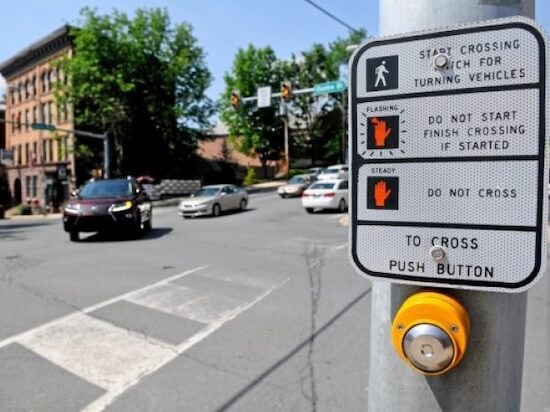 Pedestrian deaths are up in certain cities
In fact, cycling and walking on New York's bridges jumped 52% after the city went on lockdown. Cabin-fever has people walking around multiple times a day. Even pedestrian deaths are up in certain cities, despite fewer cars on the road, like in Tennessee. Police data showed more pedestrians are dying on Nashville roads when compared to last year.
More restricted car access nationwide
In an effort to give people the chance to spread out and follow social distancing guidelines, cities such as Philadelphia, Boston, Minneapolis, and Denver have closed miles and miles of streets to make them car-free. In Oakland, in the Bay Area of California, the Slow Streets initiative restricted car access to 74 miles of roads. Local used that extra space to walk, ride bikes, and rollerblade.
Restaurants and other businesses are pouring onto sidewalks
Being outdoors is safer than being inside regarding restaurants and other enclosed businesses. Denver just launched a program to give businesses the option to expand into their adjacent sidewalks, streets, and even parking lots. Chicago in next to follow suit, while Cincinnati and Tampa have already taken those steps.
In the age of this pandemic, and as social distancing is the new norm, it's important to shed light on pedestrian safety more than ever before. Did you know that in 2018 there were 6,283 pedestrians killed in traffic crashes? That number is the highest since 1990 and a 3.4% increase from 2017. On average, a pedestrian died every 84 minutes in 2018 — accounting for 17% of all traffic fatalities.
Last year, pedestrian deaths rose 5%
In 2019, U.S. pedestrian deaths have hit their highest level in 30 years with an estimated 6,590 pedestrians being killed in motor-vehicle crashes last year. As everyone strives for more safety, the United States Department of Transportation has some great guidelines and tips to follow for pedestrian safety— both for pedestrians and drivers.

Pedestrian Safety Tips
• Walk on a sidewalk or path. If those options aren't available, walk facing traffic and as far from cars as possible.
• Cross streets at marked crosswalks or intersections; this is where drivers expect pedestrians. If you can't, find a well-lit area, wait for a gap in traffic with enough time to cross safely. Don't forget to continue to look out for traffic while crossing.
• Don't walk while impaired! About 33% of fatal pedestrian crashes in 2018 involved a pedestrian who was drunk.
• Never assume drivers see you; they could also be distracted or impaired. Try to make eye contact so you're sure to be seen. At night, wear reflective materials, or use a flashlight.

Drivers Safety Tips
• Look for pedestrians everywhere. They may be walking in unexpected areas, or even hard to see at night, in poorly lit areas, or in bad weather.
• Always stop or yield for pedestrians in the crosswalk.
• Never pass vehicles stopped at a crosswalk. They might be stopped to allow pedestrians to cross the street.
• Stay alert where children are present, such as school zones and local neighborhoods.
Slow down and adhere to speed limits as lower speeds are one of the most crucial factors in pedestrian crash survivability.