Orlando, Florida is one of the most popular travel destinations in the world. Universal Orlando, Walt Disney World, and countless other theme parks bring in tens of millions of people every year. In fact, pre-pandemic numbers were around 75 million visitors annually.
Use eTags© to Quickly Complete Your DMV Service. Renewals, Title Transfers and More, All Online!
Cars and pickup trucks are most popular in Orlando, FL
But enough about tourists! When it comes to locals, they rather check out Gatorland. Think zip lines, feeding alligators and water slides to boot. Or the Milk's District "Tasty Takeover" block party for a food trucks every week. Speaking of trucks, do you know what Orlando's most registered types of vehicle are? Passenger cars and pickups!
Orange County in Orlando has 1,161 410 two- and four-door cars and pickup trucks registered as of August 2022. Plus, nearly 90,000 motorcycles! Just ask eTags registration and titling online company; Orlando holds the number one spot for most app orders. Miami and Tampa follow. As far as most popular vehicle, the newest data is from 2018; Toyota Corolla was the best-selling vehicle in Orlando for both car buyers and drivers who leased.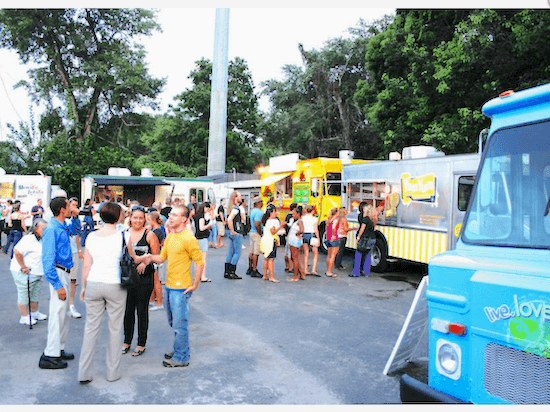 By late 2021, Orlando used car prices increased by almost 20%
In 2021, Toyota's RAV4 was best-selling new set of wheels
When looking at 2022 and ALL of the Sunshine State, the most popular vehicle is Toyota's RAV4 (data based on 17.4 million new vehicle sales by state last year).The Florida DMV just shared a few statistics in regard to registered vehicles in various counties in Orlando. Seminole County has a tad over 450,000 vehicles in total including mobile homes, travel trailers, and even boats and buses. Osceola boasts 781,756 vehicle registrations in total.
So how you renew your vehicle in Orlando, FL? There's always the FL DMV route or through the Orange County tax collector, but don't forget that you must schedule an appointment first. You can also skip the trip and head straight to an app or your computer to renew your Orlando license plate.
In 2020, Florida had close to 19 million registered vehicles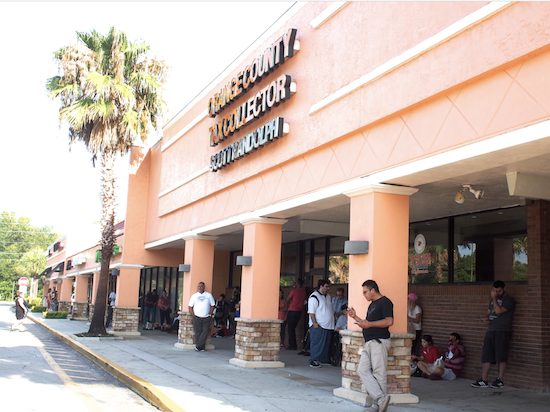 eTags offers a variety of services for Orlando cars, pickup trucks, EVs, RVs, and motorcycles surrounding tags. This online option becomes even more beneficial, when your Orlando car registration is just about to expire. eTags offers an instant digital copy for proof of Florida registration for temporary use, while you wait for the paperwork by mail.
SEE ALSO: FLORIDA CAR REGISTRATIONS AND TITLES ONLINE
Standard license plate, specialty and/or personalized
If your Florida license plate expires in the next three months, you can renew online while also, should you decide, to get a specialty plate or even personalize your standard FL tag. eTags can also personalize your specialty plate, no matter what organization you decide to support, from the Florida university you attended to saving the oceans, and even off-roading (if that's your thing.)
An out-of-state license plate must be registered in Florida within 10 days of residency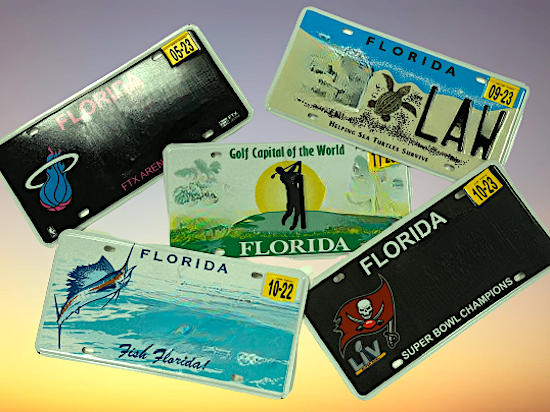 According to DataUSA, Orlando residents have an average of two cars per household and a 28.6 minutes commute to work. If your registration is about to expire, consider getting the to-do task online or through your mobile phone. Registering your ride with eTags is quick and easy. Simply answer a few questions by clicking through. Mention a few details about your vehicle, like make and model, license plate, and such, plus your contact info. Then sit back, relax and safely get behind the wheel when you're ready to hit the road.