In Pennsylvania, the Department of Transportation, also known as PennDOT, requires all motor vehicles to have a license plate displayed on the back. No matter if it's a car, truck, or even a motorcycle, you'll need a state-issued license plate. Fun fact: PA used to issue front and rear license plates for just a few years, between 1946 and 1952. In the Keystone State, the standard license plate is white and blue with blue and yellow stripes at the top and bottom. Continue reading to discover how to apply for a new license plate in the state of Pennsylvania.
Use eTags© to Quickly Complete Your DMV Service. Renewals, Title Transfers and More, All Online!
Use eTags© to Quickly Complete Your DMV Service. Renewals, Title Transfers and More, All Online!
As of December of 2016, PennDot doesn't issue a registration sticker as part of the registration process
Registration is required to get a Pennsylvania license plate
In order to get a valid license plate in PA, you must register your vehicle with PennDot. The Pennsylvania Department of Transportation ( PennDOT) is in charge of all transportation issues in the Commonwealth.
PennDOT maintains a list of combinations of letters and numbers that number over 10,000 that are barred from appearing on license plates
What are the requirements for your new PA tag?
As always, start with your proof of ownership: The almighty title of the vehicle! If you've already got the title in your name, you're ahead of the game. You must have a valid driver's license and current Pennsylvania vehicle insurance as well.
If you're registering your vehicle due to a move, make sure to reach out to your insurance provider to see if they provide insurance in PA. These are your base documents. Once you have the basics, the DMV will provide the forms needed as per Pennsylvania's regulations. You'll complete the MV-1: Application for Certificate of Title if needed. This is the form used to transfer your title. And the MV4st (Vehicle Sales and Use Tax Return/Application for Registration). Then pay your fees and your new license plate will be issued!
As of 2020, the Independence State has 8,930,677 licensed drivers
How much is your new Pennsylvania license plate going to cost?
The registration fees are pretty cut and dry! $39 for a regular passenger vehicle and $21 for a motorcycle. If you've got a big truck, the fees are based on the weight. A PA truck weighing less than 5,000 lbs costs about $67 while a 10,000 lbs truck will run over $200.

In addition to the registration fees, you must pay a "per year county" fee. It's $5 a year for a 1-year registration (license plate), $10 for a two-year registration, and $25 if you're eligible for a 5-year license plate. Depending on where you live, you'll also pay sales tax for a used vehicle at about 6-8% of what you paid for the vehicle.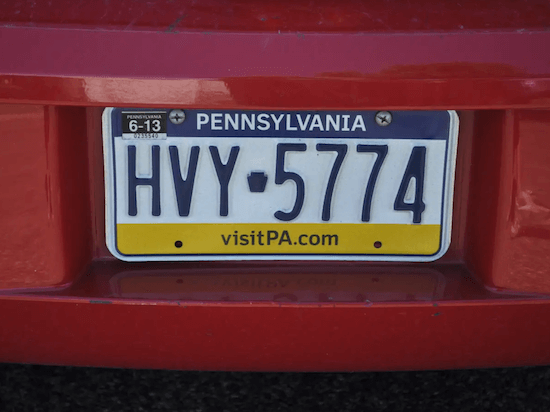 Act 89, which became law in November 2013, is a Pennsylvania vehicle code that provides an option for two-year registration renewal
Safety and emissions inspections
The state of Independence asks all its drivers to take their registered vehicles in for safety inspections. You have 10 days to complete this inspection after purchase. All passenger cars, trucks, buses, and motorcycles must be inspected. If you live in an "emissions inspection county" — like Washington county in Pittsburgh or Cumberland in the South Central region — AND your vehicle is from 1975 or a newer model, your car, SUV or truck must undergo a yearly emissions inspection as well. Motorcycles and classic/antique vehicles are exempt from the emissions inspection. You can check online for local and reputable stations that complete these inspections.
SEE ALSO: VEHICLE EMISSIONS TESTING PA
In Pennsylvania, the Ford F-series are the most popular vehicles; the number two spot goes to Dodge Ram 1500 (Edmunds)
Make an appointment at a local PennDot office or go online with eTags
Now you know what you need and how much it'll cost you. All that's left to do is to do it! Check online to see if you need an appointment at your local Pennsylvania DMV. With the pandemic closures and staffing shortages happening everywhere you turn, it's best to be prepared. Some agencies are not even accepting walk-ins and those that are will likely have long lines and wait times. Once you secure an appointment, make sure you've got all your required documents and head over to the DMV to complete the transaction in person. If it all goes well, you'll walk out with your PA license plate in hand.
PennDOT will issue a standard license plate or a specialty plate by request for additional fees
If you can't wait for an appointment or simply want to avoid the hassle, check out eTags.com. As long as you meet the residency requirements, you can process your new registration (request for a new plate) all online! eTags has licensed agents who can provide the correct documents needed to get the job done, all while walking you through the process one step at a time! If you haven't transferred your title just yet, no worries. eTags can complete the title transfer (even if the title is from another state!) first, and help you register your car with a new PA license plate!