The Federal Clean Air Act in the U.S. was first enacted in 1963, but has been amended many times since. By 1990, there were amendments made aimed at significantly reducing air pollution. As a result, the Environmental Protection Agency, which administers the air quality law and its programs, devised a set of emissions standards to minimize the amount of hazardous air pollutants released.
Use eTags© to Quickly Complete Your DMV Service. Renewals, Title Transfers and More, All Online!
What does a smog check inspection check
During a smog check, the inspector will perform an emissions test to measure how much CO, CO2, HC, O2 and NOx your vehicle emits. The visual and functional portion of the inspection includes testing the vehicle's emissions control, check engine light, ignition timing, exhaust gas recirculation system, fuel evaporative system, gas cap, and on-board diagnostic system.
CA has are over 7,000 independently owned smog check stations
If your vehicle fails the emissions test, you must fix it and make repairs before its retested. The smog check station will give you the vehicle inspection report with why your vehicle didn't pass so you can make the necessary reparations.
California and more states require emissions tests
Today, 34 states require some level of emissions testing including Arizona, Colorado, and Oregon. In fact, five states where eTags processes registration and titling documents online require smog checks such as California. In the Golden State, emissions testing is required for all vehicles, except motorcycles (plus other electric-powered vehicles) as well as vehicles manufactured before 1976.
Diesel vehicles weighing over 8,500 lbs. manufactured before 1996 are exempt from emissions test in CA
In California, your vehicle needs a smog check every other year (biennially) when it's up for a registration renewal. Emissions testing is also required when a vehicle changes ownership or when it's registered for the first time in the Golden State. There are certain counties in CA that only require smog inspections within certain designated zip codes. Those counties are Sonoma, San Bernardino, El Dorado, San Diego and Placer.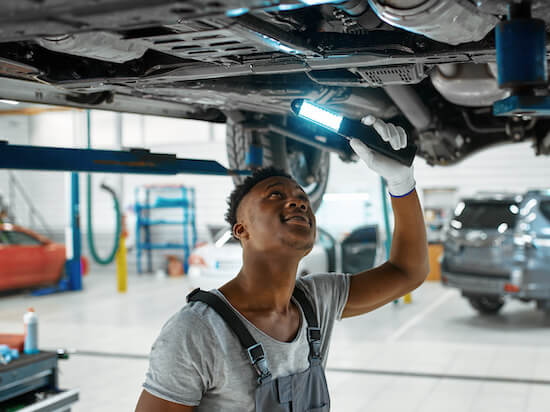 Maryland's VEIP testing
Before registering a vehicle in MD, must undergo a safety inspection. In addition, every two years, most vehicles also must have emissions testing done through the Vehicle Emissions Inspection Program. VEIP in in Maryland requires drivers from 14 counties to perform emissions test periodically. Even hybrid vehicles and motorhomes are required to get emissions testing in MD. New vehicles that are registered for the first time are scheduled an emissions inspection at least 36 months after getting Maryland tags. If you don't pass the emissions testing, you can re-test for free (once) after you repair our vehicle.
You can't renew your New York State tags without passing require emission inspection
New York State safety inspection, plus emissions tests
The New York State vehicle safety inspection program ensures registered vehicles in NYS are safe for driving on public roads and highways. NY drivers must bring their cars to an inspection station every 12 months where brakes, seat belts, shock absorbers, steering wheel, tires, mirrors and more is inspected.
In addition, most vehicles in New York State are subject to an emissions inspection to help reduce air pollution which takes place at the same time as safety inspection. Most 1996 or newer gas vehicles and most 1997 or newer diesel vehicles require an on-board diagnostics inspection, which is one part of the emissions testing. Catalytic converter, exhaust gas recirculation valve, evaporative emissions are also all examined.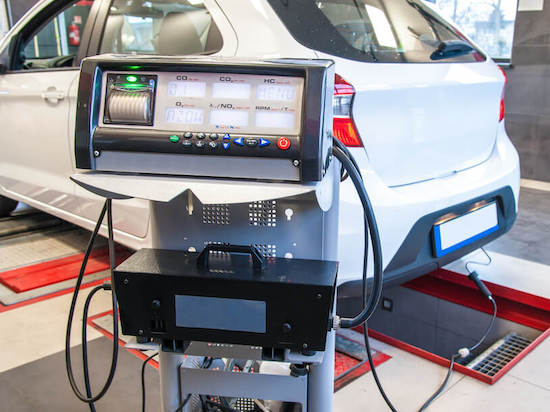 Pennsylvania Vehicle Emissions Inspection & Maintenance (I/M) Program
In Pennsylvania, emissions inspection takes place once a year at the same time or before the yearly safety inspection. Various regions such as Pittsburg and various counties like Mercer must participate in emissions testing, but have different requirements. For example, gas cars, vans and light-duty trucks 1975 and newer registered in Allegheny, Beaver, Philadelphia, or York counties must get tested.
Huntingdon, Indiana, and Jefferson counties in PA don't require an emissions inspection
If your vehicle fails the emissions inspection, and you make the required repairs, the first re-inspection is free just like in Maryland. But vehicle must be re-tested in same facilities and within 30 days. If your car still doesn't pass the emissions inspection, and you can prove you spent at least $150 on emissions-related repairs, you may be eligible for a one-year waiver.
Ohio's E-Check emissions testing
In Ohio, new vehicles are exempt from emissions testing for the first four model years. But all gasoline and diesel ones, even hybrids, 25 years old or newer require an emissions check in seven counties: Cuyahoga, Geauga, Lake, Lorain, Medina, Portage, and Summit.
If you have an Ohio registered vehicle in one of those counties, but the vehicle is out-of-state (even just temporarily), you still have to test for emissions if where you are has such inspections. Then send the passing certificate and a completed application to Ohio E-Check Exemption/Extension to Ohio EPA. For example, if you're in Arizona with an Ohio registered vehicle, you can get an emissions inspection in Phoenix or Tucson. If you're in Texas, you can get the test in Brazoria, Dallas, Travis, Denton and other counties.
SEE ALSO: OHIO VEHICLE TITLE TRANSFER; ASSIGNING OWNERSHIP FROM SELLER TO BUYER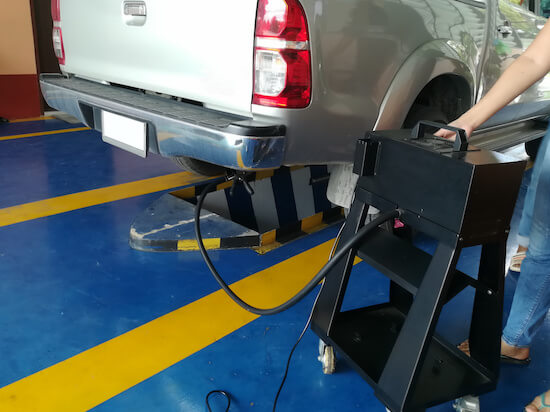 All even-model-year vehicles must be tested during the even-numbered years, and odd-model-year vehicles must be tested during the odd-numbered years. The E-check test is good for one year, and you can use the same test for registration renewal within those 365 days.
When it comes to safety inspections and emissions testing, car maintenance and repairs when needed makes it easy to pass the test!