When it comes to car maintenance, an oil change is probably the most common and frequent upkeep for any vehicle. From sedans to SUVs, pickups, convertibles, and more. A regular oil change keeps the engine's metallic and mechanical parts from grinding against each other, which in return prevents corrosion and malfunctioning.
Use eTags© to Quickly Complete Your DMV Service. Renewals, Title Transfers and More, All Online!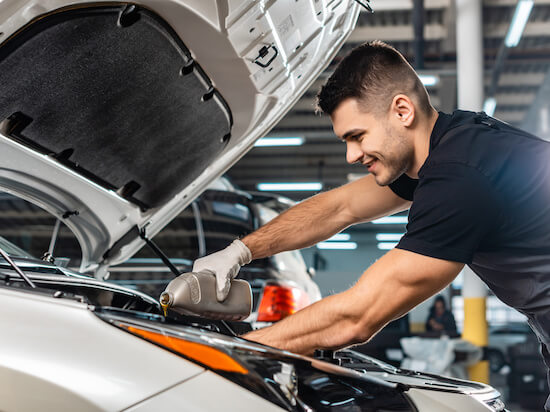 Your car's engine oil keeps your vehicle running smoothly
A regular oil change minimizes wear and tear
Over time, a vehicle's engine oil collects debris, grit, and dirt losing some of it lubricant-like characteristic. To keep it slick and greasy, you must regularly change the oil to minimize friction.
Regular oil changes allow the vehicle to run more efficiency and get better gas mileage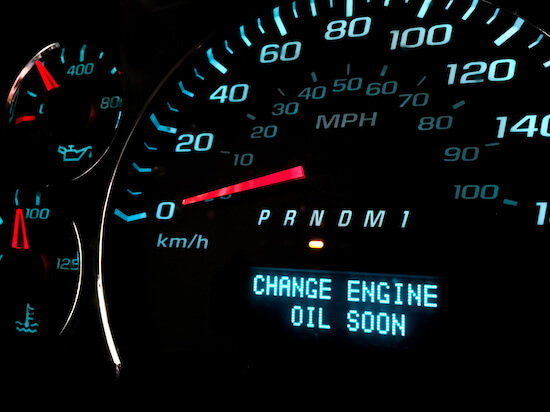 An oil change can cost up to $100
Depending on a few factors, the cost of an oil change is anywhere between $20 and $100 if you have someone else do it, like a car repair/lube shop or dealership. If you can do it yourself, you're looking at about $30 to $50. Typically, you're paying more for the labor than the engine oil itself. So where you live, the filter quality, the type of oil and any extra services that come along with it like tire alignment affect cost.
The average oil change takes between 20 and 45 minutes
What does the labor look like for an oil change?
Generally-speaking a technician removes the drain plug from the car's oil pan, then drains the oil into another pan (a catch pan) to discard the oil. Next, the technician replaces the drain plug, changes the oil filter, and replaces the oil engine oil with the cleaner, new one.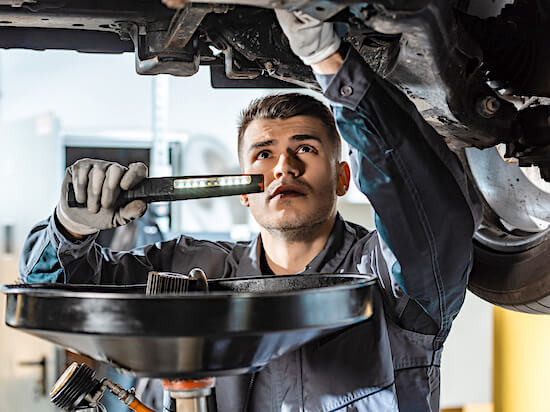 Most car engines take about five quarts of oil
The type of oil used affects the cost of the oil change
Even if you perform the oil change yourself, synthetic will cost you more. It's the lubricant usually dedicated for newer cars. Conventional/traditional oil is cheaper thus more affordable, but better for older vehicle models. Then there's the synthetic blend oil, which falls right in the middle of both other options since it's designed to enhance lubricity and engine quality over time.
SEE ALSO: WHAT'S THE DIFFERENCE BETWEEN SYNTHETIC AND NON-SYNTHETIC OIL
Luxury vehicles typically require a synthetic oil change
Lube shops are usually less expensive
Taking your car to a lube shop like Jiffy Lube, Pep Boys, Midas, Valvoline and the like will be more affordable than getting an oil change from a dealership's service department. Service is quicker at a lube shop, but they don't have the specialty for each and every different model. So if your vehicle is more on the luxury side or demands more attention due to certain requirements a car dealer may be better. And don't forget to look for coupons or promo codes from specific lube shops to reduce cost.
Better oil types allow you to change your oil less frequently, but still good to maintain a schedule of 5,000 to 7,000 miles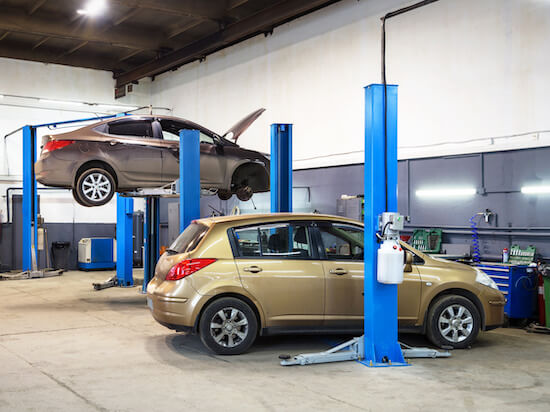 A few prices from lube shops
A basic oil change at Meineke costs $29.95. Midas charges $49.99 for synthetic oil change service. Jiffy Lube's price for synthetic blend is $80, but $50 for traditional oil change. Pep Boys full synthetic goes for $85, while Firestone's premium service is $100. Walmart charges $20-$30 for conventional oil, and $45 for full synthetic.
Regular oil changes can keep your vehicle on the road longer, and in better shape. So when you're ready to sell it, having records of your frequent oil changes will make a difference in the kind of price you get for it when you're ready to transfer the title to the next owner.