The 2015 Annual GHSA Meeting will be taking place again this year from August 29th to September 2nd at the ONMI Nashville Hotel in Nashville, Tennessee. Private companies, nonprofit organizations, government and law enforcement agencies from around the country will be showcasing the latest in highway safety-related products and services as well as new congressional legislation, new approaches to highway safety, and newly established programs.
This year's theme is Drunk, Drugged & Distracted: Reaching High-Risk Drivers and the focus is on reducing crashes, injuries, and fatalities that result from (you guessed it) drunk, drugged, and distracted driving crashes. What does this mean for you and me? Better, more technologically advanced safety devices, programs, and laws on the horizon benefiting every driver in the nation.
What the 2014 GHSA Annual Meeting Had to Offer
Last year's event took place in beautiful Grand Rapids, Michigan. It's theme: Mapping out the Future: Highway Safety after MAP-21.
What's MAP-21, you ask? – It's the Moving Ahead for Progress in the 21st Century Act.
What's its purpose, you say? – It provides authorization and funding for federal surface transportation spending.
What's it all mean, you wonder? – It transforms the framework for investments to guide the growth and development of the country's vital transportation infrastructure1.
While MAP-21 is a bill that will be carried out over the span of years, exhibitors of last year's event were ready then to showcase their latest and greatest safety products.
Save Money on Your Auto Insurance Bill, Compare Quotes Fast
The Reflectionband®
Everwanted your rear-view mirror to have a little more, I don't know, pizazz? This product may be the answer as it is designed to exhibit custom messages or themes. The Reflectionband wraps around any size rear-view mirror and can be printed with almost any message like, "Don't Text and Drive" or "Don't Drink and Drive", the messages displayed in the product showcase at the 2014 GHSA Annual Meeting.

RoadQuake 2 Rumble Strip
To reduce the number of crashes at construction zones and other areas where workers may be present on roadways, Plastic Safety Systems, Inc designed, or reinvented as they put it, road strips. These temporary. portable "rumble" strips alert drivers that they are approaching a work zone as they drive over these strips. The vehicle would shake, or rumble, reducing the chances of a motorist driving too fast, following another vehicle too closely, or making an improper lane change of the oncoming road conditions.

The Reflectory – Every Year a Favorite
While this is a product featured in multiple GHSA Annual Meetings over the years, this one is particularly important to mention during Back to School month and with Halloween right around the corner. To help pedestrians and cyclists become more visible to drivers, Reflectory created reflection tags of all types that can be worn or fixed to anything with a zipper, an arm, or whatever. Kids walking or biking to or from school are recommended to wear reflective clothing or items like reflector tags to help keep them safe from distracted and other irresponsible drivers.
Sponsors and Exhibitors at the 2015 GHSA Meeting
You can find some heavy weights at these annual GHSA meetings like AT&T with its "It Can't Wait" campaign, Ford with their "Driving Skills" program and many more. But it's those who are brining something new or improved to the table that deserve ample recognition.
The Intoxilyzer® from CMI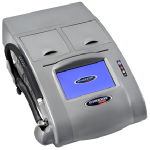 We've covered alcohol detection devices before but from the drinker's point of view, or better said, the responsible driver's point of view. There is another side and it is that of the law enforcement officers charged with keeping our roads safe. For these brave men and woman, CMI is one of many companies that develop alcohol detection systems that officers can use in field sobriety tests. CMI developed an improved infrared breath tester called the Intoxilyzer 9000 which they will be displaying at this year's GHSA event.
If you would like to see all the sponsors and exhibitors that will be appearing at this year's event, you can visit the GHSA website.  Can't make it? Download the Android app to stay up to date.
Interested in Becoming an Exhibitor?
The world can never become saturated with new ideas that help make our lives safer. If you have developed a new product that can help the roads become a safer place, consider registering for the next annual GHSA meeting. At these events, you will benefit from:
Exposure to the top highway officials in the country
Having your product listed on the GHSA's online exhibit
Networking with other likeminded individuals interested in road safety