With so much demand for used cars, second-hand SUVs, and pre-owned pickup trucks, many are wondering what's the difference between buying from a car dealership and getting a used vehicle directly from a previous owner?
Use eTags© to Quickly Complete Your DMV Service. Renewals, Title Transfers and More, All Online!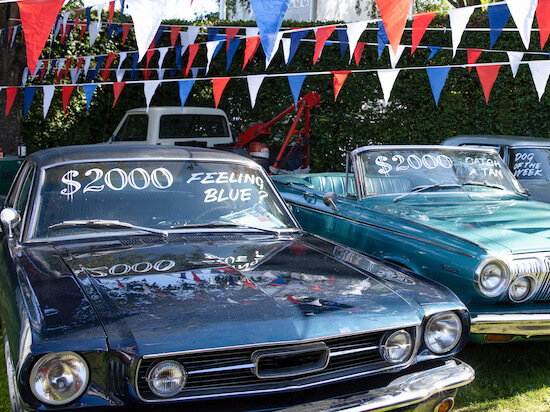 The average price for a used vehicle this year jumped about 25%. That's close to $26,000 for a pre-owned car according to Kelley Blue Book. The same happened on the wholesale price of a vehicle; that's the price a car dealer pays (before trying to sell it to you!). A vehicle's wholesale price when up 24.9% since September 2020. The lack of supply on the used vehicle market is also adding to demand.
The price paid for a new car averages to $41,378 (CNBC)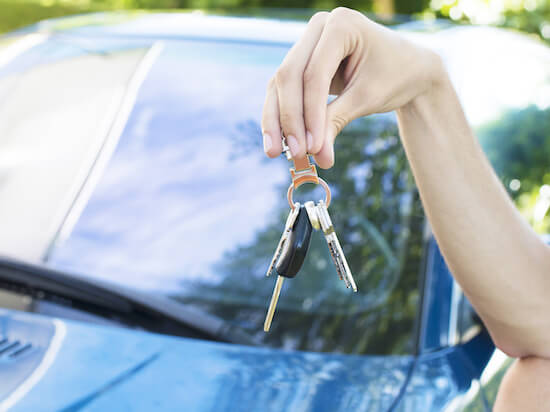 Dealership inventory is roughly a third of what it was pre-pandemic (J.D. Power & LMC Automotive), further fueling the car buying frenzy. Two years ago, before the coronavirus pandemic, a vehicle used to sit in a car dealership's showroom for 62 days. Today, a car sells in about 26 days.
In June this year, vehicles with 100,000-109,999 miles sold for 31% more compared to 2020; according to Edmunds, people paid an average of $3,863 more. So how do you know which is a better choice for you? A used SUV from a car dealership or a pre-owned car directly from its previous owner? Keep reading for some pros and cons to both options to help make up your mind.
SEE ALSO: LIGHT TRUCKS, SUVs and Crossovers Conquering Our World
Buying from a car dealership: the good and the bad
The good news—This car buying process tends to make the experience easier on the buyer. You can rely on the dealership's knowledge and for taking care of all the other stuff that goes into buying a vehicle. Think insurance requirements, vehicle titles and registration for your license plates, financing options, and other related paperwork.
According to the Bureau of Labor Statistics, in June prices for used vehicles were up 45% from a year ago; in August prices were still up 32%
A car dealer can have vehicles that are certified pre-owned, which means the purchase also gives you peace of mind. A certified pre-owned vehicle has gone through deeper inspections, repairs if needed, and typically comes with warranties. Another advantage to add to the list is that buying from a used car dealer can make things smoother with auto loan applications. And don't forget, you're less likely to buy a lemon since car dealers must follow strict laws regarding their business.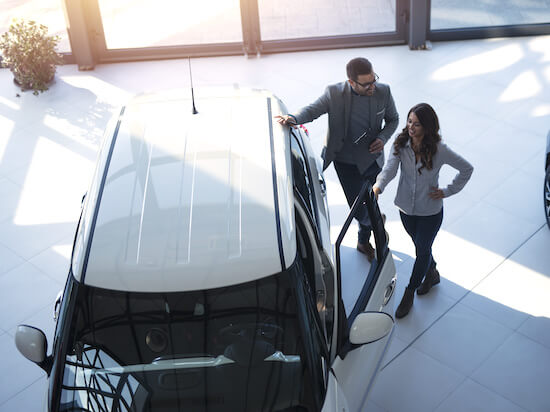 The bad news—Now there can be a few downsides to buying your used vehicles from a car dealership. But probably the biggest hiccup is that car dealers have higher prices than private sellers. There's also less room for negotiating the price down. The price tag of a used vehicle on a dealer's lot includes the entire business. You're not only paying for the car, you're paying for all the car salesmen and women, the office, the lot, the insurance, the service and repair shop, and more. When you buy from a private owner, he or she is not in the business of selling cars so you're only paying for the goods aka the car.
Buying from a private party: the good and the bad
The good news—A private car seller would probably first check the value of their car, so the price you'll pay is typically more fair. Before you buy, you can also do your own research to look up value. Many drivers like to refer to the Kelley Blue Book. With a private seller, negotiations are simpler since you're not dealing with a trained salesperson.
Flooding from Hurricane Ida damaged about 200,000 cars from Louisiana to New York, according to Carfax so car prices could still stay up
There's also more room for savings on the buyer side, since the seller anticipated the back and forth on final amount and priced the used vehicle accordingly. If price is one of the most important factors for you, then buying from a private owner is your best bet.
The bad news—Title, registration, license plates, and stickers are all your responsibility. You must take care of all vehicle paperwork to ensure you're the legal owner and compliant with registration requirements in your state. There are no warranties or guarantee how the vehicle will perform in the next year or even few months. A used car sold by private owner is sold as-is; whatever happens next is on you.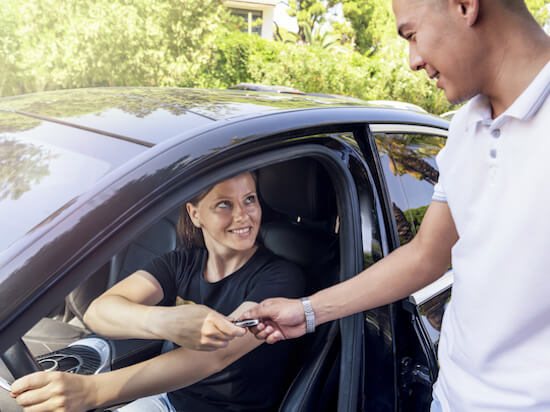 Unlike car buying at a dealership, you can't use your trade-in to help pay for your car. And speaking of payment, there's usually no financing involved if you buy a used car from a private party. If you prefer to buy a used vehicle from a private party, make sure you have a good mechanic on your side. Test drive the car and have it inspected by a professional. For vehicle paperwork, you can save yourself the hassles of waiting in line at your local DMV or tag agency, and do it all online. You can transfer the used vehicle title and register it in your state.
So how are you buying your next used car? Private party or car dealer?