RVs and motorhomes are having a moment during the coronavirus reality. Summer travel by plane is nearly non-existent, so families across the U.S. are finding alternatives for a break. Think road trips, overnight stays, weekend staycations and the like. North America has about 370 national chain outlets and local RV dealers.
Use eTags© to Quickly Complete Your DMV Service. Renewals, Title Transfers and More, All Online!
There are various types of RVs and motorhomes, including the towable kind such as fifth wheel trailers and truck campers, as well as Type B motorhomes such as van campers. Even before the pandemic hit worldwide, recent years has seen millennials living in RVs, retirees traded in their condos for the RV lifestyle, and the age 35-55 crowd took a larger market share than the typical 60+ buyers.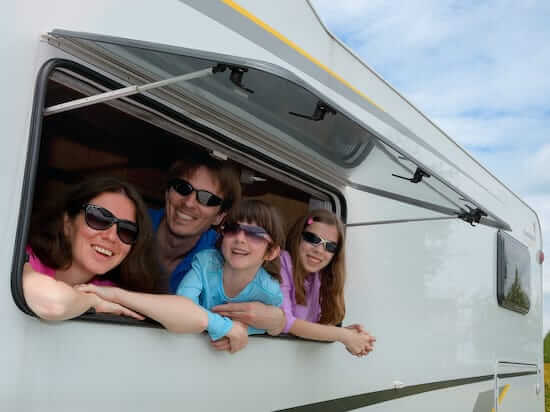 Airstream, known for their polished aluminum travel trailers coachwork, saw an 11% increase in RV sales between May 1 and May 21 compared to the same period last year. The RV Industry Association found that 20% of US residents surveyed have become more interested in RV travel than flying, tent camping, cruises, and rental stays.
SEE ALSO: RENTING AN RV, WHAT YOU NEED TO KNOW  
The real cost of owning a recreational vehicle
But is buying an RV for everyone? It's a big investment, and not just a financial one. Vacationing by RV may seem like a great alternative to flying, booking hotel rooms, and so on, but does it work for you long term. Even with gas prices at an all-time low, RVs need a lot of fuel. Some of them only deliver four miles per gallon. Even the smallest RVs are large, heavy vehicles and take lot of power to move all that weight down the road.
Class A motorhomes, the eTags online vehicle registration company found out, are some of the heaviest with multiple appliances and premium furniture, not to mention slide-outs, a weighty power train, and other components that add to its weight. They usually include a living room, kitchen, bathroom and high-set cockpit to navigate the vehicle. You might just get 6-8 miles per gallon on average if you buy this type of traveling vehicle.
Driving your motorhome could be an issue too. If you're used to moving about in a small, fuel-efficient car on your daily commute, getting behind the wheel of a 36-foot 5th wheel camper can be challenging as it weighs about 15,000 pounds. Driving around something so large requires specific skills different braking techniques, handling tail swings, and essential maneuvering capabilities.
Don't forget the RV insurance cost, as well as RV title and registration fees in your state. This can include typical coverage like bodily injury liability and property damage liability as well as coverage for custom aftermarket parts, safety glass replacement, roadside assistance and more. Michigan has the highest RV insurance rates, at a median annual premium of $4,490 thanks to its mandatory personal injury protection (PIP) coverage. The second highest is Louisiana, with a median annual premium of $2,912.
So is buying a recreational vehicle right for you?