Owning a car, truck, motorcycle, or any motorized vehicle is pretty awesome. It spells freedom, convenience, and a whole bunch of other happy feelings. As a motorized vehicle owner, you are responsible not only for its safe operation, but also for its legal operation. The state of Florida requires that motorized vehicles be registered with the Department of Highway Safety and Motor Vehicles and we are going to show you how to do it: quick, easy, and (hopefully) stress-free.The following type of vehicles must be registered with the State in order to be legally operated:
Use eTags© to Quickly Complete Your DMV Service. Renewals, Title Transfers and More, All Online!
Passenger vehicles – cars like coupes, sedans, and SUVs
Commercial vehicles – like large business vans, trucks, and fleets
Motorcycles – those two-wheeled thingies
RVs – motor-homes and recreational vehicles whether mobile or not
Boats – any motorized boat or any boat over 16 feet in length
What is a Vehicle Registration
A Florida vehicle registration is a tax imposed by the state allowing legal operation on public roadways. It consists of three things: your license plate, registration sticker, and registration card or certificate. Your registration sticker and card, known as the car tags, must be renewed every 1 or 2 years while your license plate must be renewed every 7 to 10 years. When it is time to renew your license plate, you will be required to do so at the same time you renew tags (registration sticker and card).
When registering a vehicle for the first time, you will need to provide proof of ownership (title) and insurance (except for motorcycles and boats) as well  as pay the registration fees which vary based on several different factors like the vehicle type, its weight, intended use, and more.
Vehicles Purchased from a Dealership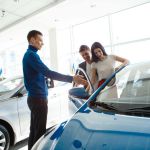 When you purchase a vehicle from an authorized dealership, they will file the registration for your new vehicle on your behalf in addition to handling the title paperwork. By law, this is their responsibility to complete within 30 days of the purchase. You may be issued a temporary license plate in which case you will receive your plate and tags in the mail or they may issue you you're official plate and tags before you drive off the lot. Whether or not you receive your official plate and tags right away is dependent on whether the dealer is licensed to print the sticker and card in their facility.
Vehicles Purchased from a Private Party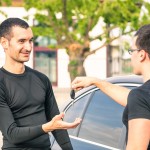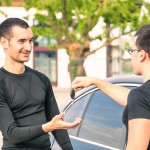 Florida residents that purchase a motor vehicle from a person or other private party will have to complete the Florida vehicle registration process, including the title transfer, themselves. In order to register your vehicle, you must complete the title transfer process before registering it or complete both processes at the same time at the tax collector's office. While you can renew your car tags online, the initial registration and titling of the vehicle must be done in person. In order to transfer the title of a newly purchased vehicle and register it at the same time, you will need to:
Have the paper title signed by you and the seller or have the seller come with you to the tax collector's office to obtain a copy of the title to complete the transfer.
Complete the application for certificate of title form and select to register it at the same time.
Provide proof of insurance for your vehicle
Pay the title transfer fees and the $225 initial registration fee
Optional: obtaining a bill of sale, lien satisfaction document, and having the seller accompany you to the tax collector's office is highly recommended.
If you completed the title transfer previously and just need to register the vehicle, you will need only to present proof of ownership (title), proof of insurance, and pay the registration fees.
Registering an Out of State Vehicle
Once you have established residency in the wonderful Sunshine State, you will be required to complete the Florida vehicle registration process within 10 days. The state considers your residency as established when you become employed, register your children in a school, or rent or buy an apartment or home. In order to register your vehicle in the state, you will need to:
Surrender your out of state license and obtain a Florida driver's license
Obtain basic liability insurance from a provider licensed to provide coverage in Florida
Have both a VIN inspection and odometer reading performed on your vehicle.
Visit your local tax collect with your Florida driver's license, vehicle's title, proof of insurance, a completed application for title transfer, a completed VIN & odometer verification form, and payment for your registration and title transfer fees.
Temporary Registrations
If you've purchased a motor vehicle in Florida and you reside in another state, you might qualify for a temporary license plate. You will not need Florida vehicle tags (sticker and card) in this situation. Go to the nearest tax collector's office and provide proof of insurance, whether it is Florida issued or issued by your home state, and proof of out of state residency such as your driver's license. You will be required to pay sales taxes in the amount required by your home state. While most states will provide you a credit once you go to title and register your vehicle in your home state, currently, Arkansas, Mississippi, and West Virginia do not. For these 3 states, you will be required to pay the sales tax again there.
We hope you found this information helpful. If you need more in depth information about the titling and registration processes in Florida, please visit the FLHSMV website.