The month of July is a special time for most Americans. In addition to celebrating our day of independence, we get an extra day off! Who doesn't love a 3 day weekend (this year's observance day is July 3rd) or at least time-and-a-half pay for those required to work? Sadly though, the 4th of July can also be a bit of dangerous time. In 2014 between June 20th and July 20th, 230 people landed themselves in the emergency room due to a fireworks-related accident.
| | |
| --- | --- |
| Body Part Injured | Average Yearly % |
| Hands and Fingers | 36% |
| Eyes | 19% |
| Heads, Faces, and Ears | 19% |
| Arms | 5% |
| Legs | 10% |
| Buttocks and other parts | 11% |
| | |
| --- | --- |
| Type of Injury | Average Yearly % |
| Burn | 57% |
| Fracture or Sprain | 5% |
| Contusion or Laceration | 18% |
| Other | 18% |
It's National Fireworks Safety Month
National Safety Month runs in parallel with National Fireworks Safety Month which takes place annually and begins well before the colorful holiday on the 1st of June. It is dedicated to helping reduce unnecessary fire-works related accidents in addition to informing the public on state laws regarding firework use.
Save Money on Your Auto Insurance Bill, Compare Quotes Fast
Preventing Injury from Fireworks
In order to prevent injury due to the improper use of fireworks, it's first important to make sure that you purchase them from a reliable dealer. It's best to not purchase fireworks from street vendor's or someone's private home since the safety of these items can be not be assured with as great a confidence as those purchased through a licensed retail vendor. Although, no firework is 100% safe.
The National Council on Fireworks Safety promotes these 4th of July safety tips when using fireworks:
Always abide by state laws (refer to the "State's Fireworks Laws" section below). If your state does not allow the use of them, refrain from purchasing and handling fireworks. It might seem like a fun-spoiler but at least you'll take pride knowing you are a law abiding citizen, right?
Never alter the product, always follow the consumer product safety label, and always use them as instructed in states where firework use and handling by residential customers is allowed.
All children using fireworks should be monitored by an adult. The best advice is to not let any child handle or operate fireworks. Let them just enjoy the show.
Do not mix alcohol with the use of fireworks. This may seem counter-intuitive to the American-way, but just trust us on this one (or better said the NCFS).
While you're shooting fireworks, it's best to wear safety goggles.  Fireworks can shoot off in any direction without warning (hence why children should keep their hands off them).
Do not light multiple fireworks simultaneously. Don't try to shoot-off your own version of the Magic Kingdom's nightly fireworks show because you'll likely fail miserably at it. Plus, lighting one at a time means your home-made show will last longer.
When lighting fireworks, make sure to stand back after you light the fuse. This may seem obvious, but it wasn't to the many folks that have been burned or sustained other serious injuries in the past years. Worth mentioning.
Do not light fireworks near buildings, vehicles, or other people. Always use fireworks in a clear area. You certainly don't want to set your house, car, or dog on fire. We're sure that is not the type of "show" you are aiming to dazzle people with.
For emergencies, it's good to have a bucket of water or a water hose close by. Enough said.
Do not carry your fireworks in your pocket. On the contrary, if you are looking to create a party-in-your-pants, by all means, proceed.
Do not shoot fireworks into glass or metal containers. This kinds defeats the purpose of purchasing fireworks anyway as they tend to get stifled by the containment. Just our opinion.
Do not buy or shoot off homemade fireworks. Sometimes it makes sense to save a buck with a DIY project. This is not a time to do that. No, really,….. don't.
If after you light a firework you realize that it's a dud, do not relight it. After 20 minutes, put the firework in a bucket of water to soak. This will defuse the firework completely. Money wasted, yes, but possible safety issue averted.
If you're traveling by plane, it's important to note that possession and transportation of fireworks is prohibited.  Fireworks don't fly (on planes) unless you want a Due Date type of experience.
If you happen to see other individuals using illegal explosives or doing illegal things with fireworks, call the authorities. Then stick around and watch that show.
State Laws for Fireworks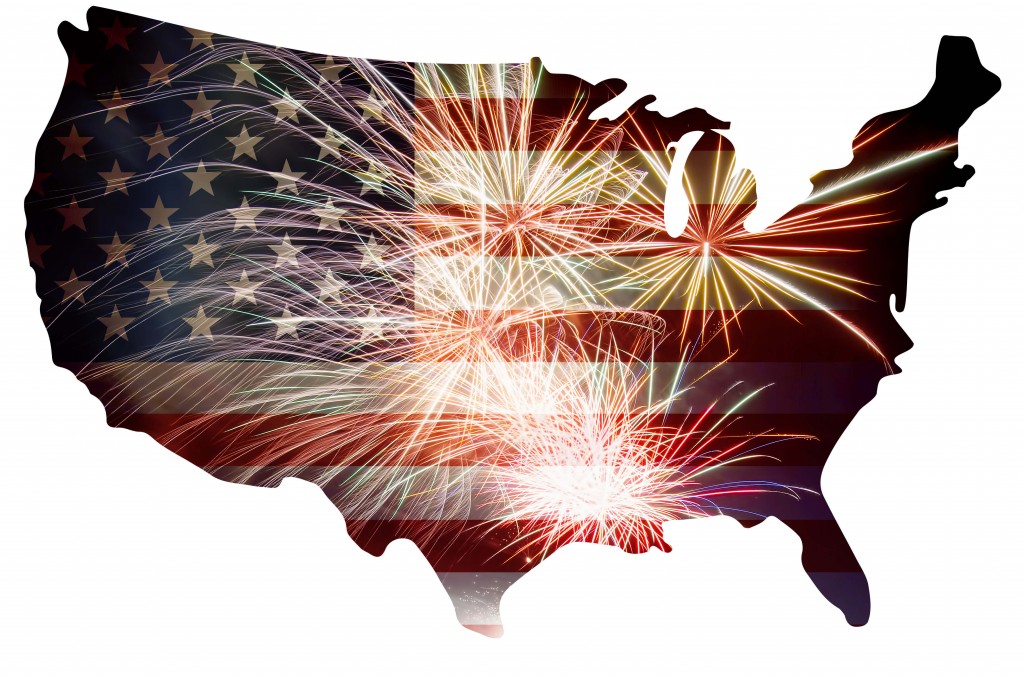 Currently, there are 42 states that permit the use of some or all fireworks that are in accordance to federal regulations. Delaware, Massachusetts, and New Jersey are the only states that ban the use of all consumer fireworks.  Illinois, Iowa, Ohio, and Vermont allow the use of wire or wood stick sparklers and other similar novelty items by consumers.
It's important to check your state's specific laws before you and your party participate in the use of fireworks. This applies even for states where all federally accepted fireworks are permitted. For example, in Oklahoma, individuals are not allowed to set off fireworks in the city without a permit. In Arizona, you are only allowed to use fireworks between the dates of June 24 – July 6 and December 24 – Jan. 3. In California, Colorado, Connecticut, Florida, Georgia, Idaho, Maryland, Minnesota, New York, North Carolina, Oregon, Pennsylvania, Rhode Island, Utah, Virginia, West Virginia, or Washington, D.C., the only fireworks you are allowed to use are ones that don't leave the ground.
No matter your plans this 4th of July, remember, fun only remains as such when nobody gets hurt. You can't prevent every accident, but you can reduce your chances, your families', and friends' of being involved in one by implementing these 4th of July safety tips.
Have an awesome and safe 4th of July weekend.