Travel trailers are the most common type of non-motorized recreational vehicle (RV). They're typically hitched to a car or pickup truck, so it's towed. These RVs became really popular in the 50s, and can sleep a number of people depending on the trailer's size. These class C trailers can sleep as many as eight. Some people use them for big family vacations or reunions, while others enjoy them for quick weekend getaway for two.
Use eTags© to Quickly Complete Your DMV Service. Renewals, Title Transfers and More, All Online!
Use eTags© to Quickly Complete Your DMV Service. Renewals, Title Transfers and More, All Online!
Travel trailers were called bumper-pull in the 50s
There are plenty of travel trailers manufacturers including Airstream, Winnebago, and Forest River, each with their own models such as Airstream's beloved Tony Bahama. Airstream alone has about 16 different floor plans to choose from. Travel trailers come in a variety of sizes, from 10 feet to 40 feet, with fifth wheel trailers being the largest.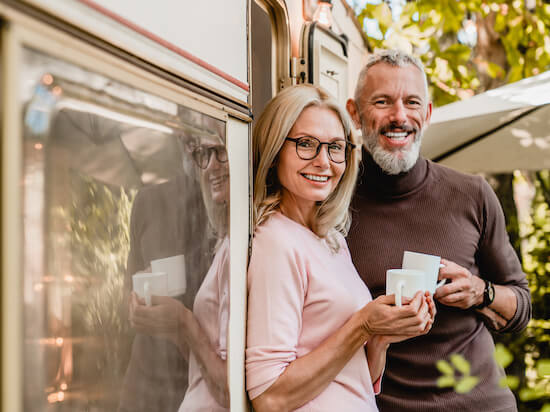 Travel trailer registration requires inspection
Travel trailers in Pennsylvania, just like most vehicles, have to have proper motor vehicle paperwork including title and registration. You'll first need to have your trailer pass a safety inspection at a state-approved station, during which your vehicle will be photographed. Any trailer with a GVWR (Gross Vehicle Weight Rating) over 3,000 lbs needs to get inspected.
Titling trailer with eTags
If you bought a trailer in PA, you could title it with eTags online and never have to walk into a DMV. You could also change ownership online if you were given the travel trailer as a gift or need to remove/add another owner on the title. You'll just have to submit a few details such as VIN number.
Landmark, Bighorn Traveler, and Milestone are popular brands in the travel trailer category
Registering travel trailer in PA
If you already have the travel trailer Pennsylvania title, you could register it on eTags as well. You'll need your VIN number and submit your full name which must match your Pennsylvania driver license. With eTags online, you could order a new license plate, transfer the PA plate you already have, or just apply for a title if you don't plan on having the travel trailer on the road.
SEE ALSO: HOW TO LEGALLY SIGN OVER YOUR PICKUP TRUCK TITLE TO NEW A OWNER
Only Class C automobiles are allowed on the Pennsylvania Turnpike; toll collectors and police will stop any vehicle in violation. While small travel trailers are allowed, larger ones — even Class C — can sometimes exceed regulations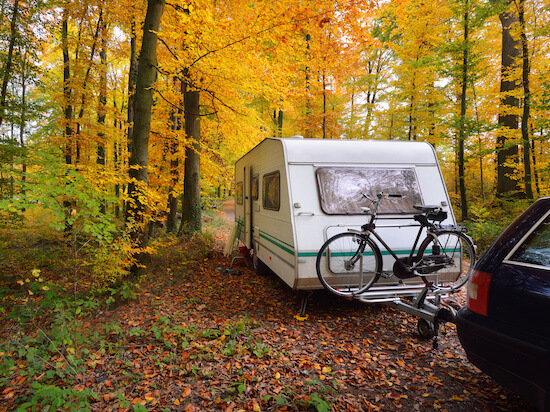 Why eTags online
With over 350,000 5-star reviews, and hundreds of thousands of blog readers a month, eTags serves as a credible resource for all titling and registration needs across a few states including Pennsylvania. When ordering your travel trailer title or registration online, you get peace of mind thanks to a dedicated specialist who can answer all your questions as well as help you resolve any issues that can come up during registration such as unpaid tolls.
The fifth-wheel travel trailer is kind of in a class of its own, thanks to a unique tow hitch, which is more heavy-duty than your regular travel trailers and u-shaped
You could also download a temporary digital registration until you get your official paperwork by mail. There's no in-person filing, no waiting for your turn or making an appointment to title or register your travel trailer. eTags could also ship your official Pennsylvania paperwork to anywhere, in case you're temporarily out of town and not in PA.