Car buying is being redefined at a rapid pace. Inflation, chip shortage, low inventory, home deliveries and EV adoption are just some of the factors influencing what's happening in automotive post-pandemic. This summer, new cars are selling for over $48,000, while second-hand models are averaging above $32,000.
Use eTags© to Quickly Complete Your DMV Service. Renewals, Title Transfers and More, All Online!
Picture perfect for a 360-degree look
New cars and used vehicles are in demand, but that doesn't mean there isn't competition for car sellers. Especially if you're trying to sell privately and online. You want to show off your wheels in the best light, from multiple angles, inside and out. Think of your car photos as kind of a 360-degree digital tour for your potential buyer. The more you show them, the more informed they are, which in turn reduces time spent with drivers that don't have any real interest. You don't necessarily have to attract tons of drivers, only the most interested ones to find the right buyer.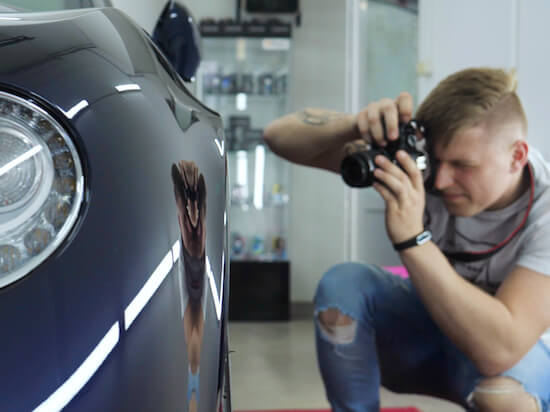 Before snapping any pictures, give your car a good wash and don't forget to vacuum the interior
In 2018, Cox Automotive reported on multiple custom pictures vs. using a stock photo. The company leveraged Netezza Tables to discover there was a 349% increase in views on vehicle details pages for used and certified pre-owned vehicles. They also said the number of pictures you post matters; views went up nearly 65% when 40 or more car pictures were posted in the "for sale" listing.
SEE ALSO: TURN YOUR CAR INTO CASH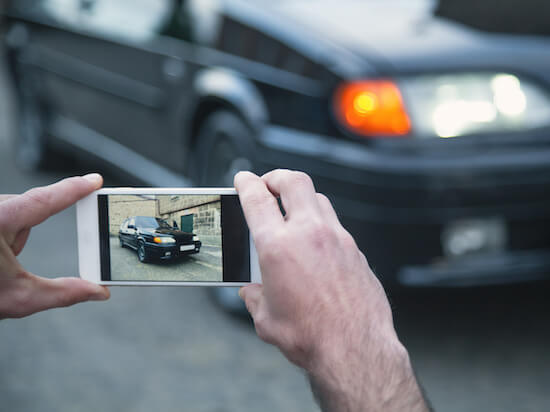 Angles, closeups and more
You don't need to take 40 pictures to sell to an individual, but you must have several photos. You can use your smartphone! Just make sure it's one of the newer models or at least a phone that won't result in grainy pictures. You can even use a digital camera if you have one and upload your photos. Think eye level, angles, closeups, open door, open trunk, you can even have one or two with a driver by the steering wheel or a passenger.
Make sure to capture important features for your specific model. For instance, if it's a used Jeep you're trying to sell, show off the pare tire, or take off the hard top to take a photo if it's removable. Or if you have a pickup, perhaps show how much you can pile up on the truck's bed.
Best times for taking good pictures are as the sun rises and sets — dawn and dusk — the golden hour is an hour after sunrise and an hour before sunset
Don't forget that every good picture needs a good light, so plan ahead. In the middle of the day (noon time) for example, the sunlight is too harsh for images. They could wash out colors make your vehicle less attractive. Too late at night is also a problem, especially if you plan on using your flash.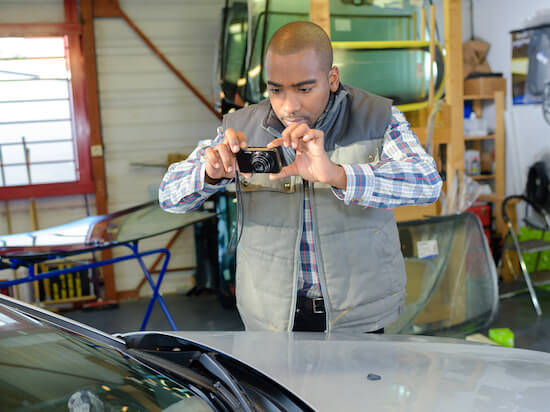 Location, location, location
Probably obvious, but you should showcase only the vehicle for sale. Don't shoot it alongside another set of wheels, not even if they're a different type like a motorcycle. No dark shade, objects or trees that can cast shadows. No direct sunlight either since that can create a glare.
Your location or backdrop can indirectly affect your buyer in their decision. Think of the vibe a home garage gives off vs. shooting your vehicle in front of an all-glass luxury high rise building. Use your desired price point to dictate the type of background you want in your pictures. The higher the price tag, the more stylized you'd want it.
Get inspired by visiting the used car section of various dealership websites to see how the professionals displays their cars for sale
Provide details for potential car buyers
Show off specifics that also provide information at the same time. For instance, snap a picture of the odometer to prove mileage. If you just switched car battery and mentioned it in your ad, open the hood and snap a picture. If you have a high-quality sound system, worth showing speakers. Dash cams, remote car starters, TV screens, car wings or spoilers, those are all worth showing off in your photos.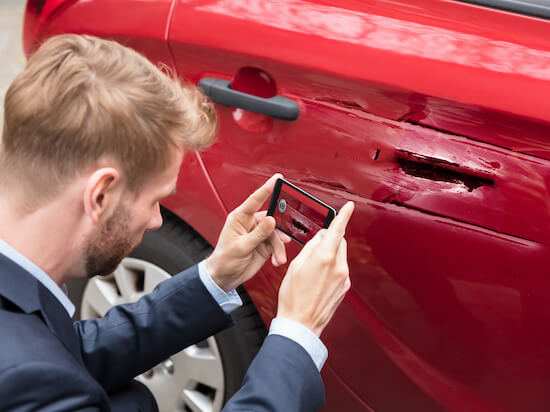 Make sure you have your car title on hand before you sell, since the buyer will need you to sign it over to them so they can register the vehicle on their name. If you don't, you can order a duplicate title online. If the car you're selling has tiny imperfections, snap them too. If you have a dent or scratch, take a picture since that'll make your listing more credible. The potential buyer will know exactly what to expect before even reaching out. If a dent is a problem, you don't want them to waste your time. Even if there's one major repair like a bumper, just snap a picture of the area and list in your ad. You can point out that that's the reason for the price tag.
Good luck on finding the perfect buyer for your car!