Winter has been especially hard this year. As of February about 78 million Americans were under a winter weather alert and over 27 million people under a hard-freeze warning. At least 38 people have died nationwide from winter storms or frigid conditions since beginning of February; with about 4.5 million homes in Texas without electricity.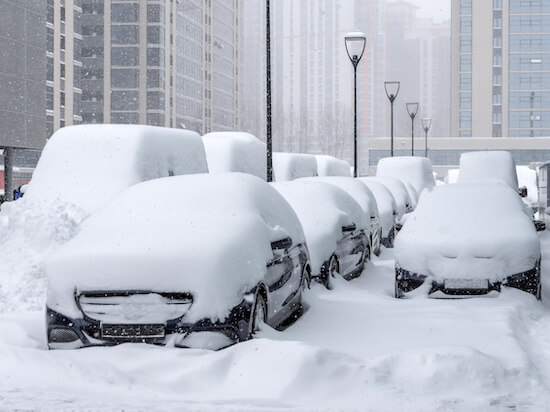 Power shortages, disabled vehicles, car accidents, boil-water notices and more
Texas wasn't the only state to be affected by bad weather, nearly 500,000 residents have lost power in places like Oregon, Louisiana, Mississippi, Illinois, Kentucky, Ohio, West Virginia, Virginia and North Carolina.
Virginia State Police troopers responded to at least 270 traffic crashes and 165 disabled vehicles between midnight and 11 a.m. on Feb. 18th. By 9 p.m, the number of crashes in Virginia grew to 442
Right now, about 13 million people are facing water disruptions, with boil-water notices, broken pipes and failing systems. And of course, driving has become extremely difficult and more dangerous. Most states faced with these freezing conditions are asking people to stay home. Some roads will even have to be treated or cleared of downed power lines or trees.
Save Money on Your Auto Insurance Bill, Compare Quotes Fast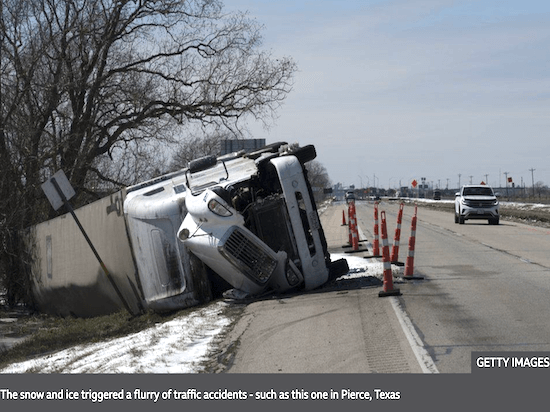 Driving on icy roads in Pennsylvania, Maryland and NY
Central Pennsylvania had freezing rain, and temperatures in the 20s leaving roads and walkways with a glaze of ice. Between February 3rd and the 8th, Pennsylvania State Police accumulated 120 crashes to investigate. On February 5th, there were 204 disabled vehicles.
By Friday morning the 19th, Maryland had 11 car crashes including one at MD-100 at I-97 and on the Harrisburg Expressway at Warren Rd. New York City had a snowstorm earlier this month dropping 17.2 inches of snow on the city, making it one of the biggest snowstorms in NYC's history. In total so far, about 34 inches of snow has fallen so far this season in Central Park, NY.
Tennessee as of February 18th, had 6 fatalities due to the weather in Shelby County, Williamson County and more
Challenges of being behind the wheel during wintertime
Driving in winter is difficult, since drivers are faced with surprising conditions and can't react fast enough. It could be that ice and snow dislodge from one vehicle and falls on another. Sometimes the drivers aren't even aware that this is happening while their commuting, resulting in a hit-and-run.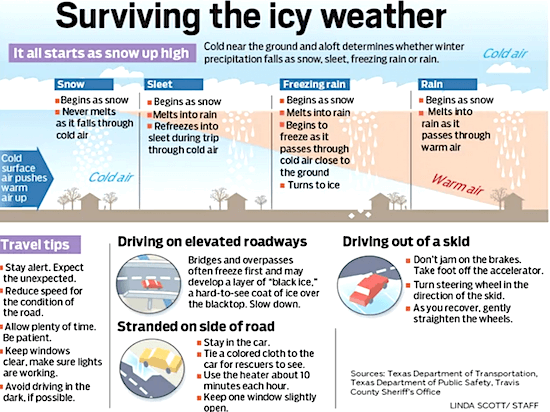 Slippery roads mean more distance is needed between each vehicle, however many drivers don't reduce their speed enough. Bridges and overpasses tend to freeze first, creating black ice, so visibility is affected. Loss of traction is another issue when driving in bad conditions.
Winter driving technique 1: following distances
Generally, when on the road, drivers are meant to keep a distance of about three to four seconds from the next vehicle in front of them. But during the winter, a driver should increase this following distance to about eight to 10 seconds. This increases the margin of driving safety on slippery roads, and icy surfaces. Practicing this wintertime driving technique will give you a longer distance, and more time to stop should you need to.
Traction is greatest just before a vehicle's wheels spin. So it's best to gently apply pressure on the accelerator pedal when starting your car
If you're on a multiple-lane highway, drive on the lane that's the most cleared up from the snow. Don't change lanes often, as to reduce the chance of losing control of the vehicle due to built-up snow. Giving yourself enough distance between you and the other vehicles gives you the opportunity to see how other drivers react to what's in front of them. This will give you enough time to maneuver and react in the safest way.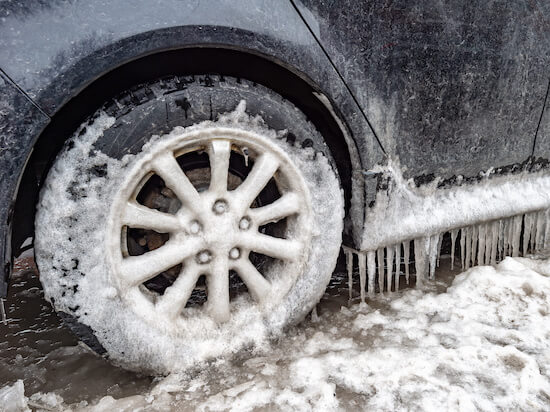 Winter driving technique 2: steering on icy surfaces
Steering your vehicle on snowy and icy roads demands smooth and precise maneuvering of the steering wheel. If the movements are quick and abrupt, your vehicle may end up skidding, and shifting to the side. The vehicle could also go in circular motions; it all depends on which tires lose traction with the road.
The distance your vehicle needs to stop at 0 degrees Fahrenheit is twice what's needed at 32 degrees Fahrenheit
In slick conditions like icy surfaces, sudden braking can lead to losing control of your vehicle. The basic rule to keep you safer when your vehicle skids is to release the gas and not brake. That'll slow down your car so less power keeps your vehicle in skid mode. But don't press on the brake pedal, just let your foot off the gas and don't touch any pedal until you feel safer. Next, turn the steering wheel into the direction you want to go in. Do so gently!
SEE ALSO: WINTERTIME DRIVING, WHAT TO DO IF YOU LOSE CONTROL OF YOUR CAR
To perform more of an emergency steering technique, use the push-pull-slide method. Shuffle your hands so that neither of them crosses over the 12 and 6 o'clock on your steering wheel. This way you could continuously adjust the vehicle in either direction.
Over 1,300 people are killed and more than 116,800 people are injured in vehicle crashes on snowy, slushy or icy pavement annually
Winter driving technique3: Rear-wheel skidding vs. front-wheel skidding
For rear-wheel skidding, make sure you steer the wheel in the direction you want to travel toward. No slamming on brakes; it will upset the balance of the vehicle! When you feel the car has stopped sliding on the icy road, continue to steer in same direction to avoid another skid in the opposite direction.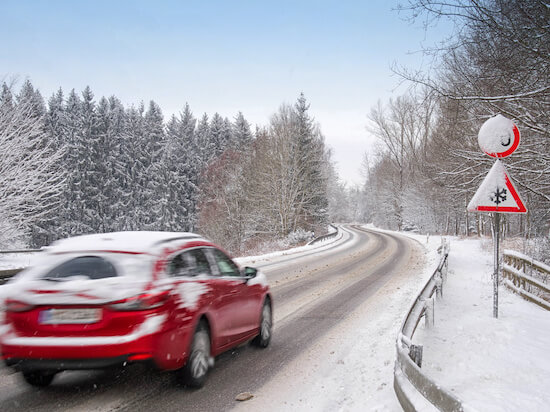 In a front-wheel skidding scenario, your front wheels will lose traction and you won't be able to steer the car. The good news is that there's less chances of your vehicle skidding in opposite direction. In this case, wait for the front wheels to regain control and grip to road, then gently steer the wheel in the direction you want to go. If your vehicle doesn't have anti-lock brakes, it's best to use squeeze braking or threshold braking. This type of braking will allow you to slow down your vehicle at the maximum rate.
Over 70% of U.S roads are located in snowy regions, which receives more than five inches average snowfall annually
If the registration renewal for your vehicle is fast approaching, and you don't want to travel to the DMV in these winter conditions, register online with eTags. We offer services in New York, Pennsylvania, and Maryland.