Driving is back in America. On average, Americans drive 14,263 miles a year according to the Federal Highway Administration. That's about 1,200 miles a month.
Use eTags© to Quickly Complete Your DMV Service. Renewals, Title Transfers and More, All Online!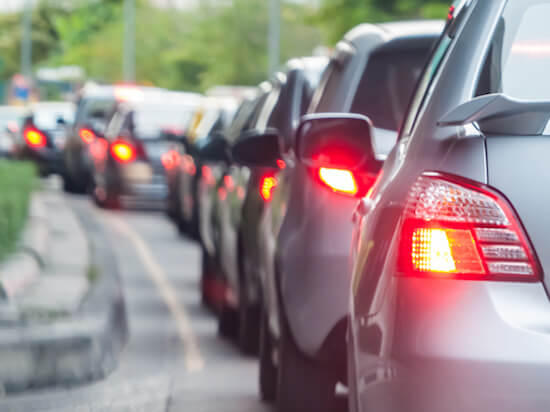 When looking at individual states, California (collectively) accounts for 340 billion miles driven every year. At the other end of the spectrum, Oklahoma accounts for 44 billion miles driven. Drivers in D.C., Rhode Island, New York, Washington, and Alaska drive fewer miles (annually) than drivers in other states.
According to the Federal Highway Administration, those who are 35 to 54 years old drive the most, traveling 18,858
Americans spend almost an hour commuting to work
The average commute to and from work is 52.2 minutes according to Ridester, but for some states it's a lot worse. California, New York, and Pennsylvania boast the longest commutes. While North and South Dakota, plus Wyoming drivers spend the least time traveling to and from work. With all that driving, sitting, and waiting in traffic, you can suffer from backaches, sore shoulders, a stiff neck, and more discomforts.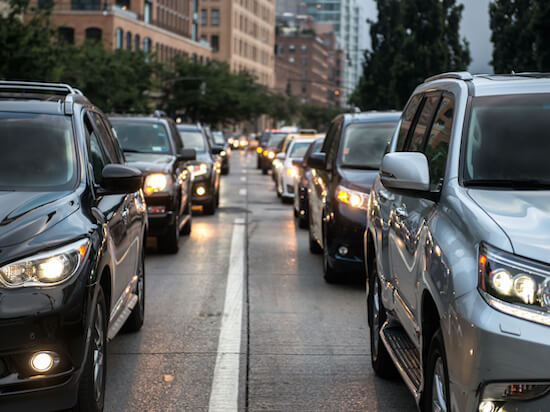 Poor posture is a (painful) problem
Some vehicles can aggravate aches. For example, if your car doesn't have a supportive seat and headrest to accommodate the natural curves of the body, you may be straining your spine. Not enough legroom or even too little head space can force you to sit in a way that's compressing your body. Having bad posture when behind the wheel can increase discomfort in the neck, back, shoulders, arms, wrists, fingers, legs and feet. The soreness can leave you more vulnerable to injuries both when driving and in your day-to-day, not to mention chronic pain in later years.
Tips to perfect your posture behind the wheel
How to sit
How you sit is crucial to driving comfort and safety. The key is to reach the pedals comfortably enough so that you can press them all the way through with your feet. That means how close you sit to the steering wheel is also a factor; you never want to be to close or hunched up. That puts strain and tension on your neck, shoulders, and back.
Your right foot should move easily between the accelerator and brake pedal when the heel is placed roughly in front of the brake pedal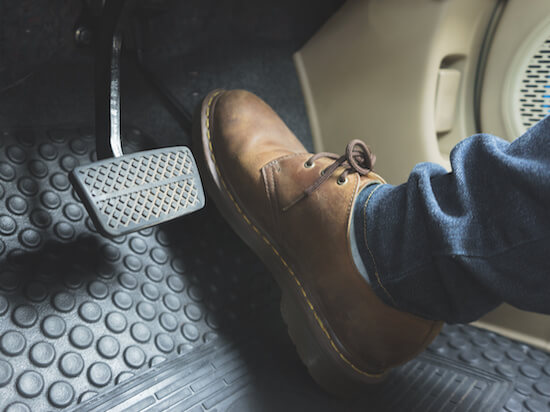 A 2015 study published on Atlantis Press showed, though dummy test crashes, the injury response increases as the body leans forward. In case of a car accident, like a front-end or rear-end crash, if your chest is too close to the steering wheel, you're more likely to suffer from head, chest and neck injuries.
SEE ALSO: 4 MOST COMMON CAR ACCIDENTS AND HOW TO PREVENT THEM
Your height is another factor in your sitting position when you're behind the wheel. Make sure your seat is raised to eye level, at least three inches from the steering wheel. You want to have enough head space between you (your head) and the roof of your vehicle.
If you're tall, pay extra attention to headroom. Vehicle classes have different measurements. For instance, convertibles have about 38 inches typically, which can be cramped for some drivers who are 6 feet and taller. The same with coupe models. If you're tall, an SUV or minivan may be better. They have about 41 inches of headroom. Same with pickup trucks.
Back support while driving
Your tailbone should be as close as possible to the car seat. You can even use a lumbar or back cushion to help. Lift hips and adjust your seat so that your thighs are supported, and your knees are a bit lower than your hips.
The headrest is crucial in reducing whiplash injuries if you get into a rear-end collision, says NHTSA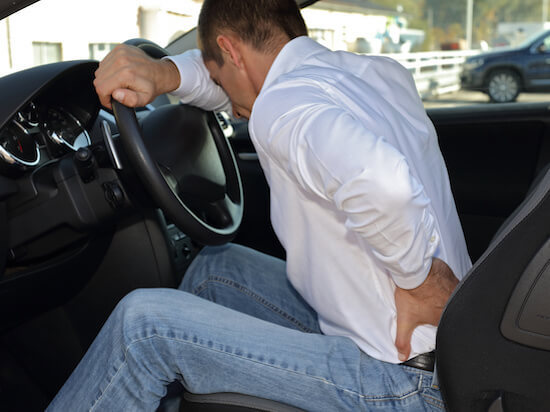 Don't forget to lean back
Lean a bit in your seat so that you're a tad more than a perpendicular 90 degrees. This angle decreases the pressure on the discs in your low back. At 100 to 110 degrees, you'll feel more pressure on your back. Lean too much and your head and neck will push forward as well, hurting shoulders and neck.
Adjust the top of the car's headrest between the top of your ears and the top of your head
Adjust rear-view and side mirrors
When all your mirrors are adjusted right, you won't strain your neck to see traffic. Gently maneuver the rear-view mirror so that you can see directly out of the middle of your back windshield without moving your head. You want to be able to quickly glance to the road behind you without having to move or turn your body. For side mirrors, sit back in the driver's seat to ensure that you can see the road behind you and a small sliver of the side of your vehicle.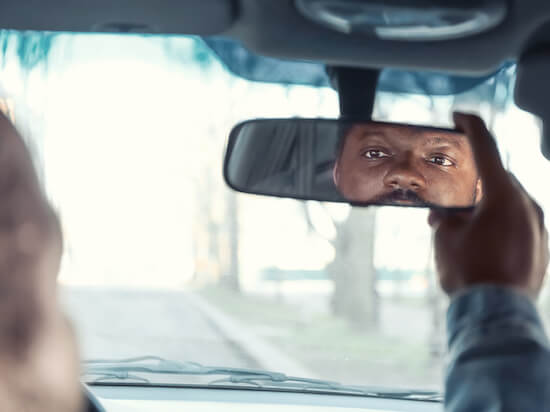 To recap: sit right, lean back, and adjust all your mirrors before you hit the road.