Over 220 million people in the U.S. subscribe to wireless services, and it's estimated that 80% of those use their cellphones while driving, according to the National Conference of State Legislatures.
Use eTags© to Quickly Complete Your DMV Service. Renewals, Title Transfers and More, All Online!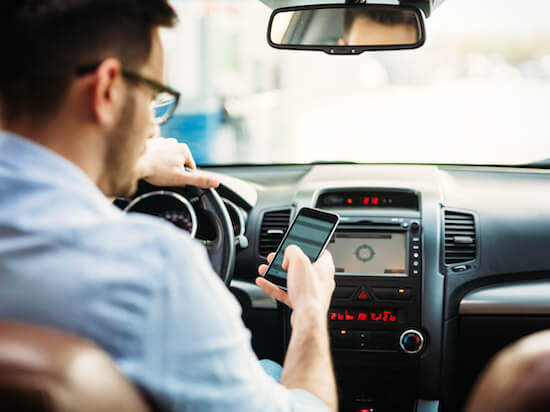 In Ohio, distracted driving caused 10, 266 crashes last year. Of those 10,266 accidents, there were 7 fatal crashes and 45 that caused serious injury
25 states, D.C., Puerto Rico, and the U.S. Virgin Islands prohibit all drivers from using hand-held cellphones when behind the wheel. But none of the states nationwide ban ALL cellphone use for ALL drivers. 36 states and D.C. ban all teen drivers' cellphone use, while 18 states and D.C. prohibit it for school bus drivers. 48 states, D.C., Puerto Rico, Guam and the U.S. Virgin Islands ban text messaging for all drivers.
You can't use your cellphone while driving in OH anymore
Ohio is one of the newest states to make it illegal to use or hold a cell phone or electronic device while driving. Nationwide Insurance's recent study found that 42% of Ohio drivers polled admit making a phone call on a cellphone while driving. 25% say they've texted while driving, while 10% talked over video. 5% surveyed said they've watched TV or a movie while behind the wheel.
A new report from Cambridge Mobile Telematics states Ohio drivers shows a 9.1% reduction in distracted driving in Ohio since April 4th has helped prevent 540 crashes, one fatality, and $13 million in economic damages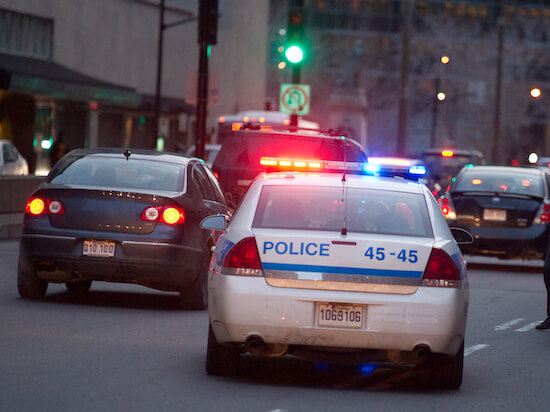 Six-month grace period in Ohio
As of April 2023, law enforcement can pull over drivers they see holding a cellphone while driving in Ohio. The legislation, signed into law by Gov. Mike DeWine in January, does have very few exceptions:
If you're stopped at a red light in Ohio, you're allowed to use your cellphone if it's on speakerphone without actually holding your phone
You can use your cellphone, if you're holding it by your ears for phone calls but not using it to text
The good news is that this new distracted driving law in Ohio law has a six-month grace period in police officers will issue warnings to educate drivers about the recent cellphone law changes. Starting Oct. 5, 2023 law enforcement officers will begin issuing tickets.
Up to four points and a $500 fine
The bad news is that Ohio drivers will get two points on their OH driver's license and up to a $150 fine for their first offense. Three points and up to a $250 fine for their second offense. Three or more offenses, four points will be added to their license and up to a $500 fine. The OH driver's license could be suspended for 90 days too. Please note: Fines double if the violation happens in a work zone.
Senate Bill 288 now makes the use of cell phones and other electronic communications devices a primary traffic offense
OH drivers can't browse, stream, Facetime, or call
In Ohio, drivers can't browse online, streaming or record video, play games, FaceTime, dial a phone number or enter an address. You can still view and use a navigation system while behind the wheel as long as you're not holding cellphone in your hand or on your body while driving with a single touch or swipe. Manually entering letters, numbers, or symbols is not allowed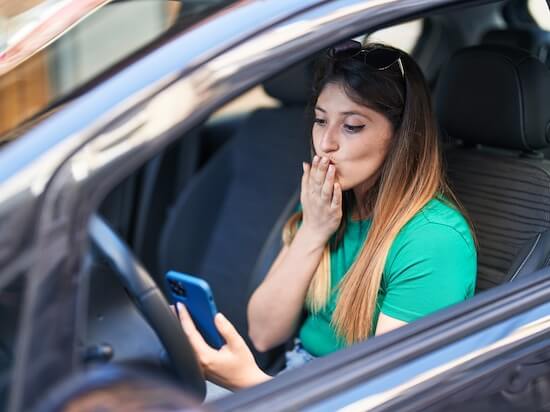 Drivers 18 and under, plus exceptions
Drivers under the age of 18 are still restricted from using their cellphones in any way, including hands-free . But there are a few exceptions:
Drivers reporting an emergency, to police, hospital, fire department, and the like
Drivers holding a cellphone to their ear only during phone conversations, if the call is started or stopped with a single touch or swipe
Drivers holding cellphones when stopped at a traffic light, parked on a road during an emergency/ closure.
First responders (law enforcement, fire, EMS), using cellphones for official duties
Utility workers in certain emergency or outage
Text messaging increases the risk of crash or near-crash by 23 times, says the Virginia Technical Transportation Institute
Ohio DOT signals to put your cellphone down
There are new Ohio Department of Transportation signage along freeways to remind Ohio drivers to put their phone down. 45 to be exact, posted on Interstate and U.S. Highways and exits to Ohio largest airports in Akron, Cleveland, Columbus, Dayton, and Toledo.
SEE ALSO: CONVERT OUT-OF-STATE TITLE AND OH REGISTRATION
According to the Ohio State Highway Patrol, distracted driving has caused more than 60,000 crashes and more than 200 deaths in Ohio over the past five years. Since 2018, there were over 68,000 distracted crashes with close to 2,000 fatalities and serious injuries. 26% of those accidents happened between 3PM and 6PM, with over 43,000 citations.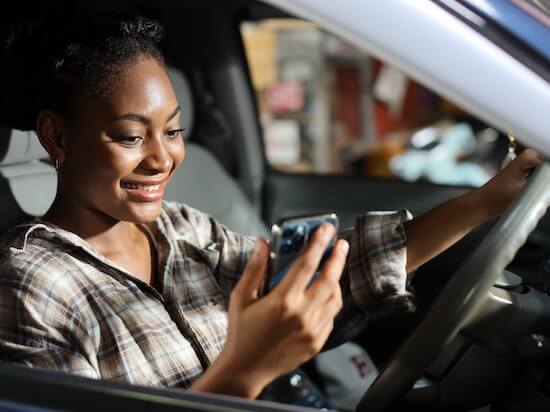 According to a Cambridge Mobile Telematics report, there's a 9.1% reduction in distracted driving in Ohio. The new cellphone law has helped prevent 540 crashes, one fatality, and $13 million in economic damages.
Remember, phone down while driving!