Over 30 states in our country require some kind of vehicle inspection, whether it be safety, emissions, or both. Typically, the reason for these inspections is to keep poorly maintained vehicles off the road. Emissions checks serve as a way to keep smog levels low for the environment. New York is no exception to the rule. In fact, a New York State inspection covers both a safety and emissions check.
Use eTags© to Quickly Complete Your DMV Service. Renewals, Title Transfers and More, All Online!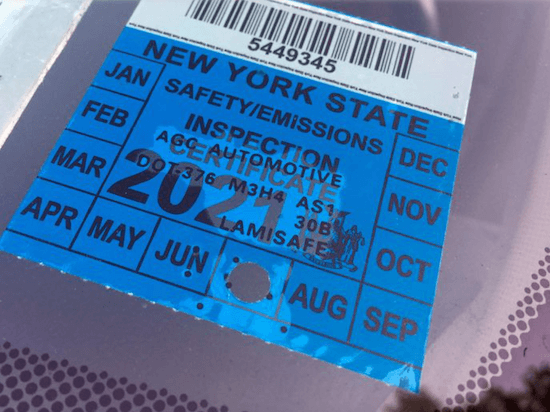 When, where, and how to get your vehicle inspected in New York
In the big apple, the DMV requires your car to be inspected every year as well as whenever you transfer ownership. Both the safety and emissions inspections must be completed before the expiration date on your current inspection sticker. This date won't always coincide with your registration expiration date. 
It's very possible that your registration could expire, but your inspection is still good for a few more weeks or months. In this case, you can renew your registration with no problem. Should your inspection expire before your registration, you won't be able to renew the registration without a passed inspection.
New York State law requires all cars, trucks, and SUVs to be in proper working condition to allow for safe driving, so inspections include both safety and emissions checks
You have to get your "car check-up" at a licensed facility. Look for a place that displays an official sign for inspections on their window to ensure you're bringing your vehicle to a reputable facility. This is usually a good indicator that the shop has a certified motor vehicle inspector on-site. Licensed stations have a yellow and black sign and motorcycle stations display a blue and orange sign.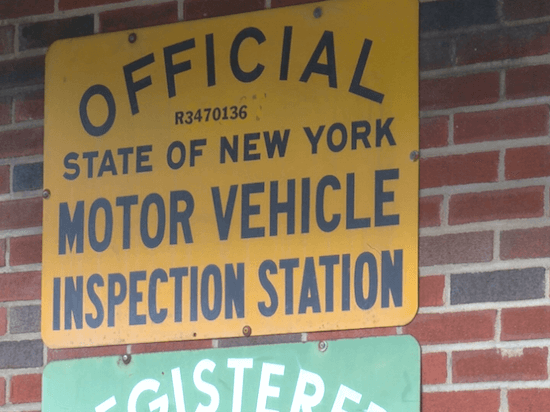 New York State safety inspection and emissions check
As for the safety portion, the inspector's responsibility is to check chassis, mirrors, the horn, all windows, brakes, lights, fuel leaks, windshield wipers, and seat belts of course. They need to ensure that all parts are assembled and working properly. You'd do well to make sure your tires have good treads, the bulbs are working in the taillights, and your glass doesn't show any signs of cracks. 
Please note that all the various inspected parts have even smaller components to check. For example, a brakes inspection involves brake pedal reserve, fade, drums, wheel cylinders, lines, hoses, and more. A lighting inspection includes headlights, directional signals, Hazard warning/four-way flasher and more.
SEE ALSO: NEW YORK TITLE & REGISTRATION FOR CARS, TRUCKS, & MOTORCYCLES
When you register a car you bought through a private sale, the NY State DMV will issue a 10-day inspection sticker to give you time to inspect the vehicle
The emissions portion is done at the same time. Should anything need a repair on the vehicle, it's up to you to decide where to take it. Surely the fine mechanics at the inspection station would love to take care of the problems for you but you're welcome to take the car to "your guy" if you've got one!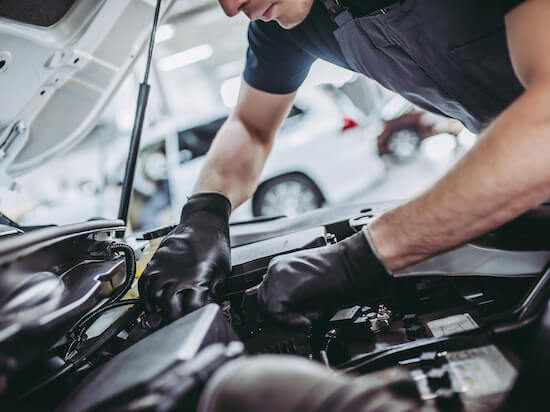 In NY, it's a crime to get an inspection sticker if the vehicle failed inspection
If you're thinking of doing any funny business, you should know it's a crime in NY to knowingly obtain or issue an inspection sticker if the vehicle doesn't actually pass inspection. It can be a blow to your bank account to fix repairs you weren't expecting to fix, but it won't compare to the damage that legal troubles will do. 
In fact, there was a case back in 2015, a mechanic knowingly passed a vehicle inspection that should have failed. The car owner was an 80-year-old man who insisted he didn't have enough money to make the suggested repairs to his faulty brake line. Well, there was an accident and a passenger was killed. The mechanic was charged with manslaughter! This is a worst-case scenario but if you or your mechanic is caught fraudulently passing inspections, you could face up to $2500 in fines or even jail time.
Just at the start of the new year (2022), a driver tried to outwit a Mechanicville police officer with a fake in New York inspection sticker. In the end,You aren't doing yourself any favors by trying to save a few dollars. It could cost someone their freedom or worse, your life! 
A safety inspection for the power steering includes checking operation and the condition of the belt and looking for leakage
In all honesty, it's for your own good. A cared-for vehicle is not only better for the environment but it's better for you. You get way more out of your car in the way of performance and even fuel efficiency by maintaining it well. 
Replacements and extensions for inspection stickers
If your inspection sticker is peeling, you can and should secure it with clear tape. In the event that you lose the sticker or it's damaged to the point of no return, you can replace it so long as it's still valid. You can use form VS-118 by mail to request a replacement. Since DMV gets electronic records of all emissions checks, they can issue another sticker-no problem.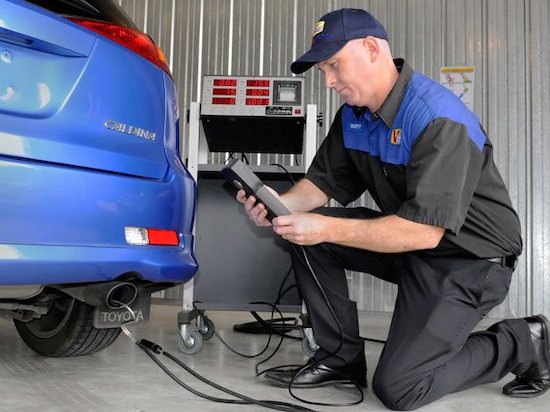 If you won't be around when it's time to get your inspection done, don't just leave the vehicle unattended. Plan ahead of time and submit a request to DMV for an extension. If granted, you want to make sure to keep all pertinent paperwork as DMV records will still show that your actual inspection is expired. Keep it handy in your car in case you need to make a case to law enforcement. 
A vehicle can't pass an inspection with a check engine light on
Inspections can be easy peasy but in some cases, they could become complicated. In the end, it's a New York state requirement so to make your life easier, plan for them accordingly!