Hello New Yorkers! Let's talk trailers. There are many types of trailers, but they're mostly defined as an unpowered vehicle that's towed. There are travel trailers also known as camper trailers (or simply campers), mostly used for road trips, camping and personal use. There are also utility trailers, typically needed for hauling equipment and supplies like landscaping power tools, furniture, and construction materials.
Use eTags© to Quickly Complete Your DMV Service. Renewals, Title Transfers and More, All Online!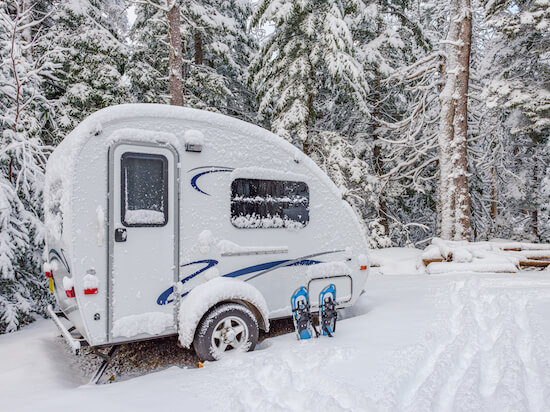 20% of RVs are travel trailers
According to the RV Industry Associations, 1 out of every 5 recreational vehicles or 20% is classified as a conventional travel trailer. And about 30% of RV owners camp outside of traditional campgrounds like boondocking, reported the 2021 Topline N. American Camping Report.
A utility trailer can be open or enclosed which is also called a cargo trailer
No insurance on NY campers and other small trailers
If you live in New York State, you must title and register your trailer just like you would your car, SUV, motorcycle, or truck. It's mostly the same process, such as completing the Vehicle Registration/Title Application Form MV-82, but there are a few differences. For instance, you travel trailer or utility trailer doesn't have to carry insurance coverage like a car would. Hurray for savings!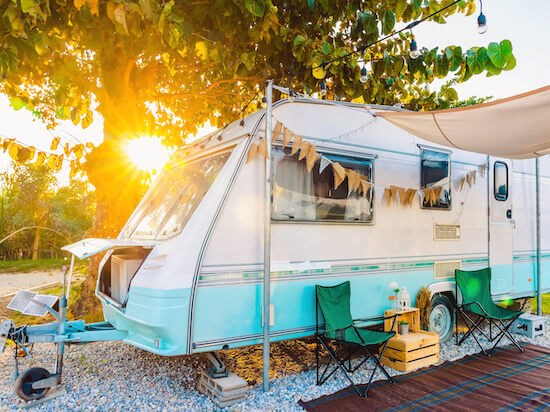 As far as NY trailer registration goes, your New York license plate is for one year with a fixed expiration date of December 31. When registering your camper, you get a registration document and sticker for one year and must renew yearly. But don't worry, you can do the entire process online with registration and title companies like eTags. Just answer a few questions (about your trailer) online and let eTags do the rest.
There was a tad over 423,000 travel trailers sent from manufacturers to dealers last year alone
New York trailer titles: weight and all
The New York State DMV (only) titles trailers that weigh over 999 pounds. The average trailer weights are around 5,200 pounds dry weight. That's the weight of the trailer when tanks aren't filled and there's no gear/equipment on the trailer. Add about 1,500 pounds of gear and water to that number to get a "real world" example.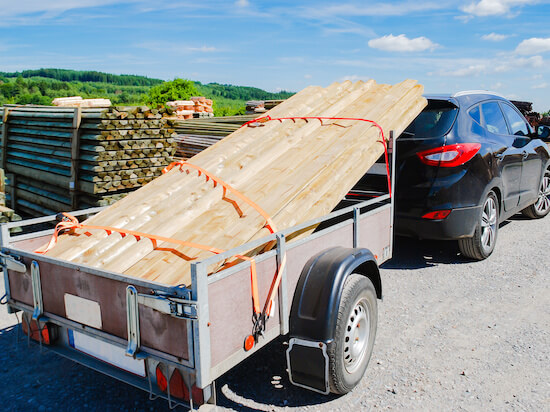 The NY DMV also provides a certificate of title for trailers model year 1973 and newer. Trailers under 999 pounds or older than model year 1973 are issued a transferable registration as proof of ownership. In other words, the trailer's registration documents also act as a title.
SEE ALSO: NEW YORK STATE REGISTRATION SUSPENSION
Don't forget inspections for trailers
If you have a camper or utility trailer in New York, you must get a safety inspection ever year from a NY state DMV-licensed inspection station. Look for a yellow and black sign that reads, "Official Inspection Station." Once you get your inspection sticker, carry it and keep in the vehicle towing the trailer.
A trailer used as an office on a job site in New York State don't need a license plate (registration)