To drive in New York, you have to be at least 16 years old and have a valid driver license or a leaner permit. With a learner's permit you can't drive unless accompanied by a supervising driver age 21 or older with a valid license to operate the vehicle you're driving.
Use eTags© to Quickly Complete Your DMV Service. Renewals, Title Transfers and More, All Online!
New York State has over 12 million active driver licenses
If you have any of these documents from another state, you can drive in New York. Your vehicle must be registered and insured so you could legally drive it on public roads. If you're registration expired, you risk fines, penalties, and driver license suspension.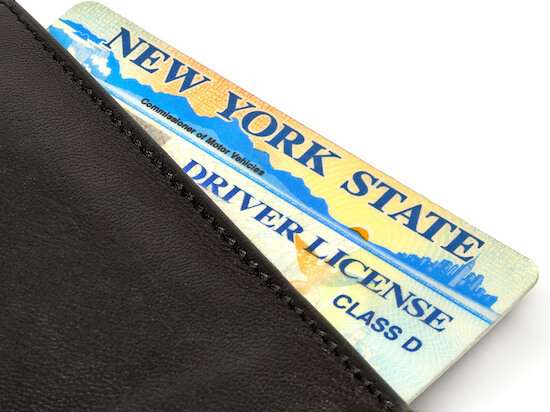 About 45% of all households own a car
Although most residents, even visitors, commute by subway, ride-sharing options like Uber, and taxi cabs, there are still a growing number of drivers in NYC. New York City is famous for its public transit system. The MTA has more stations than any other metro system in the world, with almost twice as many miles of track as any other North American system. By 2018, New York City had about 45% of all households owning a car, and 3% owning three or more.
New York subway ridership is triple the next five largest American cities combined (Chicago, Washington, Boston, San Francisco, and Philadelphia)
NYC, including Queens and the Bronx, had close to 4 million drivers (active driving licenses) by the end of 2018, with more men driving than women. The areas around it, including Westchester, Saratoga, Albany, and Nassau, had over 8 million people with driver licenses. If you become a New York State resident, you must get a New York State driver license within 30 days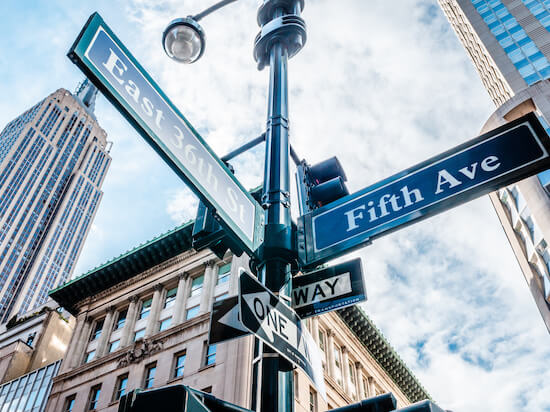 No left turns during certain hours
New York is known for its heavy traffic, sparse and costly parking, and ubiquitous tolls. Let's not forget the countless and fearless pedestrians you share the road within New York. Knowing how to get around by car in New York is practically a safety issue. Anticipating the road ahead and understanding the driving behavior and rules of the city that never sleeps is crucial to your safety. Many of New York driving rules don't apply in other cities.
Staten Island is the only borough where a majority of commuters, 56.3 % drive to work
For example, did you know that many major avenues in NYC don't give you the possibility to make a left turn during certain hours. This driving behavior is supposed to help limit congestion at busier intersections. You can get pulled over if you don't know this and get a ticket. According to the NYPD, 70 pedestrians were killed in 2016 as a result of vehicle left turns. In 2018, there were 21 fatalities while 33% of pedestrian injuries were a result of a left-turning.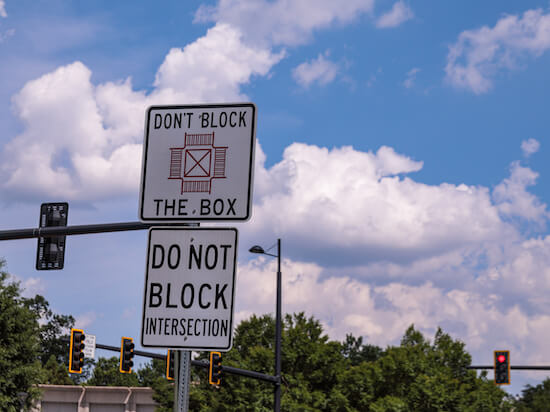 Gridlock rules in NYC
New York has "don't block the box" signs to remind drivers to not get caught in the middle as a traffic light is about to change. If you "block the box," you'll get a hefty fine. Depending on the officer, you can either get a moving violation or a parking ticket, with a fine of up to $150 and potentially two points added to your driver license. "Blocking the box," also known as gridlock, happens when a vehicle in a queue of traffic moves into the intersection and stops because they get stuck in congestion.
In NYC, left turns are three times more dangerous than right turns
Cellphone usage leads to hundreds of dollars in fines and points
Using your hand-help cellphones while driving is illegal in New York and carries with it fines and points on your driver license. A conviction for cellphone use of any kind can cost you $50 to $150 for the first offense; between $50 and $200 for the second offense if within 18 months; and between $50 and $400 for a third offense within 18 months. It can also cost you five points on your license.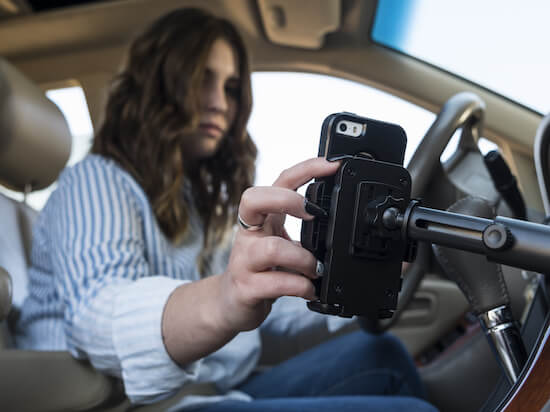 There's also a surcharge on type of all these fines; anywhere from $88 to $93. Drivers who accumulate six (6) or more points within 18 months as a result of traffic convictions are required to pay an additional fee of $300 plus, an additional $75 for every point after six.
"Unnecessary honking" is technically illegal in New York City with a fine of $350, but rarely enforced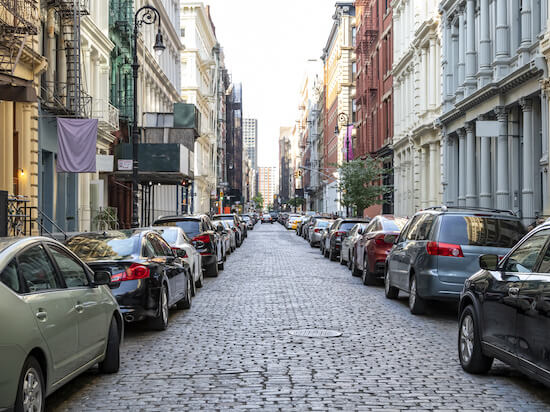 Parking, towing, fire hydrants, and crosswalks
Parking rates vary across the five New York boroughs, reflecting the neighborhood parking conditions. For metered parking, hourly parking rates range from $1.25 to $7.50, and from $5.00 to $8.00 for commercial vehicles, depending on where you park and for how long. Monthly parking spots also range in price depending on neighborhood. For example, in Harlem the average price is $199 per month. In Hell's Kitchen, it's $350, while a monthly parking spot in the West Village will cost you about $528.
A monthly parking spot in lower Manhattan is about $525
All of New York City is a designated Tow Away Zone under the State's Vehicle and Traffic Law. So any vehicle parked or operated illegally, or with missing or expired registration or inspection stickers, can be towed. When looking for street parking, stay 15 feet away from fire hydrants when you park (on the street) or your car will likely be towed. If you park near a crosswalk, make sure your tires are located entirely outside of the crosswalk markings or you can get a ticket.
SEE ALSO: RENEWING YOUR TWO-YEAR NEW YORK REGISTRATION ONLINE
NYC DOT manages over one million traffic signs in New York City