Once the restrictions were lifted after COVID-19 first made its impact, 21% of leisure travelers took a camping trip according to Kampgrounds of America. According to a Forbes article, bookings for summer 2021 are skyrocketing, up across EU and U.S. campgrounds by as much as 500%.
Use eTags© to Quickly Complete Your DMV Service. Renewals, Title Transfers and More, All Online!
Motorcycle registrations also increased in the U.S. last year, as cities nationwide shutdown. Powersports including ATVs, side-by-sides, and off-highway motorcycles sales were up 18.9% by end of March, according to the Motorcycle Industry Council. Ducati North America increased sales by 24%for new motorcycles in its New York City flagship spot.
Camping comes in many different shapes and sizes, from backpacking to boondocking to glamping
For BMW motorcycles, North American May 2020 sales exceeded those of 2019. For 2021, the Motorcycle Industry Council reported even better numbers than last year. The first three months over 37.2% more motorcycle sales. Off-road bike sales went up 45.4% in the first three months of the year, while on-road ones went up 31.4%.
Campsites types and how to find them
There are many ways to find a campground that's right for you. Just like almost anything today, there's an app for that! Some popular motorcycle camping apps include recreation.gov, on x offroad, and the dyrt. The US Forest service, Reserve America, and HipCamp are all websites that can assist you in finding the right campsite for your motorcycle adventure.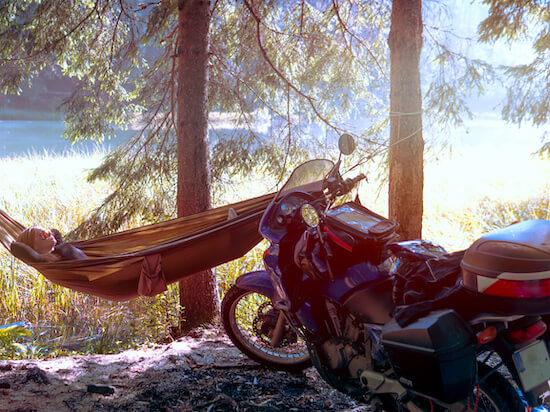 Remember, campsites can be FULL, so try to reserve ahead of time if you can. Google Maps can help you with planning your entire itinerary, including the roads you want to take as the journey is as important to bike riders.
The San Bernardino National Forest in Southern California offers 28 camping sites, as well as fishing and a water slide park just 20 minutes away
One of the most popular campgrounds are in state and national parks such as in Yellowstone National Park's Grant Village Campground. These types of camping grounds provide restrooms, cellphone service, laundry, boat ramps and more. Wood and charcoal fires are permitted, as well as propane grills and stoves. Plus, there's plenty to do around from kayaking to exploring hot springs, to close encounters with goldeneye ducks and elk cows.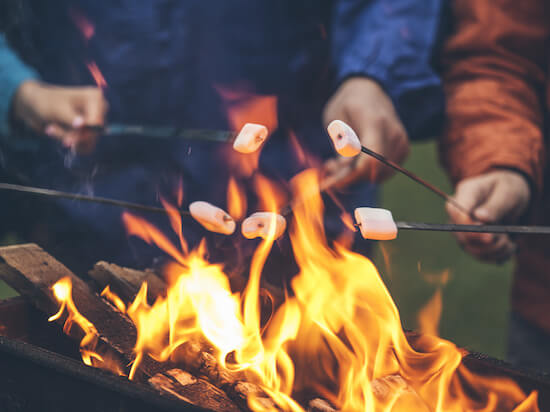 National forests are great campsites too. There may not be showers or electric hookups, but you're going to find picnic tables, tent pads, fire rings and the like. national forests and grasslands make up about 193 million acres of vast, scenic beauty in the U.S.
A 2020 Forbes article named the top ten states for camping: Rhode Island, Utah, Maryland, New Hampshire, New Mexico, Minnesota, Colorado, South Carolina, Texas and Vermont
Camping tents and roomy vestibules
Look for a motorcycle camping tent that's compact, since you're riding and can't carry too much with you. Shop for a light tent that can protect you and your bike while you settle in for a night of camping. Many motorcycle camping tents have roomy vestibules to safely store your bike.
The Lone Rider Mototent seems to be a favorite with campers who bike, since it can sleep two people and has space for a motorcycle. Some tents have mesh ventilation for the hot summer months such as the Catoma SwitchBack Motorcycle Tent. You can add some collapsible foam pillows to that tent too for even more comfort!
SEE ALSO: DIY MOTORCYCLE INSPECTION CHECKLIST
Couples with children accounted for close to half of glampers in 2019
Light packing, multi-use for all items
When packing for a motorcycle camping trip, don't forget that a bike needs to have an even load between the tires. Too much weight on the rear axle will lift the bike's front tire, which in turn will affect how you steer your motorcycle and stability. Pack the weight close to motorcycle's center of gravity!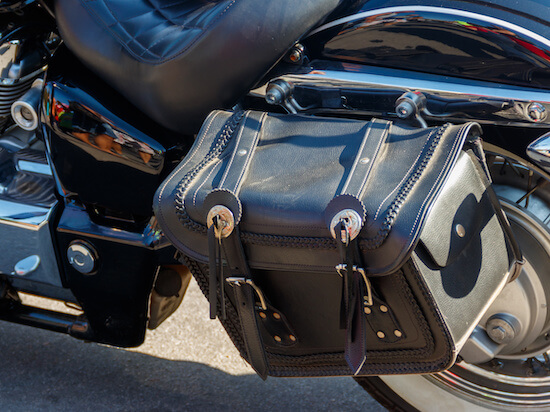 Pack your heaviest item first, low and between the two bike tires. For lighter items, place higher up on the bike and behind you. A luggage rack can help with packing your motorcycle right. Straps and saddle bags can also make a difference. When making a list of items you'll need on your motorcycle camping trip, try to pack mostly items that have multiple uses.
Camping cabins typically offer electricity for charging and lighting as well as beds for comfortable sleeping
Motorcycle camping adds to the freedom of riding, extending the pleasure of being outside in nature once you arrive to your destination. Instead of going up to an air-conditioned hotel room, you're surrounded by starry skies, wilderness, and hopefully a campfire for the best s'mores. Depending on where you go, motorcycle camping is a great way to enjoy trails and hikes, bird watching, canoeing and other water sports, ATV rides, get up close and personal with animals, and more.
Have a great motorcycle trip!