It's springtime! The air is warmer, the snow is melting, hibernating animals are coming out to play, and the birds are nesting. While some may be spring cleaning, others are preparing their two wheels for the road. From tires to fluid levels, and more, keep reading to find out what to check and specific conditions to look for so you could ensure a safe ride.
Use eTags© to Quickly Complete Your DMV Service. Renewals, Title Transfers and More, All Online!
In the U.S., there are over 13 million motorcycle owners
Fuel system and carburetor
The gas leftover from the previous riding season could change its chemical makeup due to evaporation through the colder months. Your motorbike's fuel may now be brown muck. That dirt can clog up the jets in the motorcycle's carburetor, affecting the performance of the bike. The carburetor supplies an internal combustion engine with the right air and fuel mixture to power the engine and move the motorcycle forward. A bad clogged carburetor could stop you from even starting your two wheels.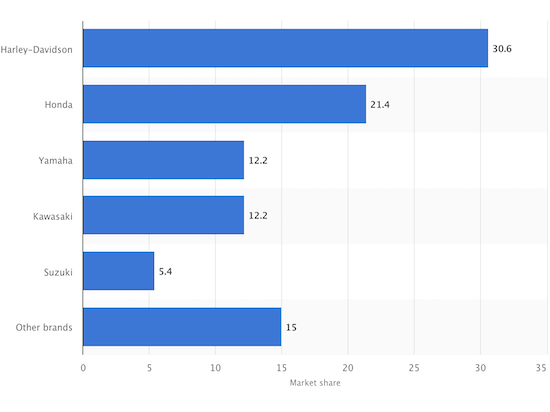 Clean the carburetor and pour out the leftover gasoline. You could use a liquid carburetor cleaner and unscrew the jets for a deeper clean. You could also drain the tank to handle the condensation that's formed over the winter.
Harley-Davidson is the number one motorcycle manufacturer in America, followed by Honda and Yamaha
Chain or belt drive and ignition coils
Motorcycles with chain drive need more maintenance than those with belt or shaft drive. Check the tension of the belts or chains, and if you have a chain drive oil it up. In regard to ignition coils, if you're having trouble starting the motorcycle, test them. Ignition coils serve to ramp up low battery voltage to the high voltage needed to fire the spark plug.
California, Florida, and Ohio have the most registered motorcycles in the U.S.
The motorcycle battery
Just like any vehicle that's parked for several months and not in use, the battery of a motorbike could die. First make sure that the problem is the battery. Modern motorcycles often the electrical switches don't allow a motorcycle to start unless certain conditions are met. For example, check to see if your clutch is pulled in or if your side stand is up.
SEE ALSO: HOW TO TRANSFER TITLE FOR MOTORCYCLES IN CALIFORNIA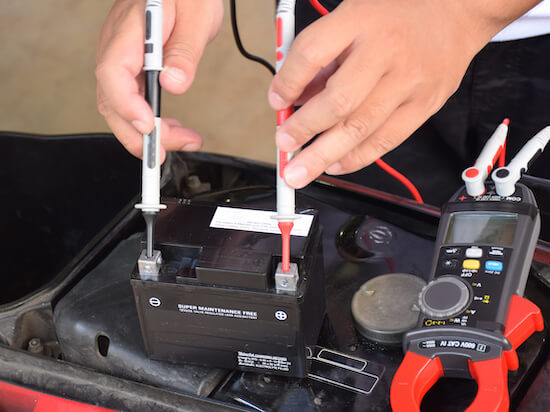 A weak, dim headlight is a good indicator on older bikes that your battery is dead. You could test voltage with a multimeter aka DVOM or do a crank voltage test while the bike's battery is working.
For quick video tutorials about any of these motorcycle inspection tips, search on Youtube
Tire tread and braking
The lifespan of your motorcycle tires shouldn't be more than five years. Inspect tires; see if there are any cracks or dry rot. Look at tread too! Many motorcycle tires have wear
indicators cast into the rubber tread grooves. Look for one of the tire grooves with a raised segment of rubber. Your tire tread should be at least 1.5 millimeters deep. If the tread is getting low, you need new ones since it could impact your braking traction on wet roads if wear is uneven.
In 2020, Harley-Davidson sold over 103,000 motorcycles in the U.S.
Check your brakes, look for excessive wear on brake pads. Don't forget the brake lines, check for cracks or leaks as well as brake fluid. Test both front and rear brakes. If there's any sound like squealing, scraping or growling, make sure you fix your brakes.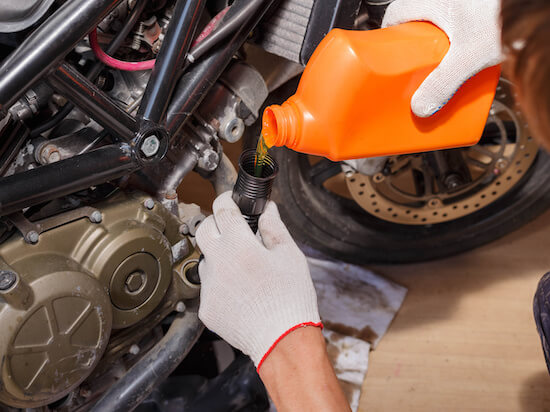 Fluids and flushes
Many motorcyclists change their bikes' oil and oil filter before they store it during the cold months. If you didn't definitely do it before you start riding again. In fact, it's best to check all fluids and top them off, from coolant and brake fluid to hydraulic clutch fluid and more. If some of the fluids have been spoiled, you may have to do a flush.
Test all of your controls including your steering, clutch, throttle
Registration and title transfers for motorcycles
If springtime means you need to register or renew your motorcycle's registration, eTags online could help. We provide dmv paperwork for motorcycle owners, via our online portal. There's no in-person visit needed, or waiting in line for your turn, it could all be done through your smartphone. Plus, you'll get a digital copy of your registration for temporary use, while you wait for tags in the mail.

Check your helmet for cracks or other damage that could compromise its efficiency at protecting you