Whether you bought a car from a private party or dealership that won't process paperwork, inherited a used vehicle, or were gifted a set of wheels, you must transfer the title certificate into your name for official ownership.
Use eTags© to Quickly Complete Your DMV Service. Renewals, Title Transfers and More, All Online!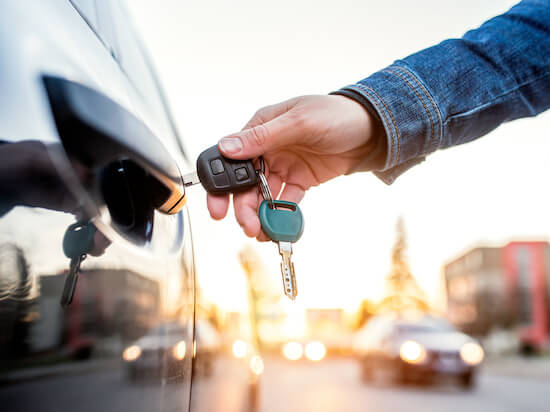 A car title in your name comes in handy when it's time to sell too. In the state of Maryland, you can choose to transfer the registration and license plates from a previous car you drove or get a new registration altogether.
Your title is proof you own the car
The vehicle title claims ownership, the registration card and plates allow you to drive it on public roads. Maryland registration fees are based on the type of vehicle you drive and its weight. The standard registration are for vehicles 3,700 lbs. and under. Think Nissan Altima, Ford Fusion, Honda Accord, even Toyota RAV4. It gets pricier as the weight goes up. That's an average compact and mid-size vehicle. An average SUV is about 5,000 lbs.
If you bought a vehicle from a state that doesn't issue car titles, you can use a registration document and bill of sale to prove ownership
Maryland's MVA or transfer online via eTags
Transferring a car title after it's been signed over to you (by seller) doesn't have to be a complicated process. There are a few ways to go about it including online, depending on the level of convenience you expect. You can visit Maryland's MVA branches in person, but you must get an appointment first. There are a variety of offices across the Old Line State including in Anne Arundel, Baltimore County, Kent, and Somerset. Make sure to verify the type of services your branch of choice offers, before you go. Not all MVA branches offer car title transfer services.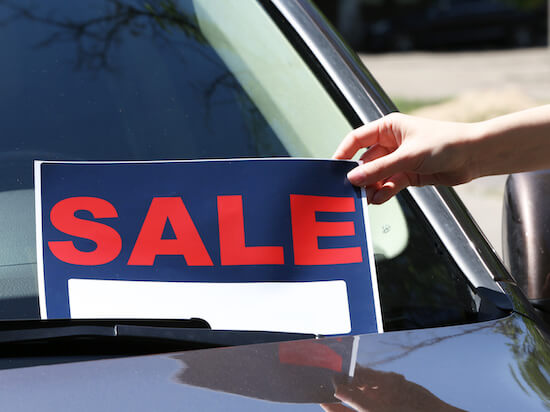 Depending on how you acquired the vehicle (bought, inherited or were gifted one) there are a few documents to provide and steps to follow. But for the most part, in all scenarios the process in the same. You can simplify the entire title transfer transaction by applying online with eTags. However you got your hands on your set of wheels will be processed in compliance with Maryland law. eTags online titling platform generates questions for you to answer so whether you bought, inherited or were gifted a car, your MD title transfer will be done right!
The MVA requires a notarized bill of sale signed by buyer and seller if purchased $500 below market value
You can use the title as your application or complete VR-005
Generally speaking, you must show proof of ownership of the vehicle you acquired. In other words, the certificate of title must be properly assigned to you. If it's a MD car title, it can also be used as your title transfer application by completing the Application For Title and Registration section. If not, use Application For Certificate of Title Form VR-005 and don't forget to complete insurance section. When processing paperwork with eTags, the application gets filled with you information as you answer questions online. So no need to know all of the ins and outs of it all.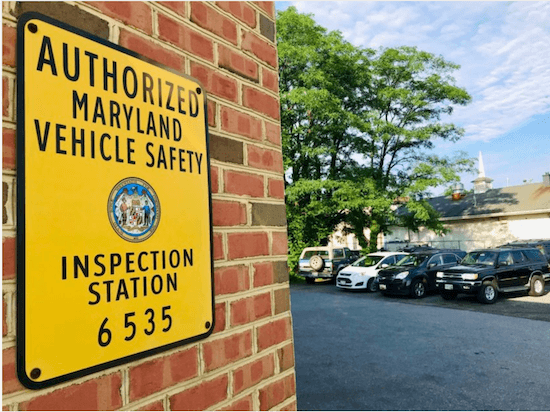 Bill of sale and safety inspection
When applying in person with the MVA, you're typically asked to provide a bill of sale (Form VR-181) signed by both yourself and the seller if the vehicle being titled is less than seven years old. It must also be notarized. eTags online doesn't require a bill of sale.
The Old Line State requires car owners to get a safety inspection for all used vehicles including motorcycles and trucks. Your certificate inspection must be provided by a licensed MD inspection station or car dealership. Typically, the safety inspection is done before the vehicle is sold to you or before you transfer the title. If the vehicle isn't registered yet at the time of inspection, you can apply for a 30-day temporary registration with the MVA. Once inspection is done, you will get an electronic receipt of your certificate via email.
In 2022, iSeeCars analyzed 9.8 million used car sales from model years 2017-2022 and discovered 2.4% of Marylanders bought the Toyota Camry
Maryland registration and license plates
As mentioned earlier, you can get new license plates at the time you apply for new certificate of title or transfer the ones you already have from a previous vehicle. When you start the process online with eTags, you'll be asked for your preference right at the beginning.
If you decide to transfer previous tags, you must show the current copy of your registration. If you have less than a year remaining in the registration year, it will be renewed for an extra year at the time you transfer the title. Don't forget MD auto insurance before you register your vehicle and comply with the minimum coverage needed.
According to car shopping app CoPilot, only 0.43% of registered vehicles are electric in Maryland for a total of 17,970
A few extra notes on gifted vehicles
A vehicle can only be transferred as a gift to members of your immediate family. This includes spouse, stepmother, father-in-law, adopted children, half-sister/brother and grandparents/grandchildren. A title transfer has to include a Gift Certification Form VR-103. If last names are different even though you're family, say your daughter has married and taker her husband's last name, you must show proof of relation as father and daughter. In the case of a gifted vehicle, new license plates must be purchased except between spouses, parents, and children.
SEE ALSO: REPLACE LOST MARYLAND LICENSE PLATE AND/OR STICKER