This October, the National Highway Traffic Safety Administration launched the first ever federally-funded National Pedestrian Safety Month. There's an entire campaign dedicated to promoting pedestrian safety, complete with social media, educational brochures, walking and driving safety tips, and more.
Use eTags© to Quickly Complete Your DMV Service. Renewals, Title Transfers and More, All Online!
Since the pandemic, people nationwide have enjoyed the outdoors a lot more, and pedestrian safety is becoming increasingly important with November's daylight savings time where nights are longer. The latest statistics show there's a traffic-related pedestrian depth in America every 84 minutes.
SEE ALSO: PEDESTRIAN SAFETY TAKES CENTER STAGE DURING CORONAVIRUS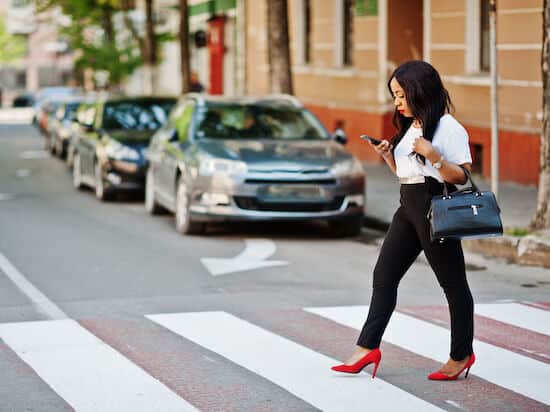 Covid-19 has driven millions of people to walk, jog, walk their dogs, skateboard, rollerblade, and push strollers and toy wagons, in practically every community nationwide. Hence, the urgency for a pedestrian safety awareness campaign. In 2018, there was already a 3% increase in the number of pedestrians killed in traffic crashes totaling over 6,000 deaths. The fear now is that the number of fatalities keep growing.
The goal with this new #EveryoneIsAPedestrian campaign is to debunk the idea that the responsibility all falls on walkers themselves. The messaging aims to include driver responsibility as well. So to help spread the word, and drive down pedestrian fatalities, eTags online registration and titling services is sharing walking safety and driving safety tips.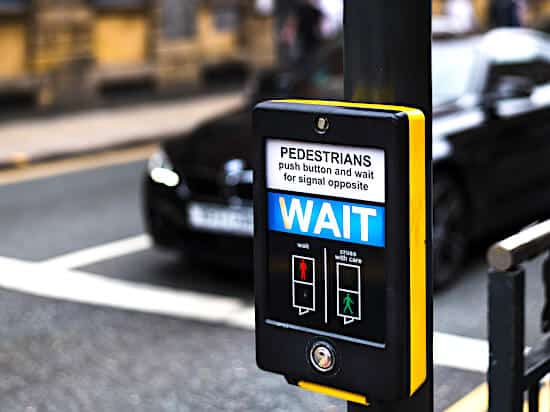 Walking tips for pedestrian safety:
• If there's a sidewalk, that's where you should be walking
• If there's no sidewalk, make sure to walk as far away from traffic but facing traffic

• Stay alert as you move about, no cellphones, no loud music blaring through
headphones since you want to be hearing honking, among other surrounding sounds

• Use crosswalks, intersections and always wait for gap in traffic before walking

• Try to be visible at night, no dark clothing and always watch for vehicles coming out of driveways or parking lots. Did you know 26% of pedestrian fatalities happened between from 6:00 p.m to 8:59 p.m. in 2017? And 32% between 8:00 p.m. and 11:59 p.m.

• If you can, safely make eye contact with drivers to ensure they can see you

• Avoid alcohol since nearly 50% of all traffic crashes resulting in pedestrian casualties involve alcohol consumption.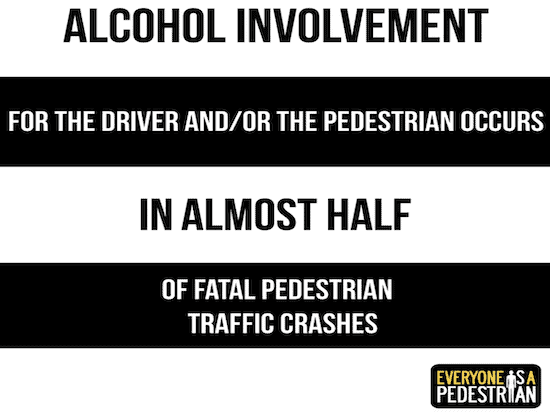 • Watch for right turns at the red light

• Never dart or dash into the street, look left, right, and left again
• If you're stepping out late at night, carry a flashlight with you
• Children under the age of 10 should cross with an adult

Driving tips for pedestrian safety:
• Be extra cautious when driving in hard-to-see conditions like nighttime or during bad weather
• When turning your vehicle or entering a crosswalk, be prepared to stop and never pass other cars stopped at crosswalk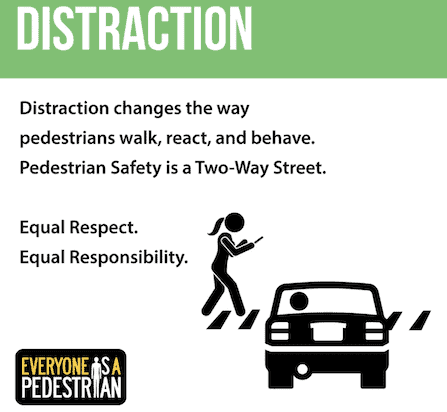 • Be alert and aware of children, especially on neighborhood roads and school zones
• When driving, don't be distracted; no phone, no internet, no food, no turning around to talk to a backseat passenger
No playing with the radio or other infotainment features while vehicle is moving
• When making a turn, and about to enter traffic, know that walkers could've moved into your path. They always have the right of way.
• Always obey speed limits, other traffic signals and no impaired driving
• Never pass a stopped school bus
• No aggressive driving such as running red lights, tailgating, or failing to yield right of way
• Make sure you have car insurance and your vehicle is registered to drive lawfully on public roads

According to Injury Facts, every age group is vulnerable. But, 10- to 14-year-olds and 50- to 69-year-olds have 20% or more pedestrian deaths as a percentage of all traffic fatalities. Hopefully, with the designation of October as Pedestrian Safety Month, both walkers and drivers can share the road responsibly understanding that #EveryoneIsAPedestrian.