Since the coronavirus has taken over everyone's reality, what with its face mask-wearing rules, lockdowns and everything in between, motorcycle riding is having a moment in the U.S. In fact, many states according to Bloomberg, are sold out of their Motorcycle Safety Foundation classes. The Department of Transportation in Oregon and Des Moines Iowa's certified instructors are saying classes are backlogged.
Use eTags© to Quickly Complete Your DMV Service. Renewals, Title Transfers and More, All Online!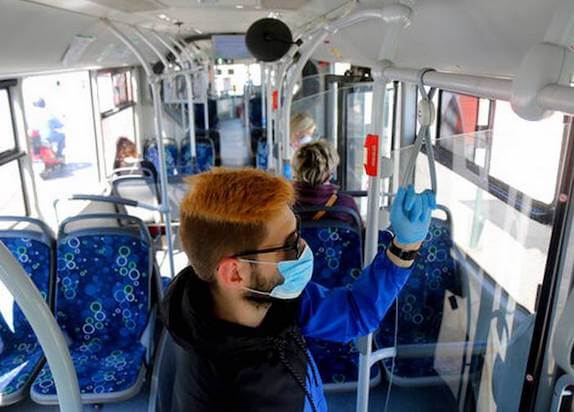 Fear of public transportation is also affecting the increase in buying and driving motorcycles. Some classroom portions of learning how to drive a motorcycle are going online with Zoom, such as for the Bay Area Motorcycle Training, which accounts for 20% of Bay Area riders in San Francisco, Oakland, and Vallejo in California.
If you're thinking of joining the influx of motorcyclists, continue reading to find out everything you need to know about getting a motorcycle driver's license. And don't forget, should you need to register your bike, eTags offers registration services online so you don't have to go to the DMV or worry about social distancing during these difficult times.

Plus, if you need help on choosing the right motorcycle for you, you can check out our article on touring models, standard bikes, sports bikes, and more here.
To get your motorcycle driver's license there are few things you need to do along with applications to fill out.
General things you should know:
• California motorcycle driver license authorizes you to operate a two-wheeled motorcycle, motorized bicycle, moped, or any bicycle with an attached motor.
• If you're under 21, you have to have an instruction permit for at least 6 months before applying for a motorcycle driver's license.
• There are two motorcycle driving licenses available, the Class M1 for operating any two-wheeled bike plus all vehicles listed in Class M2. M2 allows you to operate a bicycle, moped, or any bicycle with an attached motor.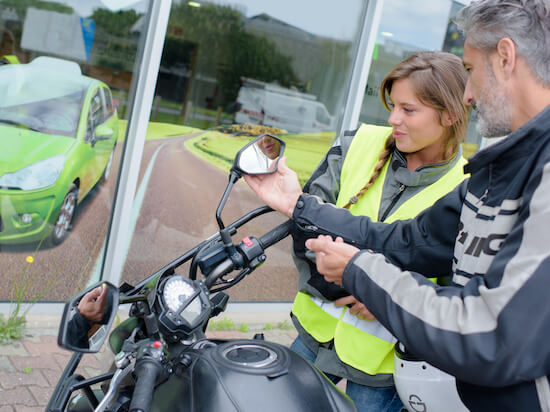 What you need with you at the California DMV office (over 21 years old)
• To get a license, you may either complete a California Highway Patrol (CHP) approved California Motorcyclist Safety Program training course or pass a motorcycle driving test at a DMV office.
• Complete a Driver License or ID Card application.
• Provide your social security number.
• Verify your identity with an acceptable document. Your current name has to match the name on ID.
• Present your California DL/ID card (if you have one).
• Present acceptable residency documents, if you've never had a CA ID or driver's license.
• Pay the nonrefundable application fee.
• Pass a vision exam, have you fingerprint scanned, and take a photo.
• Pass knowledge test(s). You have three attempts to pass. If you fail the same test three times, you'll need to reapply.
• Provide a Certificate of Completion of Motorcycle Training or take the motorcycle driving test. If you're applying for a motorcycle license and you do not have any other DL, you may also need to perform an observation test.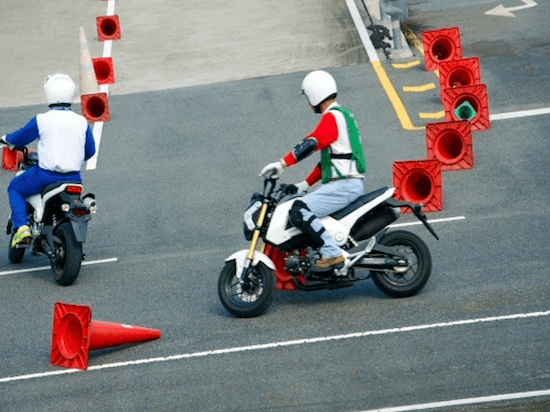 Taking the actual motorcycle driving test:
• Schedule your motorcycle driving test by appointment only. You can visit the CA DMV website or call 1.800.777.0133 to make your appointment. Some of the basic skills tested include identifying the starter, kill switch, turn signals, throttle, and brake. You will also need to demonstrate your ability to serpentine ride, gear switch and slow ride.
• You need to provide proof that you can be financially responsible for California motorcycle insurance,