Florida schools this year are getting back to as close as normal this 2021-2022 calendar year. All FL School districts have signed a Spring Education and Assurance to guarantee brick and mortar options, with face masks as optional. Children can still be homeschooled or enjoy virtual learning.
Use eTags© to Quickly Complete Your DMV Service. Renewals, Title Transfers and More, All Online!
Motor vehicle crashes are leading cause of death among children nationwide
August is back-to-school time in FL
For many students in Florida, back-to-school time is in August. In Baker, FL, Palm Beach, and Duval, school starts August 10th. In Broward, classes begin on August 18th. In Holmes, FL, students are expected back on August 11th. Miami-Dade starts rather late, on August 23rd. But don't forget circumstances change, especially with the newest variant of the coronavirus, and the Florida hurricane weather that typically lasts until November.
School buses are definitely back on the road, which makes driving safety even more significant. That's why, the Florida Department of Highway Safety and Motor Vehicles is declaring August Child Safety Awareness Month in the Sunshine State. During the next 30 days, the FLHSMV will promote driving safety tips for all involved in the keeping children safe: parents, caregivers, grandparents, and motorists.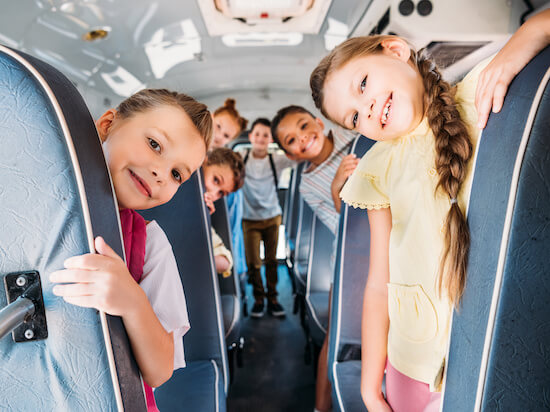 In 2020, Florida saw 30% less children involved in crashes, but a 32% increase in child fatalities from crashes when compared to 2019
Understanding school bus laws
Children back at school means more school buses, carpooling, drop off and pick-ups, walking and playing around school zones — all potential dangers for young kids. As motorists, there are certain rules to remember when driving around school buses: the most regulated vehicles on the road!
• Yellow flashing lights means you must slow down, as the school bus is getting ready to stop. Students are most likely waiting to be picked up
• Red flashing lights mean stop and wait at least 20 feet behind the school bus. Kids are getting on or off the bus. Stay stopped until the lights don't flash anymore, then the extended stop-arm will withdraw, and you'll see the bus start to drive off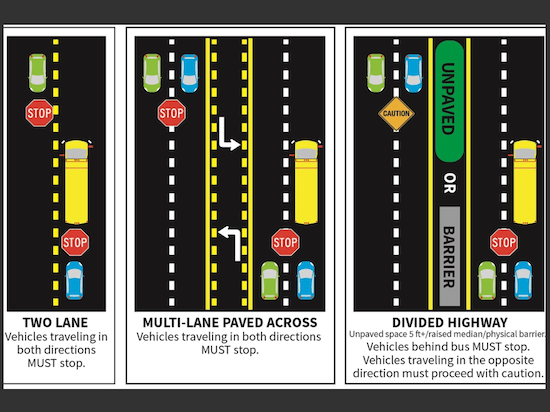 • Always look out for kids, especially in morning and mid-afternoon when classes start and end
• Be alert as you back out of a driveway, drive slowly around local neighborhoods, obey the speed limit in school zones, and respect the laws regarding school buses
School buses are designed to be safer than passenger vehicles in preventing crashes and injuries
Big yellow buses, medians, and crosswalks
It's important to know and obey school bus laws, as children safety is always a concern. Every state has different laws, and many drivers are confused by the precise rules. In fact, about 50,000 drivers illegally pass buses in New York State alone…on a daily basis!
For example, for FL drivers if a raised barrier or an unpaved median of at least five feet wide divides the highway, you don't have to stop if you're moving in the opposite direction of the school bus. Painted lines or pavement markings aren't considered barriers. Or when kids or school crossing guards are at a crosswalk, you must yield and stop at the stop line not in the crosswalk itself.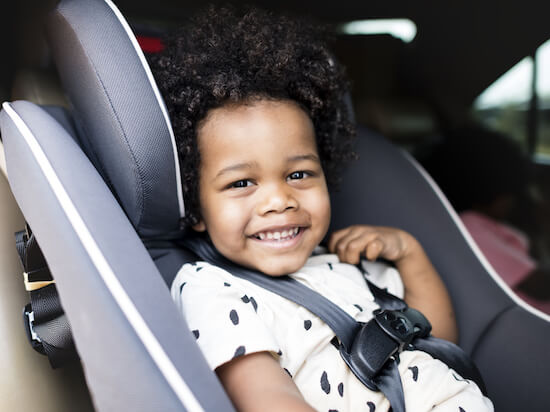 Seat belts and car seats
Buckling up is technically for drivers, front passengers, and all children under 18 years old, but everyone even back passengers should be using their seat belts in Florida. Additionally, in the Sunshine State, kids five and under must be secured properly in a crash-tested, federally-approved child restraint device. Parents of young children in FL can stop by their local police for assistance in properly installing a child seat.
In 2020, about 50% of child passengers killed in vehicle crashes in Florida weren't wearing any type of restraint – that's a 127% increase from the year before
When it comes to booster seats and car seats, the best ones are the ones that fit your children perfectly and installed correctly. Also, don't forget to check periodically for recalls ensuring safety long term. Know your car seats types, as your child grows he or she will need various seats.
For example, the rear-facing car seat is best for newborns and small babies, since it has a harness, and in a crash will cradle and move along with your child to reduce stress on a fragile neck and spine. There are also combination car seats, which are designed to transition as you child grows up.
To restrain your child safely in an accident, their seatbelt must lie across the upper thighs as well as be snug across the shoulder and chest. Find out more about car seat safety for children and various types per age.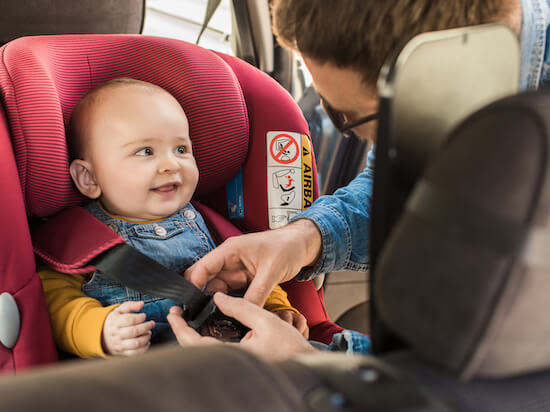 More driving safety tips in Florida
As of January 1, 2021, the penalties have doubled for failing to stop for a school bus and passing a stopped one on the side where children enter
SEE ALSO: GUIDE TO DRIVING IN FLORIDA; SUMMER'S TOP DESTINATION

• Children should get to the school bus stop at least five minutes before the bus is scheduled to arrive

• At bus stops, children should wait in a safe place away from the road. Never sit on the roadway or curb while waiting for your bus
• Only drive or park in authorized areas to drop off or pick up children at school
The penalty for failure to stop for a school bus in Florida is between $100-$200. For a second offense within five years, there's a driver's license suspension for a minimum of 90 days and up to 6 months. If children are entering or exiting bus, fine is from $200-$400
• No handheld cellphone usage while driving in a designated school crossing, school zone, or active work zone. There's a $60 fine, not including court costs or other fees, and will three points assessed against the driver license for this violation
• Teach your kids to always walk on the sidewalk, cross at crosswalks, and not use headphones or their cellphones while getting to school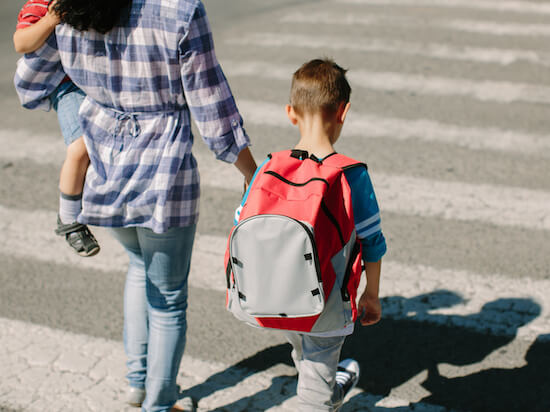 • Never leave kids in the vehicle; the Sunshine State is very hot especially in summer and can lead to a heatstroke as children's bodies heat up three to five times quicker than adults
Have a great and safe school year!