The holiday season is almost here which means road trip plans and the start of a cooler season. Both road trips and cold weather can be fun, but they can pose an issue together. The NHTSA states that 17% of all vehicle crashes occur during cold conditions. Before the temperature drops even more, it's a good idea to keep your car healthy with a fall checkup and prepare it for what's to come.
Use eTags© to Quickly Complete Your DMV Service. Renewals, Title Transfers and More, All Online!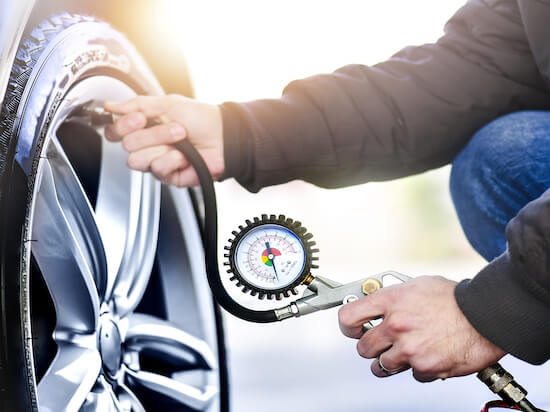 Get the right tires (or maintain them)
Contrary to what the name says, all-season tires might not be appropriate for your vehicle depending on where you live. Your all-season tires can withstand cool, autumnal temperatures. But, they're no match against snow or sleet. The further into the year it gets, the colder it becomes in most states. Consider swapping out your regular tires for snow tires if you live somewhere where snowflakes fall.
Don't live somewhere that snows? You don't need heavy-duty tires. But, you do need to make sure your tire pressure is at the right level and that the tread isn't too worn down. As for tire pressure, each 10℉ drop in temperature translates into 1-2 PSI loss. Keep your car happy by filling up your tires with air if it's necessary.
Your vehicle's tires lose 1-2 PSI per 10℉ drop in temperature
Top off your motor vehicle's fluids
It doesn't matter whether you have a motorcycle or an SUV—it's time to top off those fluids. Although it's not winter yet, the temperatures are dropping across the nation. Some states signal the seasonal change with warm-toned leaves, while others embrace fall with snow.
SEE ALSO: SAFE WINTER DRIVING TECHNIQUES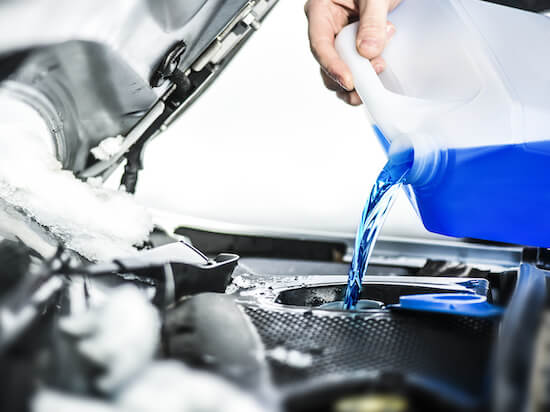 States like Colorado, Nebraska, Minnesota, and Michigan have already been hit with snowy weather. And since more than 70% of roads in the U.S. are located in snowy areas, there's a big chance you'll need to top those fluids sooner than later.
Topping off your transportation's fluid can keep it working correctly as the weather cools down. If you live somewhere snowy, it's necessary to check that there's antifreeze in your windshield wiper fluid and enough in the coolant reservoir. Don't skip this step! Neglecting to top off your automobile's fluid levels with what's appropriate for the weather can damage it permanently. Also, don't top off spoiled oil (flush it instead).
You need to replace your car's headlights every five years on average
Make sure your headlights work
It doesn't rain too much in the fall in comparison to earlier in the year. That said, autumn welcomes Daylight Savings Time, meaning it gets darker out earlier on. This, in combination with cooler, possibly snowy weather makes it extra important to maintain your headlights. Is it time to replace your headlights completely? It might be if you haven't replaced them in the past five years or they're too dim to drive safely. It's possible you might just need to replace a bulb or polish them off if they're foggy.
Your car's battery can lose around 35% of strength once it hits 32℉ outside
Protect your ride's battery
The popular auto repair chain Firestone notes how cold weather affects a motor vehicle's battery. Spoiler: it doesn't affect it in a good way. Freezing temperatures can sap the life out of your battery by about 35%. The colder it gets, the more energy your battery loses. The worst part is that your engine needs more juice to run properly when it gets cold outside.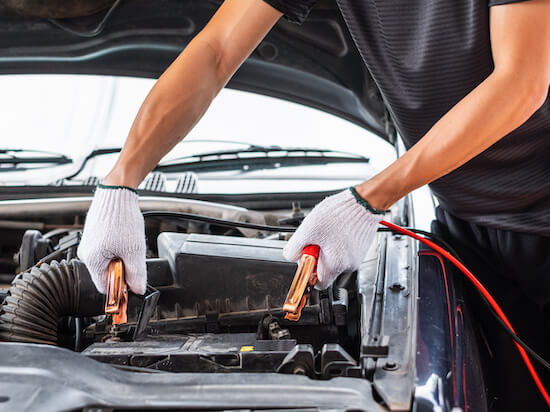 It may already be snowing where you are. If it's not snowing now, it's still crucial to protect your car's battery before temperatures drop to the point of no return. Firestone recommends buying a battery blanket, parking your automobile away from the wind, and keeping the battery fully charged. A fully charged battery won't drain as quickly in the cold.
Renew your registration
Did you renew your registration yet? Check that off your fall vehicle maintenance checklist too. If you haven't done it in the past year or two, it might be time. Vehicle tags expire typically each year on the birthday of the first registered owner. You can usually renew it 90 days before it expires, but it varies per state.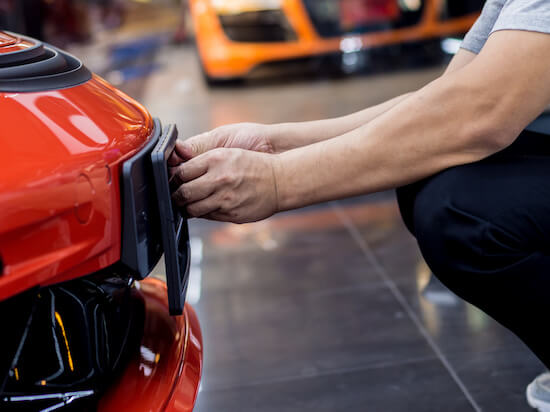 It's more expensive to purchase a registration that's valid for 24 months versus 12 months. However, there are more costs to consider apart from the length of your ride's renewal. Registration renewal fees depend on a variety of factors which may include:
• Type of vehicle: is it a passenger car, motorhome, or motorcycle?
• Weight of your vehicle
• Renewing registration late
• County-specific fees
• Applicable lease fees
Etags online registration renewal services make it easy to figure out what fees you need to pay. It's just a bonus that you won't need to stand for hours at the DMV. The easy-to-use app makes the entire process of renewing your vehicle's registration, sticker, and auto tag.
Some states require a new license plate every 10 years (we're looking at you, Florida!)