These days you can't talk about cars without mentioning electrification. There's so much chatter surrounding the topic of electric vehicle adoption in the U.S. as approval is far behind Europe's and Asia's.
Use eTags© to Quickly Complete Your DMV Service. Renewals, Title Transfers and More, All Online!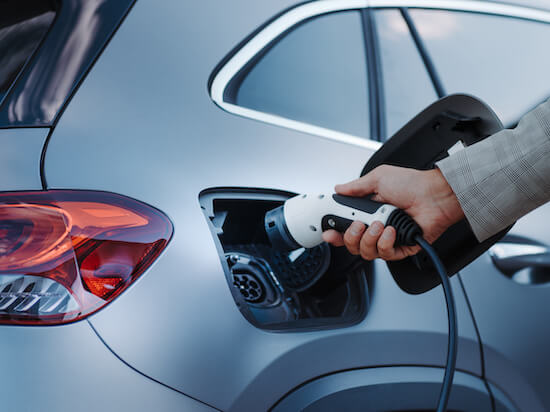 Based on numerous statistics of electric vehicle sales, experts estimate that EVs will make up of 10%of all U.S. purchases by 2025, and almost 30% by 2030.
In America, there are only about 1.7 million electric cars on the road as of 2023 according to Experian consumer trend reports. This compared to about 285 million vehicles in total. Still the conversation continues as proponents and critics battle it out across various channels and areas of interest. From climate change and policy to sales and infrastructure and even economic and racial divides, the chatter lives on.
Nearly one-third of states are on board with CARB
So far 17 states are following California's ban of new vehicle sales with internal combustion engines (ICE) by 2035. By a little over a decade, the California Air Resources Board (CARB) will require that all new cars, SUVs and pickup trucks sold in the Golden State will generate zero tailpipe emissions. Existing vehicles, as in not newly sold, will still be allowed on the road and you'll still be allowed to buy a used car. The ban refers only to new vehicles sold.
Seven states are adopting CA's guidelines under Section 177 of the Clean Air Act, while others will adhere to federal emissions standards. Maryland, Massachusetts, New Jersey, New York, Oregon, and Washington stand with California. The Advanced Clean Cars II ruling requires zero-emission vehicles to represent 35% of new cars and light trucks in dealerships by 2026. Four years later, EVs must represent 68% before finally reaching 100% in 2035.
New medium- and heavy-duty vehicles regulations say they must be electric by 2045 "where feasible"
EV policy, range anxiety, and infrastructure
Through the Bipartisan Infrastructure Law President Joe Biden wants half of all new vehicle sales in America to be electric by 2030. To help make the goal a reality, he's allocated $7.5 billion to create a nationwide infrastructure of 500,000 charging stations. The legislation also provides an EV tax credit to encourage electric vehicle purchase and production in the U.S.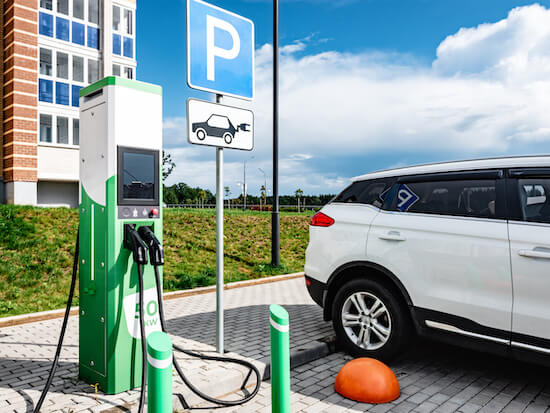 People who buy new EVs may be eligible for a tax credit as high as $7,500 and used electric car owners may qualify for up to $4,000 in tax breaks as of 2023. The EV tax credit was extended and revamped under the Inflation Reduction Act of 2022, so those buying EVs though 2032 may be eligible for these benefits.
Since range anxiety is real for most first-time EV buyers, private parties, retail-adjacent charging companies, and automakers have set up charging stations and ports. Examples include ChargePoint, Volkswagen's Electrify America, Volta, Tesla's Superchargers, and EVgo. To save the most dollars per charge, most EV drivers charge their electric cars at home.
Range vs. charge anxiety
As mentioned above, a common concern drivers experience regarding electric vehicles is how far they can drive before they run out of battery, hence the term range anxiety. There's also its close cousin of charge anxiety, where a person is concerned about finding a charging port/station. This can be linked to long lines, cost of electricity, and unreliable charging hardware. In fact, according to J.D. Power, during the first three months of 2023, 20.8% of EV drivers using public charging stations experienced charging failures or equipment malfunctions that left them unable to charge their electric cars.
Both range and charge anxiety are especially stressful in the case of long-distance travel like taking a road trip. As technology advances, automakers are offering better range. But of course, that also comes at a price furthering the divide between who can afford to go electric.
The Mercedes EQS Sedan has 350 miles of range
Two years ago, the average range for an EV was 217 miles compared to the 413 miles of a gas-powered car. Today, in 2023, a BMW ix has 324 miles of range on it, but it comes at a hefty price of $87,000. The Tesla Model S boasts 405 miles of range but costs about $85,000. The Lucid Air? That's 516 miles of range but you need about $138,000 to get yourself behind the wheel.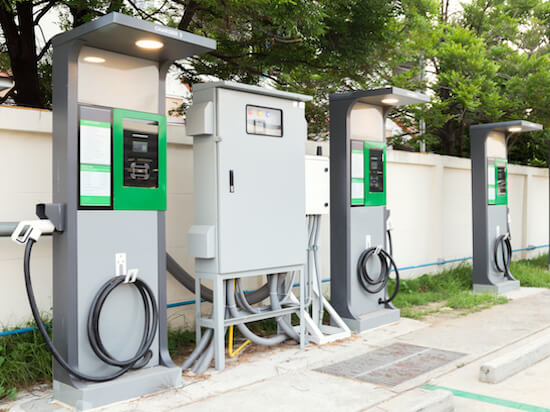 Automakers teaming up to build 30,000 fast-charging stations
Recently, major automakers got together to open 30,000 new fast-charging stations across the U.S. BMW, Honda, Hyundai, Kia, Mercedes and Stellantis have teamed up this summer to build a nationwide network of 10 to 20 charging plugs per station to encourage EV adoption.
SEE ALSO: FLORIDA BANS NEW DIRECT -TO-CONSUMER CAR SALES EXCEPT FOR EVS
Presently, there are just under 8,700 direct-current, fast-charging stations in the U.S. and Canada, with nearly 36,000 charging plugs (U.S. Dept. of Energy). By making it easier to charge on the go, the hope is to surpass the 557,000 electric vehicles that were sold in the first half of 2023.
Charging deserts in lower income areas
According to a recent report by Bumper auto sales and VIN report website, access to electric vehicle chargers is "largely divided by economic and racial lines." The report shows the top fifth of American counties account for 32.6% of all electric vehicle ports in the U.S. The bottom fifth of counties have access to less than 20% of charging opportunities.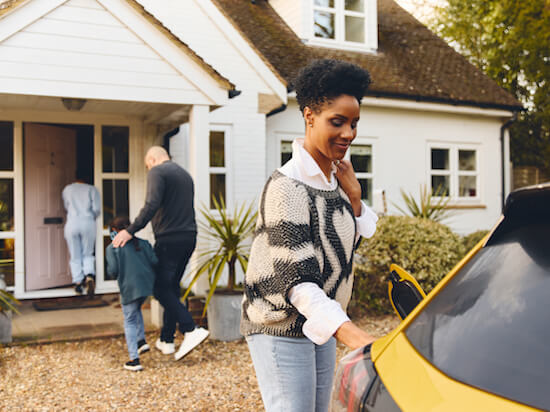 Moreover, more than seven out of every 10 EV charge ports are in the richest U.S. counties. This is not surprising considering the average price for an electric vehicle these days is a little over $53,000 according to Cox Automotive (parent company of KBB). Not exactly budget friendly. At the end of 2022, average price was even higher at $61,488.
95.6% of EV chargers are in counties a more white population

$53,000 is just an average. A closer look is even more shocking. The Ford F-150 Lighting electric pickup has a base price of $80,869. The Audi e-Tron Sportback goes for about 75,000. The Cadillac Lyric SUV is $60,000. The Volvo XC40 Recharge has a base price tag of $54,645. Since mostly more well-to-do drivers are scooping up electric cars, charging stations are popping up in their (wealthier) neighborhoods, not in lower income areas. In turn, this further slows down EV adoption in America.
Charging stations are like gas stations, whereas charging ports are more like gas pumps
Racial disparity is another factor in charging infrastructure. Bumper's report reveals about 95.6% of EV chargers are in counties with majority white populations. Only about 4% are in counties with predominantly black populations. When looking at income, those making over $35,331 have 71.91% of charging stations. Those making less than $24,824 only have 1.76%. That's 94,039 ports compared to 2,686 ports. The average publicly accessible EV charging station has 2.57 ports, according to government data.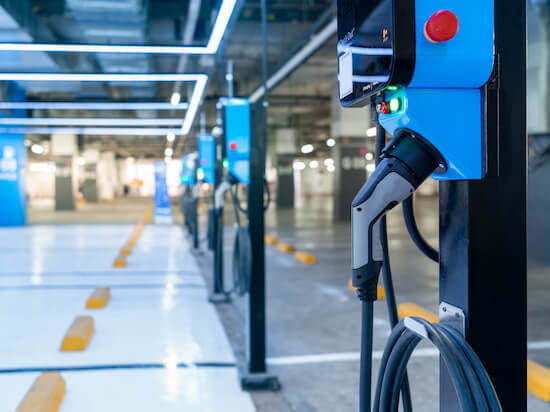 California vs. Louisiana vs. Idaho
A recent Autoweek article reveals all 131,195 public charge ports (documented by the National Renewable Energy Laboratory) are concentrated in 1,997 of the 3,143 U.S. counties. These ports are predominantly in metropolitan cities. States where there is a high adoption rate of EVs, think California and Massachusetts, there's anywhere from 7 to 21 chargers per 10,000 residents.
Counties in the South and Midwest have as few as one or two chargers per 10,000 residents. Louisiana, Mississippi, and Alabama are 75% to 84% below the national average for charger availability, while Idaho and North Dakota only show 1.3 chargers per every 10,000 residents.
Financial barriers must be removed for adoption to thrive
Equity and access are a barrier for low-income communities that can't monetarily support the charging infrastructure. Federal grants can assist in building these charging hubs, while tax breaks for big and small businesses can incentives investments. Partnerships between a variety of organizations and their unique resources can also be leverage for more access in marginalized areas.
L.A. has the most fast charging EV stations in California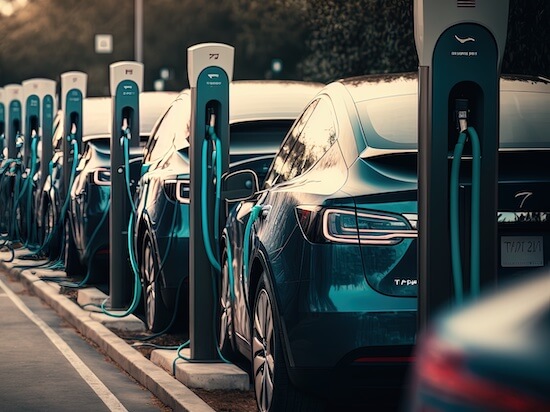 The Los Angeles Times reports where average incomes are less than $50,000 a year, it's an EV California charging desert. Presently, Los Angeles neighborhoods have the most electric fast-charging stations since that's where residents can actually afford electric cars. On the other hand, the California Energy Commission revealed this summer that CA requires 1.2 million chargers both in public and private locations like office buildings and condominium complexes.
28 million EVSE ports for 33 million EVs on the road
1.2 million chargers is what the Golden State needs to meet its goal of 8 million zero-emissions vehicle by 2030. In other words, policymakers must dedicate public funding to better serve lower-income neighborhoods when it comes to charging ports and stations. Even electricity rates must be affordable in a more inclusive way if EV adoption is to grow nationwide.
The National Renewable Energy Laboratory 2030 National Charging Network report estimates the U.S. would require 28 million EVSE (electric vehicle supply equipment) ports. This includes 1.2 million public and 26.8 million private ports by 2030 to support a scenario of 33 million electric vehicles nationwide. The 1.2 million public ports are to consist of 182,000 DC fast EVSE ports with a power output of 150 kW or greater, and 1,067,000 Level 2 EVSE ports.
Will you be driving an EV soon?