The latest statistics report close to 9 million licensed drivers in Pennsylvania. Home to the Keystone State is the fifth state with the most drivers, right after Florida and New York. Tourism also adds countless drivers on the road in PA. In 2019 alone, Pennsylvania had 211 million U.S. and international visitors thanks to its many attractions and historical landmarks.
Use eTags© to Quickly Complete Your DMV Service. Renewals, Title Transfers and More, All Online!
Use eTags© to Quickly Complete Your DMV Service. Renewals, Title Transfers and More, All Online!
In 2019, Pennsylvania had 3.3 million more visitors; a 1.6% increase
From Philadelphia's Liberty Bell to Dutch country's unique Amish culture, and the town of Hershey, there's plenty to experience in PA. For many who get behind the wheel in PA, it's their first time on Pennsylvania roads. So in that spirit and to help spread driving safety nationwide, here are a few tips to driving in the Keystone State.
SEE ALSO: Guide To Renewing Registration in PA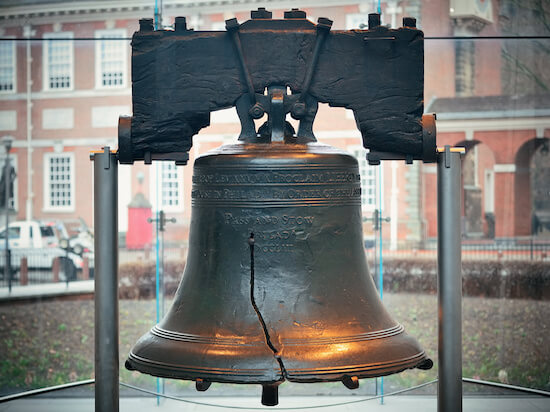 Driving in Amish Country
Getting behind the wheel in PA means driving through various seasons including harsh winters, and all sorts of landscapes both in rural and urban areas. Depending where you are in the State of Independence, you can be driving alongside gentle streams, lush forests, and rolling farmland, or the complete opposite. Think rush hour traffic, overwhelming skyscrapers, and more.
On Pennsylvania's rural roads, you may run into farming vehicles, horse-drawn ones or other slow-moving transportation. Driving in PA's countryside means having to maneuver the wheel and navigate through tight and narrow roadways, typically inundated with loose gravel, sharp dips and unexpected turns.
With 53 total settlements, Pennsylvania leads the nation in number of Amish communities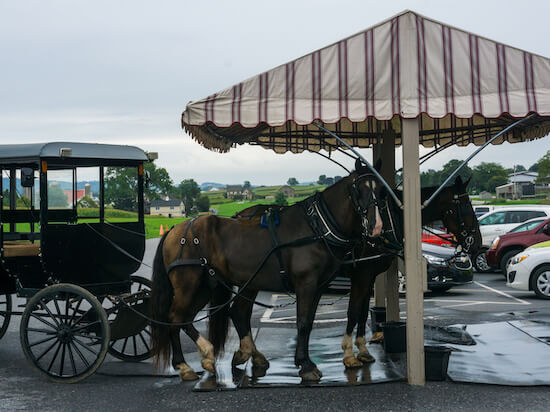 Recognizing slow-moving vehicles in PA
PA's Lancaster Amish community drive grey-topped buggies, while Old Order Mennonite carriages are black. To easily recognize a slow-moving vehicle in some parts of Pennsylvania, look for a fluorescent orange triangle surrounded by red bands. When you see it displayed, know to slow down. If you encounter a horse-drawn vehicle, give it plenty of room, use your low beams and never honk as it may scare the horses. Rural areas in PA include Lancaster County, Big Valley, New Wilmington and Somerset County.
The Pennsylvania Turnpike
The PA Turnpike runs for 360 miles, stretching though all types of roads. There are tolls to pay when passing through, either though PA's E-ZPass system or Toll By Plate where cameras capture license plates and send invoice to driver by mail. Typically, invoice takes about a month to 45 days after travel on turnpike. If you're renting a car in Pennsylvania, check with your rental company how they handle tolls and violations incurred. For a complete list or rules and regulations on PA's Turnpike, you can check out Turnpike Safety
E-ZPass Customer Service phone number is 1.877.PENN.PASS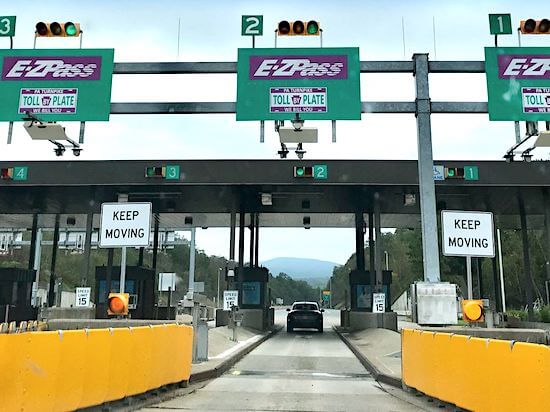 Animal crossings, tunnels and bridges
If you happen to exit the turnpike in a more rural area, look out for animal crossings including deers, foxes, and skunks. The Pennsylvania Turnpike connects Pittsburgh, Harrisburg, and Philadelphia crossing Appalachian Mountains and four tunnels. It also features five bridges; some over 6,000 feet.
The Delaware River Bridge (now known as the Benjamin Franklin Bridge) carries over 42,000 vehicles a day on the Turnpike. In 2020, 29.8 million crossed the Benjamin Franklin Bridge. Drivers attempt to navigate narrow lanes under constant construction while dealing with aggressive, speeding drivers as they pass under the BF bridge. In 2021, vehicular traffic on the PA's turnpike bridges is estimated at 80% of what it was in 2019.
Tolls on the Ben Franklin Bridge, Walt Whitman, Betsy Ross, and Commodore Barry bridges will remain $5 in 2021 after the Delaware River Port Authority postponed plans to increase cost
For some, tunnels can be nerve wrecking, it's important to stay calm, give yourself some distance from other drives on the road, and keep your hands on the wheel. Refrain from using your phone and focus all of your attention on the road. Last year, there were on average 286 reportable traffic crashes every day; that's about 12 crashes every hour on PA roads for a total of 104,475 in 2020.
Driving safety tips in Pennsylvania include making sure you have all your vehicles paperwork updated including registration and license plate.