The Sunshine State is known for its sudden weather change. One minute, you're driving along a sunlit highway, the next heavy rains make it so that you can't see through your windshield. A half mile down, no wet pavement in sight, just sunshine. Besides violent tropical storms, Florida's rainy season also means resident drivers and tourists have to watch out for hurricanes, from June to November.
Use eTags© to Quickly Complete Your DMV Service. Renewals, Title Transfers and More, All Online!
An overview of driving during the rainy season in Florida
• Wet roads result in a thin film between your vehicle's tires and pavement

• Low visibility isn't due to just the rainfall, it actually gets darker during rainstorms further affecting your ability to see clearly
According to AAA, wet pavement contributes to nearly 1.2 million traffic crashes each year
• When roads are dry, oil builds up over time. Once it rains, roads become slicker especially fresh rainfall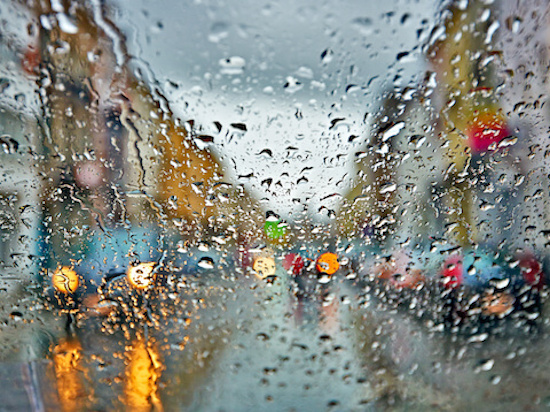 • Humidity will fog up your windows and windshied, so you may not see certain obstacles including road debris
• The U.S. Department of Transportation says about 1.235 million crashes annually are weather related, resulting in 5,000 fatalities and 418,000 injured people
• Of those 1.235 million crashes, 70% happen on wet pavement, while 46% happen during rainfall
When you have low visibility due to rain
Low visibility simply means you can't really see when driving. Lower visibility can be due to rain, smoke, fog, even dust storms. If you're caught in heavy rains along Florida roads, make sure to drive with lights on low beam on. High beams will reflect back off the precipitation, which is not what you want. Remember, daytime running lights don't illuminate the back of the vehicle.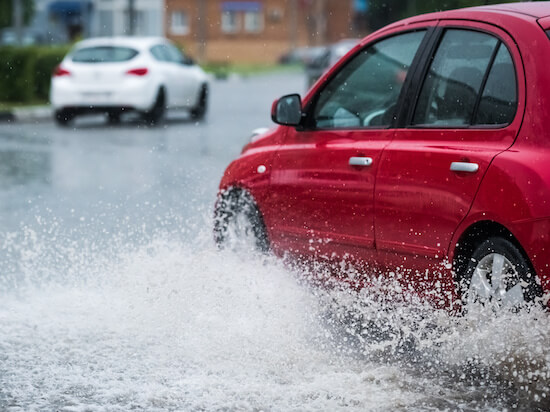 Remember driving safety fundamentals, especially turn signals. In inclement weather, you want to signal well in advance and brake early since vehicles tend to slide or hydroplane in rainy weather. Florida drivers are known for their lack of blinkers usage. In the rain, it's even more crucial. If you still can't see clearly through your windshield, try wipers and defrosters to increase visibility.
Never stop on the road in heavy rains, it can lead to a chain-reaction crash—if you must though, turn signals on and carefully pull off as far as possible
What about hazard lights in heavy rain
Since July 1, 2018, police in Florida have issued about 460 citations for improperly flashing lights on a vehicle, according to the Department of Highway Safety and Motor Vehicles. For years, the Florida Highway Patrol has warned motorists that using hazard lights is confusing. That troopers look for flashing lights to see someone needs assistance on the road.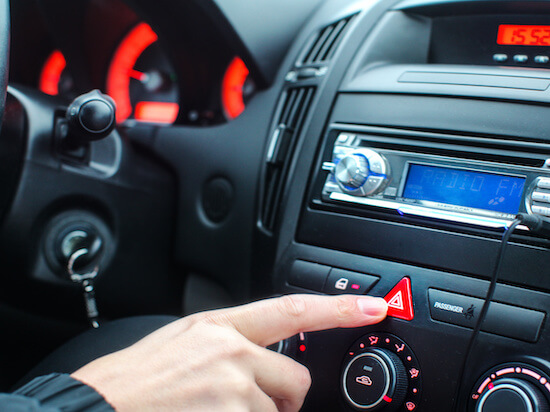 Florida drivers were also told that hazard lights can override turn signals, making lane-changing dangerous. Hazard lights were only supposed to be used when stopped on the side of the road or during a funeral procession. But starting July 1st, Florida drivers will be allowed to use hazard lights on roads with speed limits at or above 55 mph when the conditions create "extremely low visibility."
SEE ALSO: HIT THE ROAD SAFELY THIS JULY 4TH, THE DEADLIEST HOLIDAY OF THE YEAR
Just 10 states prohibit using hazard lights while driving, according to AAA
If you start to hydroplane
With just one-twelfth of an inch of rain on the road and a speed of more than 35 miles per hour, you can hydroplane. Even if you're driving a four-wheel SUV, or pickup truck. When your vehicle's tire traction loses control because of the rain, you can slide easily causing hydroplaning. And if your tires are worn out, then you're more likely to hydroplane.
Turn off cruise control when driving in inclement weather, especially if hydroplaning since your vehicle will speed up
If your car starts to slide uncontrollably, let off the gas pedal slowly and steer straight till you stop hydroplaning. If the vehicle begins to spin, just turn the steering wheel slowly into the same direction—never the opposite. No fast, jerky movements on the steering wheel when hydroplaning since you can flip the vehicle over. Go slow and steady instead.
Stay safe out there, and share the road!