To drive your vehicle legally, you need a registration or license plate. Some states require one plate, while others require two like Connecticut, Maryland, and New York. For those buying a car from a dealership, the car dealer will take care of all the necessary registration paperwork. In some states you can't use your old license plate, so the dealership will provide you with temporary tags typically made from paper. This temporary plate is affixed in the same way a regular, more permanent plate is.
Use eTags© to Quickly Complete Your DMV Service. Renewals, Title Transfers and More, All Online!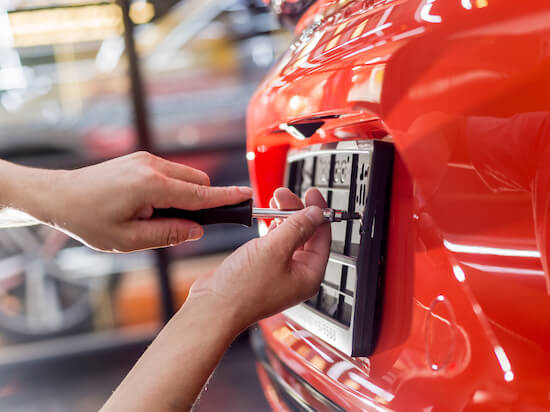 In general, temporary tags are good for 30 days but some states allow for longer or shorter time
Florida license plates
Depending on where you live, you may or may not be able to transfer your old license plate to your newly-purchased car. You may be able to transfer your old plates and place them on your new vehicle. In Florida, for example, the tags stay with the owner so the seller will take theirs with them, and you can place your old plate on the newly-purchased vehicle.
And if you're not buying another car, then you have to return the tags to the Florida DMV since you can get your driver's license suspended for not doing so. Transferring your plate from an old car is beneficial and save you from having to buy a new one that's costly.
In Georgia, the license plate does not transfer to the new owner.
California tags
In California, it's the opposite. The license plates stay with the vehicle after it's sold, not with the driver. Unless the tags are personalized plates or specialty license plates. In that case, the driver can keep the plates, and transfer them to their new vehicle. Since the tags stay with the car you sold, you want to make sure you protect yourself and complete a notice of transfer and release of liability. That paperwork lets the California DMV know that you're no longer responsible for the vehicle and anything associated with it like accidents, parking tickets, unpaid tolls and such.
Connecticut plates
The state of Connecticut wants their drivers to keep their license plates so you can transfer them onto the next vehicle you buy. In CT, you get a credit toward your new registration when you still have a few months remaining on your old plates. If you sell your car to a private buyer, you need to write a bill of sale and give it to buyer.
In Hawaii, the plate stays with the vehicle
Maryland registration
In Maryland, just like in Connecticut, you keep your license plates which you can transfer to a new vehicle later on. But to do that, you must have not changed your address, the new car has to be in the same classification, and you don't own the original car anymore (from which you took the plate).
SEE ALSO: LAYMAN'S TERMS-REQUIRED DOCUMENTS FOR SELLING YOUR CAR IN MD
Vehicle classification includes subcompact like the Ford Fiesta, compact like the Audi A3, mid-size like BMW 3 series, and more segments
New York, Pennsylvania, and Ohio license plates
The state of New York, you keep your license plates and can transfer them to another vehicle through the DMV or third-party vehicles services like eTags which titles and registers all sorts of vehicles online. If you won't be buying a new car, then you have to surrender them to the DMV. You may also get a refund for the time remaining on your registration once you give them back the tags. It's the same process with Pennsylvania and Ohio, you keep the plates.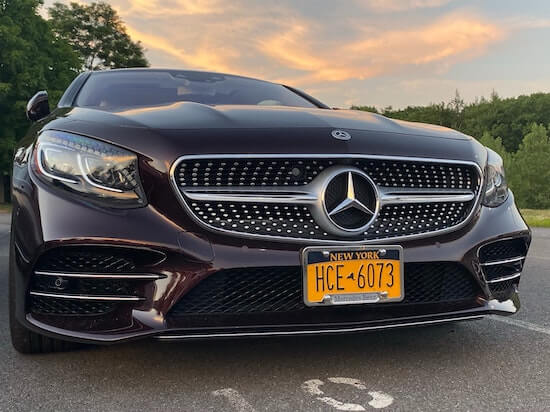 Find license plates regulations for all 50 states right here.