A properly sized and installed car seat can reduce the risk of fatality among infant passengers by 71% and 54% for toddlers in the event of a crash. Unfortunately, many parents think they've installed their car seat correctly when, in too many cases, they have not. National Seat Check Saturday is the perfect time for parents to assure their children's car seats are installed properly. In addition to the campaign being dedicated to educating parents on the correct ways to install car seats, it also provides safety tips to help parents choose the right car seat for their child.
Find a child seat safety check location near you.
National Seat Check Saturday Events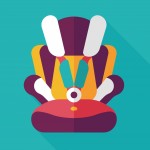 During National Car Seat Check Saturday and in conjunction with Child Passenger Safety Week, many businesses throughout the country will be offering free car-seat inspections. These   businesses will include schools, hospitals, fire and police stations, retail stores, banks, car dealerships, and civic buildings. In Florida, you can find an event in Tampa, Cape Coral, Port Orange, West Palm Beach, and Starke but child seat inspections are provided year-round in many other locations and in cities nationwide.
To find a National Seat Check Saturday event near you or to find any business that inspects proper car seat installation at any time of the year, visit the Safer Car website and choose your state or enter your zip code.
Save Money on Your Auto Insurance Bill, Compare Quotes Fast
Tips for Choosing the Right Car Seat or Booster Seat
We've made it no secret that we side with the experts who say that children should remain rear-facing until they have outgrown the recommended size or weight listed by the manufacturer. We also understand though that children all grow at different rates and the cars they ride in are of all different sizes. As the parent, it is up to you to decide when your child is ready but here are the bare minimums to abide by:
Rear Facing: For newborns and infants under 1 or under 20 pounds
Forward-Facing: For toddlers and older children that are at least 1 year old or over 20 pounds
Booster Seats: For older children who are at least 4 years old or over 40 pounds
Once you have chosen the right baby seat or booster seat, make sure you install it properly and make the time to pass by your closest car seat inspection station to get their approval. Visit SafeCar.gov's recommendations page to get more tips on choosing and installing your car seat. Remember, once a child has outgrown the need for any child seat, they must continue to use a seat belt. Despite all states having child seat belt requirements, parents should always assure their older children are using seat belts because, in the event of a crash, seat belts have proven to save lives.

Register Your Car Seat
It may not cross many parents' minds to register their car seat with the manufacturer after purchasing it but it's an important step to take. If there is a recall of your particular car seat, your manufacturer can inform you by mail. You can register your car seat directly with the manufacture on their website or by filling out and mailing the form that comes with the seat upon purchase. You can also have the NHTSA do it for you by filling out this form and mailing it to:
U.S. Department of Transportation
National Highway Traffic Safety Administration
Office of Defects Investigation
Correspondence Research Division (NVS-216)
Room W48-301
1200 New Jersey Avenue S.E.
Washington, DC 20590
Pass on the Knowledge
Whether or not you are a parent, share what you know about proper car seat installation, car seat registration, and child passenger safety. If you need a few talking points to get people's attention on this important matter, here are few to memorize:
Vehicle crashes are the #1 cause of death for children under the age of 13.
In the US, a child is involved in a crash every 34 seconds.
In 2013, 263 children's lives were saved due to use of child car seats.
71% of parents do not have the car seat installed properly