According to the National Insurance Crime Bureau (NICB), auto thefts increased 11% in 2020 in the U.S. The significant increase is partly due to the pandemic, economic hardships, depleted social programs and the like.
Use eTags© to Quickly Complete Your DMV Service. Renewals, Title Transfers and More, All Online!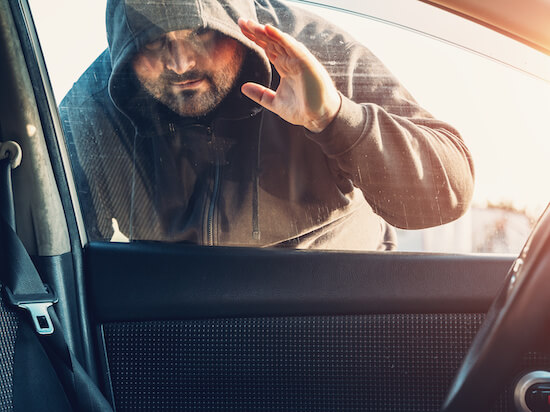 But drivers' habits can make a vehicle an easier target for theft. For example, not locking your car doors, or leaving the motor running while you do something else. Exposing valuables, and not parking in well-lit areas also add to opportunity for theft. The NCIB says there's a car stolen every 7.2 minutes, and around 200 thefts a day.
2020 had 873,080 auto thefts in the U.S. (NCIB)
Pickup trucks are the most stolen vehicles
America's best-selling vehicles, the Ford F-Series which includes a variety of pickup trucks, are the most stolen vehicle in the U.S. For the second year in a row. 44,014 For F-Series trucks were stolen in 2020; that number is up 13% from 2019. The 2006 Ford pickup trucks models were the most stolen models. The Chevrolet Silverado, another pickup truck, was second in line for most stolen registered vehicles in America, with 40,968 thefts. Compared to 2019, thefts for Silverados went up 25.7%.
Ram vehicle thefts went up 6.2% in 2020, compared to the year before while GMCs thefts went up 16.6%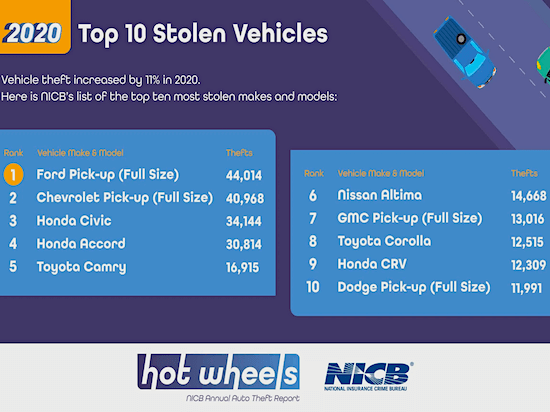 Washington D.C. had the highest number of stolen vehicles last year, with Colorado and California rounding out the top three states for auto theft. Nevada and Kansas had the least stolen cars. In 2019, the FBI estimated that theft decreased 4% with an average dollar loss per vehicle of $8,886.
SEE ALSO: YOUR CAR IS STOLEN, NOW WHAT? BREATHE!
Portland is in the news for spike in auto theft in 2021
Car thefts also spiked in Portland, Oregon this year. On average, there are about 30 stolen vehicles every day. Just four years ago, Portland had around 670 auto thefts per month. But in September 2021, there were 903 stolen cars reported. Honda remains the most popular vehicle to steal in Portland. Ford pickups are really in demand too. Portland police says on average more than one car is stolen every hour for the past three months.
There were over 12,000 Honda CR-Vs stolen in 2020
Japanese models are also in demand
In the sedan and smaller cars segment, the Honda Civic was the most stolen vehicle last year, with over 34,000 thefts. The 2000 model was the most in demand. The Honda Accord 1997 model was also very popular with car thieves. Toyota Camry thefts went up over 8% compared to 2019, while the Nissan Altima was close to 10% more.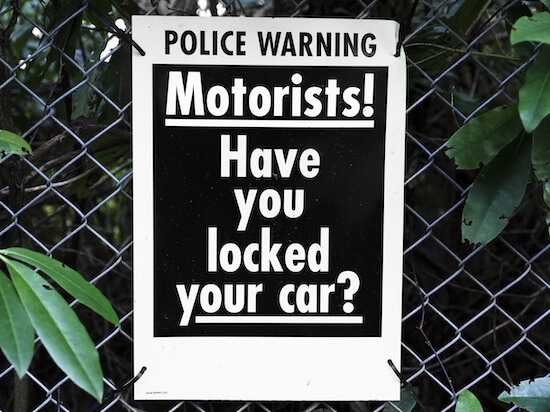 Car insurance can help protect you
Comprehensive auto insurance generally covers theft as well as vandalism such as broken glass. But it doesn't cover theft of personal property inside the car—homeowners or renters policies take care of those items. So cellphones, laptops, tools, sunglasses, and such won't be covered. Comprehensive coverage, depending on your auto insurance provider, can help cover custom parts, rims, and other aftermarket additions.