Buying a car requires several steps, which these days typically start online with research, comparing prices, and looking up car insurance rates. Once armed with knowledge, most drivers walk into a car dealership to test drive the vehicle and possibly walk out with a new car.
Use eTags© to Quickly Complete Your DMV Service. Renewals, Title Transfers and More, All Online!
Once you start negotiating based on the invoice price, the car dealership will know you've done your research giving you instant credibility
Bargaining or negotiating the car purchase is an old age tradition of car buying. Even when buying a vehicle from a private seller instead of a car dealer. You're almost expected to negotiate and bring the price down, and car salespeople know that. They're ready for it, even willing to give in a little to play their part in the song-and-dance that is buying a car.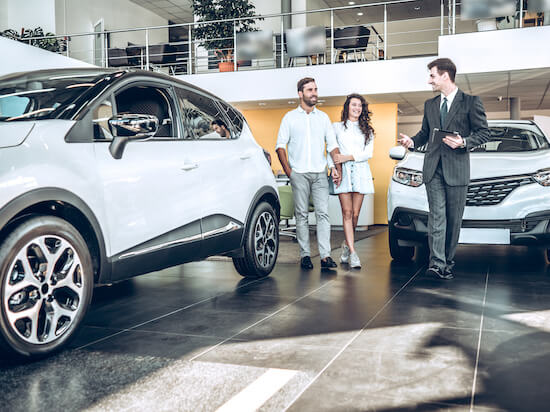 But most drivers don't know there's a lot more opportunity to negotiate various costs or separate payments when car buying. It's not only about the sticker price, you can negotiate other costs like warranty and trade-in value too.
The invoice price vs. the MSRP sticker price
As mentioned previously, most car buyers will negotiate the MSRP, but you should pay close attention to the dealer invoice price. That's the price the car dealership paid for the vehicle when it came from the factory, and of course you won't see that number slapped on the windshield.

But with a little research online, you can find that invoice price. Kelley Blue Book and Edmunds often have that info. Once you know what your car dealer paid for it, you'll be more ready to negotiate. On top of that invoice price, a car dealership gets incentives and discounts that lowers their final purchase price for the vehicle even lower.
Depending on the state, dealers don't even have to disclose that they've hiked the rate they're offering
Interest rates are another thing car buyers forget to negotiate
The car dealership will offer up an interest rate when you're financing to own. Don't just accept the first interest rate thrown your way; exercise those bargaining muscles. Dealerships typically make a bit of money on the interest rate offered to car buying prospects. The dealers sell the loan to a bank or financial institution, and pocket the markup.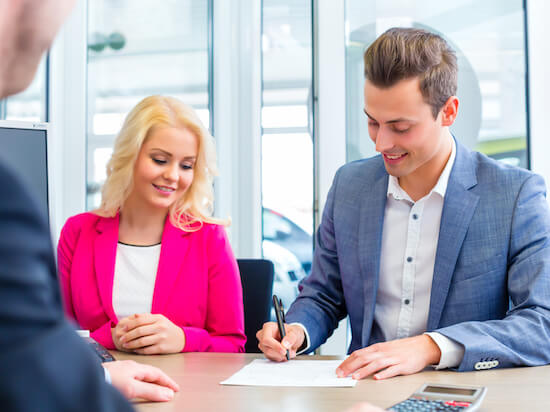 The best interest rates from credit unions as of April 2021, include Allian, Bethpage Federal, Blue Federal and Connexus
If you don't want to haggle on the interest rate, opt for doing your own research regarding rates. You can get pre-approved by an online lender such as Bank of America or LightStream, leverage the personal relationship you have with your own personal bank, or work with credit unions for a better interest rate on the vehicle.
Your trade-in value can be worth more
For your car dealership, it's a great trade-off to get your trade-in since there's usually more profit in used vehicles sales. Today, used cars are selling like hotcakes. In 2019 alone, nearly 41 million units were sold. Even during the beginning of the pandemic in 2020, the search volume for best car deals and truck deals has grown 70% globally from March 22 to March 28.
During the summer of 2020, car sales were up among those ages 18 to 35 years old due to fear of contracting the coronavirus in public transport and ridesharing
When you're offered a trade-in value for your vehicle, make sure to negotiate it and get more dollars for it. You can compare the fair market value price, try another car dealership to see if you can get more for your trade-in, or simply sell the car yourself before you buy a new one.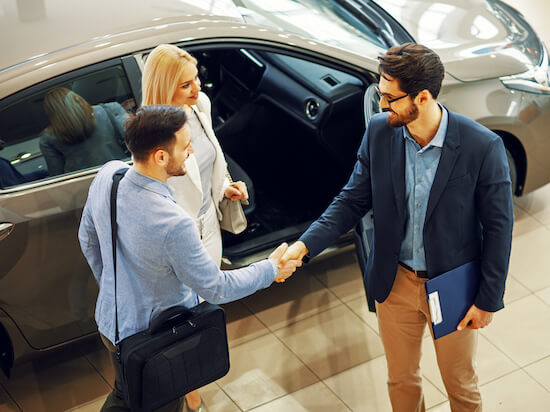 Don't let your guard down with maintenance packages
Any extras you're offered up in the back office, including maintenance and service packages, protection plans, and extended warranties, should be negotiated. Discuss the price, length of time on some of these plans, and if you can purchase some separately so as to keep cost as low as possible.
Now go and get a great deal on your favorite car, and don't forget to register your car online!