Since 1908, when the first Model T rolled off the assembly line in Michigan, Americans and car buyers worldwide have been traveling to their local car dealerships to purchase their new cars. There, they would kick the tires, take a test drive, and often haggle with a salesperson to get the best deal. Well, a survey commissioned by Facebook finds that this process is changing and it is changing rapidly. It indicates that online auto sales are on the rise and the influence of digital marketing is significant. The survey, it should be noted, was based in India but it has similar implications for those of us in the United States.
One of the dramatic conclusions of the survey is that 70% of new car buyers will be influenced digitally to purchase their new cars by 2020. While 2020 may sound far into the future, do the math. It is just around the corner. For those working at a car dealership, there's no need to change careers…yet. The survey says 70% will be influenced by digital, not that 70% will buy a car online. Digital car sales, however, do seem to be on an unstoppable path upward.
Details of the Survey
The survey was conducted by Facebook by researchers Bain & Bain and is called "Changing Gears 2020: How digital is transforming the face of the automotive industry."
Save Money on Your Auto Insurance Bill, Compare Quotes Fast
Among other facts, the survey states that:
80% of the pre-purchase phase of auto buying is on mobile devices.
40% of buyers will be influenced by social media by 2020.
72% of consumers have decided on a brand before visiting a dealership.
49% make a decision on a particular model before visiting a dealership.
The survey also indicates that digital devices will continue to play an important role after the sale with 40% of consumers booking service appointments online by 2020 and 30% will purchase accessories and parts digitally.
The report also suggests that the digital car sales evolution should cause automotive companies and car dealerships to shift their thinking when it comes to marketing. While today, some 50% of car purchases are influenced digitally, automotive OEMs (Original Equipment Manufacturers) are only spending 10-11% of their budgets marketing online. One should recognize that the survey was commission by Facebook, who has a vested interest in shifting marketing dollars to the digital platform. It still, however, is reflective of the changing mindset of the automotive consumer that is creating a boom in online auto sales.
Why Consumers Prefer to Buy a Car Online
In 2015, CNN published an article detailing the reasons people simply did not like to buy a car at a dealership. The article quoted a survey by Accenture which involved over 10,000 consumers. The report stated a whopping 75% said: "if given the opportunity, they would consider making their entire car-buying process online, including financing, price negotiation, back office paperwork and home delivery." That is three out of every four of us.
Why do people dislike buying a car at a dealership? Common reasons presented were that it is confusing, there are too many high-pressure tactics used, and it is often a long, drawn-out process. The CNN article also quoted an AutoTrader survey of just over 4,000 people which indicated that only 17% of those asked liked the car buying process as is.
The bottom line is that digital car sales are growing, to a great degree, because it is easier and more hassle-free than visiting a car dealership. There is less pressure and consumers feel like they have more control. It is not unlike many of the other products and services that have found their place in the digital marketplace.
Financing, Owning, and Buying a Car Online
We are getting closer and closer to where all aspects of owning and driving a car can be handled online. Today it is simple to renew your drivers license or registration online. Driver's training and drivers test examination materials are available digitally. Getting car insurance quotes and completing the purchase of auto insurance on the internet is easier than ever. Insurance companies offer apps that show proof of insurance and that you can even file a claim through.
"Can I buy a car online and have it delivered?"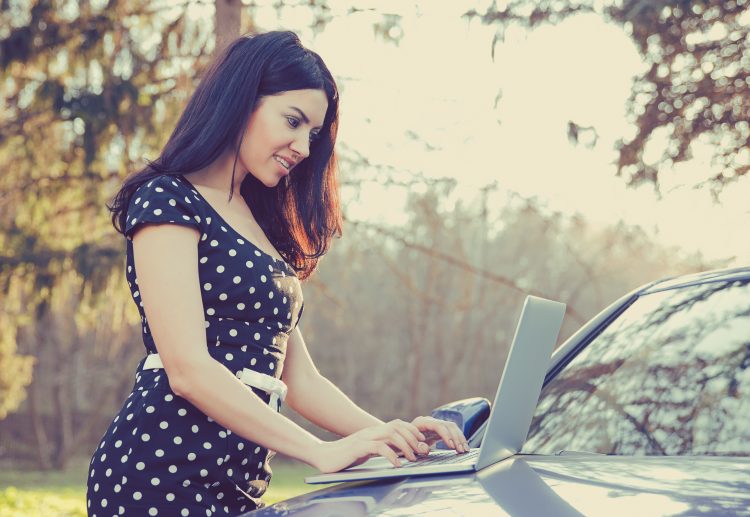 If you want to buy a car online and have it dropped off at your home you are not alone.
Not only are consumers buying more new cars online, many are taking care of their financing and paperwork online. Some dealerships are offering delivery of vehicles directly to buyer's homes and offices. Consumers can easily sort through models, options, colors and prices. There are plenty of websites where car buyers share their experiences with their cars and offer testimonials. You can understand the appeal of online sales.
We have come a long way from kicking tires and being told "Let me go talk to my sales manager." Digital car sales are on an unstoppable rise and consumers are pushing that trend forward. The has also been fueled by the image that car dealers themselves have created.
It is all leading to a completely digital car buying, financing, and ownership process that, in many cases, is already here.