Nationwide, if you're going to get behind the wheel you need to have your vehicle registered. And for a registration card, license plate(s), and sticker/decal depending on where you live, you must carry auto insurance. Basically, registration and insurance kind of go hand in hand.
Use eTags© to Quickly Complete Your DMV Service. Renewals, Title Transfers and More, All Online!
32 million uninsured drivers
But even with these "set in stone" DMV regulations, many in the U.S. don't have a car insurance policy. Unfortunately, the high cost of insurance premiums means plenty of Americans can't afford to carry a policy. Some even go as far as giving false proof of insurance just to get vehicle registered. According to the Insurance Research Council says this year there are around 32 million drivers without auto insurance nationwide.
One in eight drivers don't have car insurance in the U.S., according to the IRC
No insurance policy, no driving
Auto insurance becomes even more costly if you're leasing a vehicle, since coverage is more extensive. For instance, in California a leased vehicle calls for both comprehensive and collision coverage and may require liability limits above the Golden State's minimum.
When you don't have car insurance coverage, the California DMV can suspend your registration. In other words, your privilege to drive on state's public roads. Technically, it goes even further, since you're not allowed to even park your SUV, pickup truck, car, or motorcycle on public roads. Basically, no street parking!
Mississippi, Michigan, and Tennessee have the highest rate of uninsured drivers
Expect a notice of suspension
If you get pulled over by law enforcement for any traffic violation, you'll have to hand over your CA registration card. If you're not insured, they'll know and suspension takes place until you can show proof of auto insurance coverage. So how do you know your registration is suspended? Easy! Typically, you get a letter or notice by mail stating the effective date of your suspension, along with your vehicle's details and fees. If you don't already have insurance, this is the time to buy coverage since you must show proof to get behind the wheel again.
SEE ALSO: YOUR TRAFFIC TICKET CAN RAISE YOUR INSURANCE PREMIUM BY$1,200/YR
A suspended registration in California is directly tied to lack of insurance or proof that your car is insured; nothing to do with your driver's license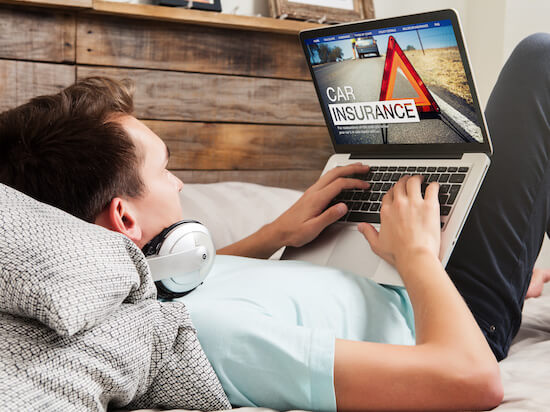 You carry auto insurance, so what's up?
Sometimes there's just a glitch in the system as they say. If you actually carry a car insurance policy, it's possible that the California DMV simply wasn't notified within a month getting your registration. Usually, it's your car insurance carrier that notifies the DMV. Another glitch can just be that a policy was cancelled, and the DMV didn't get your newest insurance coverage details within 45 days. Finally, a less common reason relates to non-operational status. If your car was still in non-op when you got behind the wheel, a registration suspension can happen since the status wasn't changed in the California DMV's system.
A suspended registration is as if your registration has expired; no driving
eTags can reinstate your registration in a few hrs
eTags titling and registration company is licensed in California and processes vehicle paperwork online. If you have a registration suspension, just submit an updated car insurance card and eTags can pay on your behalf to life the suspension. Of course, there's a small fee for that. The benefit is that the suspension can be lifted in just a few hours. You can also go through the California DMV (more information on that below), however their process can take up to two weeks. So your suspended registration won't clear immediately and you'll have to wait to get back on the road again.
More ways to clear suspended car registration
There are a few ways to reinstate registration in California. Just like you got the notice by mail, you can respond by mail too. If you held on to the DMV's notice, simply send back the stub, proof of car insurance and pay the reinstatement fee. Mail to DMV, PO BOX 997405, Sacramento CA 95899.
If you rather go the online route, just visit the dmv.ca.gov portal and click on "reinstate registration." Just follow the prompts and make sure to have all your insurance documents ready as well as your license plate and VIN number. You can also remove your non-op online, also through the CA DMV. Another way to clear your suspended registration digitally, especially if it's just a glitch, is to email your proof of auto insurance coverage to vehiclefrprogram@dmv.ca.gov
California has an uninsured rate of 16.6%; the national average is 12.6%